Mock Trial team takes Burlington County crown

Mar 01, 2016 01:29PM ● Published by Community News Service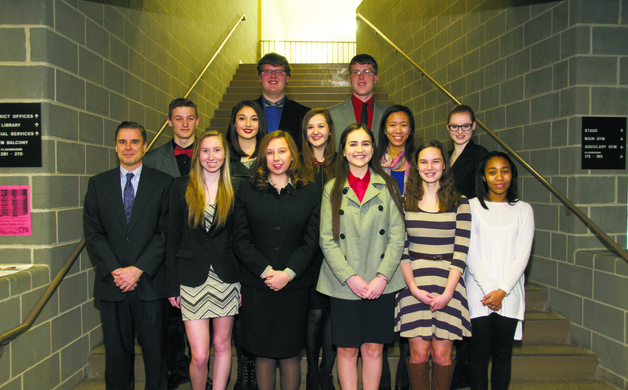 Back, left to right: Scott Price and Nate Scranton. Center, left to right: Evan Braasch, Sara Reichard, Cynthia Reynolds, Reena Zhang and Emma Method. Front, left to right: John Tobias, Jaime Reiser, Abby Gunther, Hannah Vliet, Eliza Peterson and Adia Morris.
By Giuliana Grossi

For the Bordentown Regional High School mock trial team, the phrase "so close, yet so far away" might have hit a little too close to home in years past. This year, not so much.

For the first time, the team won the Burlington County Championship last month after eight trips to the semifinals in the last 17 years under coach John Tobias, a social studies teacher at BRHS. The New Jersey State Bar Foundation sponsors the annual statewide mock trial competition. The team competed against three other schools.

"This is completely a team effort," senior team member Cynthia Reynolds said. "Everybody needs to be a cohesive unit, and everybody needs to listen to the constructive criticism and to each other."

The mock trial team is open to all students at the high school. It takes experience with the team to serve as lawyers in each trial, like Reynolds and teammate Emma Method did and the championships, but the witness and the co-council roles, usually held by underclassmen, in the case are just as important. "Our co-councils this year really stepped up to the plate, and I didn't feel like I was working with someone who was younger than me," Method said.

Reynolds agreed, adding that although some of her younger teammates were nervous at the beginning of the year, they grew confident as the season went on.

"I feel like now they really are firm, and they know how to do the preparation and the trial, and that's going to translate into them being really great mentors for future lawyers," she said.
When the students say that "teamwork is key," it is more than just a statement for this team.

Part of the team's preparation included scrimmages against themselves and other schools. Bordentown also has a history of its alumni returning to assist in coaching alongside Tobias.
"During the scrimmages we had at least five or six college kids come back and judge for us…these are kids that are in college, that are taking their own free time," Tobias said. He believes that both Method and Reynolds will hold up the tradition after they graduate this spring.

It's clear that this team knows how to work together to reach their goals, just as it's clear that success like this takes time and preparation. To be ready to compete in the county championship trial that's held in late January, the team starts meeting when school begins in the fall, but the heavy training picks up in November.

In addition to meeting twice a week after school, Reynolds and Method both report putting in additional hours with the other 10 teammates—whether they were collaborating over Google Docs or meeting before school, the students discussed the details of the case more than just twice a week.

The immense dedication of the students reflects the dedication of their coach and the support of the school. Reynolds and Method were excited to see that princpal Robert Walder took the time to come and watch the championship trial from the audience. The team was also acknowledged by the school board and superintendent, which Tobias said he appreciates.

In addition to being a social studies teacher, Tobias spends four to five days a week after school from mid-November until mid-February working with mock trial and debate students.
"It's a fun way to end the school day every day," Tobias said, his smile evident in his voice.
While it's true that the team enjoys practicing and performing fictional cases, these trials are are debated in a true courtroom, this year at the Mount Holly Courthouse. This year's case was a murder/manslaughter that was surrounded by ambiguous circumstances.

Not only do students exercise their legal skills, but they also have to practice their performance skills, which is what Tobias believes got them to a higher level. "I've borrowed heavily from the theater department because you can't be dry up there," Tobias said. "They're competing in front of two real judges, so you better entertain them."

Reynolds said Tobias gives students the freedom to create their own arguments and questions, preferring to guide them along their own paths.

As in any courtroom, there are tense moments and obstacles that the students may not have predicted—Tobias compared it to a "competitive plat. "It could be a little stressful for all the kids, but when it's over, I would say that there's good sportsmanship on both sides. Even though every team wants to win, when it's all over we see it as the learning exercise and fun that it was."

The various skills that are necessary to—as the team motto states—"stick to your guns" in front of a judge and a full audience are crucial. Being expected to prepare for, and act in spite of, stressful situations is a lesson that the students will carry into other aspects of their lives. "You need to take your time to figure out all the possible objections," Method said.

It is even more important to enhance such skills in a leadership role. She explained that "all the lawyers have this position of leadership, so you really have to learn how to talk to your own witnesses and how to encourage them but also give them constructive criticism."

Both Reynolds and Method agree that the preparation it takes to get ready for a mock trial has helped them prepare better for school. "You have to become familiar with not just the affidavits, which is the story of what happened and the facts," Reynolds said, "but you also have to be familiar with the actual law side of it, the objections, the numbers, the rules."

The more prepared you are, the more confident you are. That way, when you are forced to think on your feet, "you know what you're supposed to do, you know the case, you can do it," Reynolds said. "Stick to your guns. Do what you know, and you're going to be successful."
Sports
,
Today
Mock Trial