Despite subpar season, girls' bowlers boost numbers

Mar 01, 2016 01:45PM ● Published by Community News Service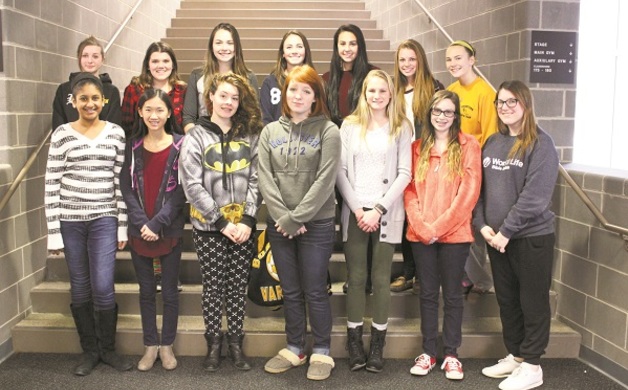 The BRHS girls' bowling team finished the season at 10-4-3. Front row, left to right: Lindsey Beharrysingh, Maggie Hetman, Elizabeth Yakelewicz, Haley Kohfeldt, Morgan Papp, Hannah Heberling and Rebecca St. John. Back row, left to right: Sarah Heil, Julianna Jusino, Jenna Frey, Olivia Hoffman, Anastasia Salera, Emma Russell and Colleen Kotch.
By Jashvina Shah

On paper, the Bordentown Regional High School girls' bowling team may not have finished this season the way it wanted to. The Scotties were unable to make it past the Group I sectional qualifier. The team finished fifth in the group and didn't advance to the state tournament.

At 10-4-3, the girls finished the winter with a solid record, but those three ties may have cost them a postseason berth.

"As a team, they did well," head coach Ron Jones said. "They just didn't do well in the critical games which cost them a conference title."

But a season that saw some bowlers struggle also saw new bowlers rise and take control of the team. One of those was senior Haley Kohfeldt, who finished the season with the best numbers on the team. Kohfeldt, who Jones said was the team's most improved bowler this year, finished with a team-high average of 143.6 and a team-high set of 5889.

"Haley was our best bowler in the [Burlington County Scholastic League] end of year tournament, where all 13 teams in our conference have a bowling tournament," Jones said. "Haley was our leading bowler to the point where in the BCSL open, she finished fifth overall for high series and first overall for high game. She had a 491 series and a 194 high game, which was the high game of the tournament."

Kofehldt attributed her success to working harder, among other things.

"I think it was just practicing a lot more and support from the team," she said.

Jones said that is the key for any bowler.

"The dedication to the methodology that it takes to create a proper shot…there are books you can read and there's all sort of other things, but [it's nothing] without the individual being willing to take what's there and utilize it," he said.

Kofehldt was one of a sparse number of bowlers on the team with pre-high school bowling experience. She began bowling when she was eight years old, and she credited her improvement to better structure. This year, she completely changed her approach to the lane when stepping up to bowl, she said.

Kofehldt, along with Jenna Frey, the team's co-captain and best bowler last season, were both BCSL All-Star First Team selections. Frey finished the season with a 137.5 average and a 5473 set.

Last season, Frey posted a set of 3919 with a high game of 186. It was her first season as a bowler.

"It's mostly muscle memory, so I picked it up fairly quickly," Frey said.

Frey's average last season was also second in the BCSL.

"She could do it effortlessly," Jones said. "[She] didn't think anything at all. She picked up the ball and said, 'OK, here we go.'"

Frey struggled to replicate her numbers this season, though she still was one of Bordentown's best. Occasionally, she asked Jones to take her out of the lineup, but Jones continued to play Frey, and she responded with a 471 in the Group I sectionals.

"It was frustration, I think, because she knows and she knew from last year how well she did, and it just wasn't happening this year," Jones said. "Although, she did quite well in the sectional tournament."

In her stead, bowlers Anastasia Selera, Alexa Guarnieri and Sarah Heil stepped up this season and all finished with BCSL All-Star Second Team selections. Selera finished with a 4029 set, while Heil followed close behind with 4027. Guarnieri tallied a 3373 set.

Selera and Guarnieri, both juniors, didn't make the all-star team last year.

"[They learned] more of what needs to be done in how to bowl and executing properly what I'm trying to teach them," Jones said.

Jones also said Colleen Kotch, a sophomore, bowled well toward the end of the season, bumping up her totals as the year drew to a close—and showing some promise for next season.

"She bowled in four of the last six matches which she hadn't bowled before, so she kind of began to increase her value as the year came on," Jones said.

The team's other all-star selection, Heil, was a freshman and the only bowler of her four-member class who regularly bowled for the varsity team. She came to the Scotties with previous bowling experience, which made her stand out right off the bat, said Jones.

"She was the only one that got any kind of varsity bowling action at all. I don't think any of the others got more than a game here or a game there," he said. "Right away, just the fact that she's been bowling for several years [helped her this year]. Whereas most of the girls that come to us, they've never bowled before and we start from the bottom and work them up."

Heil was one of a few players on the team with previous bowling experience, but it's something she shares with Kohfeldt, who added that coming onto the team with already-developed skills can be a huge boost.

"It does help a lot because most girls come onto the team averaging less than a hundred, but between practices it helps bring their scores up," Kofehldt said. "But being able to have the knowledge form bowling [starting at] eight [years old], it does help."

But girls coming out for the team with little experience is quite common for Bordentown, a small school that needs to fill both a junior varsity and varsity team. Once they try the sport, though, they inevitably end up sticking with it—and loving it.

"We had two years ago a young lady came from a bowling family as a freshman, and she brought six other girls with her," Jones said. "She went off and played basketball, and the other six girls all stayed with bowling. And the basketballer came back this year."

Multi-sport athletes are also common for the bowling team.

"The athlete can do anything if they put their mind to it. I think most of the bowlers, most of the girls anywhere play other sports," Jones said. "The more athletic the individual is, the better their chances of succeeding at [bowling]. There's a lot of coordination that goes into it. Coordination and athleticism go hand in hand, and that's where we go."
Sports
,
Today
,
Schools
Bordentown girls' bowling