"Total focus" helps Kerr on mat

Mar 01, 2016 01:48PM ● Published by Community News Service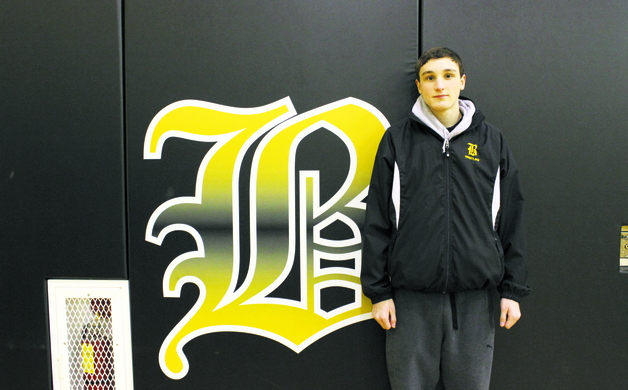 Tyler Kerr bounced back after a tough District 26 semifinal loss to have a successful wrestling career at Bordentown. (Staff photo by Samantha Sciarrotta.)
By Rich Fisher

After a disappointing ending to his freshman season on the Bordentown Regional High School wrestling team, Tyler Kerr followed with a disappointing season overall as a sophomore.

And then things got good.

Kerr bounced back strong over the next two years, twice qualifying for the regions after third-place finishes in the District 26 Tournament. It was a welcome change from 9th grade, when he lost in the semifinals, and then lost the third place match to try and advance.

As a junior and senior, he gathered himself back together after losing in the semis to win the match for third place. He fell in his lone region match last year and was hoping to go further when the Region 7 tournament began on Feb. 24.

"He didn't really wrestle well in the semifinal match, [but] I was proud of him the way he responded after losing in the semifinals and coming back and taking third," Scotties coach Joe Sprague said. "The hardest match to wrestle in districts is that third-place match because you've got to rebound after losing. So he definitely did a good job getting himself prepared to be able to do that."

Kerr came out and used a cross faced cradle for a first-period pin.

"He wrestled great," Sprague said. "He took the kid down and pinned him, it didn't last long. He wrestled with a lot of energy, a lot of excitement. There was no doubt he was ready to do what he had to do to place."

Total focus is the key, according to Kerr.

"I just go into a quiet room, listen to some music, think about my (semifinal) loss and what I can do better, and then go out there with twice as much confidence," he said. "You're mind's got to be in it, 100 percent. It wasn't in it that much in the semifinals. But I was 100 percent in it in the consolations. I was already warmed up from the first match, I was all nice and loose, I went out there and felt good."

This season, the Scotties finished at 15-11, bouncing back after 11-18 and 11-19 campaigns the last two years.

Kerr carried a 15-4 record with eight pins into the regions, and a career mark of 65-37 with 35 pins. 

Growing up in Brick, Kerr's father, Doug, prompted him to wrestler at age 6. He joined the Brick Mat Rats and stayed there a few years before the family moved the Bordentown. Kerr then joined the Northern Burlington recreation program before starting middle school.

He went undefeated in sixth grade and took seventh and fourth in the big-time Cherry Hill Tournament in seventh and eighth grades, respectively.

"My dad suggested wrestling to me and I said 'Yeah, why not, it looks pretty cool,' so I gave it a shot," Tyler said. "I was a little kid, I didn't really understand anything. I was just having fun with it. Every year it got more competitive. As a kid I won a lot of tournaments. It kept me going, boosted my confidence."

He also wrestled in the basement with his dad. Doug Kerr wrestled for Holmdel High School and Admiral Farragut and finished third in the prestigious Blair School State Prep Tournament.

"My dad always trained me, and I just kept getting better and better," Kerr said. "We still do it sometimes, but not as much."

Is that because Kerr is starting to beat his dad?

"Yeah," he said with a laugh. "Nah, I don't beat him, he's heavier and stronger than me. But I could surely give him a good fight now, much better than back then."

Kerr's workouts with Doug, coupled with his Mat Rats and Northern Burlington training, had him pretty polished when he arrived at Bordentown.

"He came in and he had some talent," Sprague said. "He did a real good job just getting better and better every day. And he keeps improving. He's improved overall, gotten better in every area in the course of four years."

Kerr went 16-10 with 12 pins as a freshman wrestling at 106 pounds. He bumped up to 120 as a sophomore, and the bigger competition made it tough as he was just 12-13 with three pins.

"I guess it was a little harder adapting to wrestling at heavier weight," he said. "I was wrestling kids who were stronger and used to that weight. I felt kind of short. I also wrestled some pretty tough people that year, it wasn't an easy weight class."

He made another substantial leap as a junior, wrestling at 138, 145 and 152 (settling at 38 for districts).

This jump in weights did not deter him this time, as Kerr went 22-10 with 12 pins.

"I hit the weights a little more, so I guess I felt stronger when I got to 138," he said.
Kerr also got his first taste of region wrestling, which he deemed "a good experience."
"Making it there and being involved in it, it feels like you accomplished a lot," he said. "A lot of great wrestlers are in regions. Only a few select people make it there, so making it there was a good accomplishment and I felt really good about it. It boosted my confidence a lot more to come out stronger this year."

He moved up again this season, going at 145, 152 and 160 and wrestling districts at 152. Aside from his wins on the mat, Kerr has also been an inspiration to the team.

Sprague said his influence has been "great" for the Scotties.

"He's just a great program kid," he said. "He's done everything we've asked him do. He's a two-year captain for us. He's just a great all around kid who's committed to the sport and also committed to what we ask him to do as a leader."

Kerr has had some near misses in his career, taking numerous seconds and thirds at various tournaments. In Sprague's mind, the fact Kerr has not won a title does not take away from his character or talent.

"He's just a steady kid," the coach said. "He's right in the middle of things and he competes. He's never been a champion but he's always right there. He's a well above-average wrestler and he sets an example in terms of work ethic in practice."

Bordentown did have a champion in districts this year, as sophomore Billy Moore won the 113-pound title. The Scotties added two seconds and two thirds to finish fifth as a team, their best showing in Kerr's four years.

"I think it is getting better," said Kerr, who will be headed to Rowan University next year and is considering club wrestling. "Our team used to be very good, then it kind of drifted down a little bit. But now we're working together as a team and that bond between us is much stronger and it's growing stronger and I think it helps us a lot."

It doesn't hurt having Kerr help lead the way.
Sports
,
Today
,
Schools
Rich Fisher
Bordentown wrestling