Clara Barton students spread love

Mar 01, 2016 01:55PM ● Published by Community News Service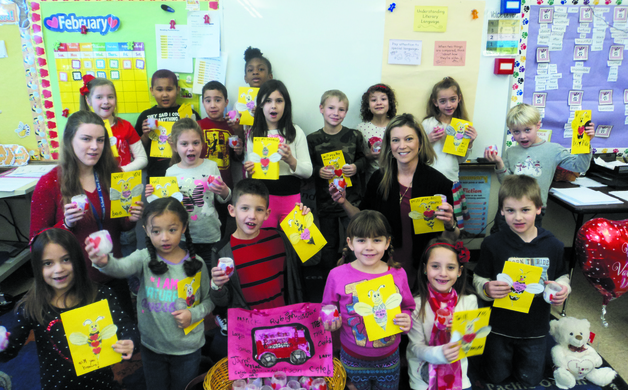 Dawn Medici's students display their crafts. Kneeling, left to right: Olivia Maloney, Jaime Powell, Jack Platt, Calista Cody, Addison Maloney and Trevor Morgan. Back row, left to right: student teacher Ms. Williamson, Ceilidh Manigrasso, Caleb Cadlett, Layla Croux, James Stemetzki, Nylah Postell, Ryleigh Maugeri, Tyler Kunkel, Maya Planas-Borgstrom, Medici, Olivia Delaney and Patrick Conroy.
All of the second grade students at Clara Barton School made Valentine votives for the senior citizens at the Clare Estate complex. In total, the students crafted 97 miniature glass candle votives with battery operated tealights. The three second grade classes made cards and a craft to "light up" and put smiles on the residents' faces.
Dawn Medici's class wrote poems, decorated BEE-Mine cards, and decorated heart candle votives to give to their new friends over at Clare Estate. After the Valentine's Day party on Feb. 12, two students, Larry Hart and Ryleigh Maugeri, along with their parents delivered the treats to the complex.
"The students had a great time preparing these treats for those who might not get to see loved ones on Valentine's Day," Medici said. "It was a great way to spread love as well as to give to those in the community."
Today
,
Community
,
News
,
Schools
Dawn Medici