For the love of writing

Mar 30, 2016 01:18PM ● Published by Community News Service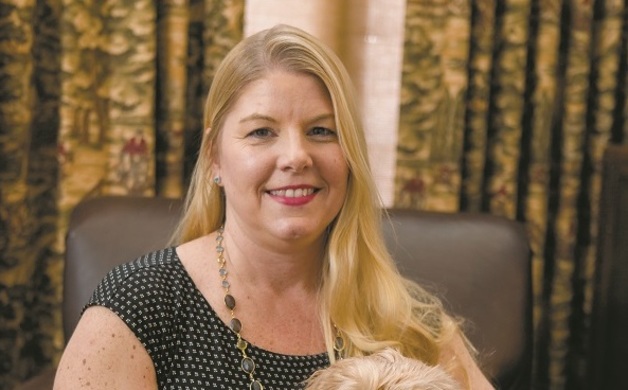 Christine Lourenco sits in her home with her dog, Mike, recently. (Photo by Suzette J. Lucas.)
By Giuliana Grossi

Christine Lourenco feels that it's never too late to set goals, to start a new trade, to enter a new field. 

She decided to follow her own advice, and in January of this year, the Bordentown resident published her first book, For the Love of the Ocean, with Archway Publishing.

For the Love of the Ocean is a novel about a young girl who lives in New Jersey beach town, Avon-by-the-Sea. The protagonist experiences love and loss in the novel and spends much of her time surfing. Surfing is a prominent activity in the book, and as it is in Lourenco's life. Lourenco, Flavio and Amber Rose love to grab any of their nine surfboards and hit the waves whenever they can.

Lourenco grew up in Union and made her way to Bordentown eight years ago with her husband Flavio, her daughter Amber Rose (who is pictured on the cover of the book) and her two dogs. 

Lourenco and Flavio became familiar with the Bordentown area when two of Lourenco's college friends moved to town. The couple decided they wanted the support of a small town for their growing family and a dependable school system for Amber Rose to grow up in.

Just like Lourenco, Amber Rose is open minded, with a desire to try different activities whether they are sports, extracurricular clubs or summertime hobbies. As Amber Rose grew up, Lourenco encouraged her to embrace the role of a novice like she did throughout her own school years, and continues to do as a first-time author.

"I don't think there is any time that is wrong to pursue something you feel good about," Lourenco said. She feels that if she would've pursued her idea to write a book when she was younger she might've had more time to see it through, but, more importantly, she believes that nobody is ever too old to pursue a dream. 

"It's hard, I think—you follow traditional routes but it takes a while to figure out what you really want," she said. "I'm in my 40s and finally figured out what I really want. You have to put your efforts towards it and come up with a plan to make it happen. I never gave up my day job, I'm still working."

Although Lourenco has spent a lot of time on the beach since she was a child, Lourenco didn't pick up surfing until she signed her daughter up for lessons in Bradley Beach. While Lourenco loves to surf as it gets warmer out, her husband is unafraid to throw on his wetsuit and surf amidst the cool air.

Avon-by-the-Sea isn't just the setting of the story—it holds a spot in Lourenco's heart. It's the first beach where she and her family have been able to discover sand dollars, which they often look for. Lourenco and her family spend much of their time in the summer surfing and shelling, and she states that she has mastered the art of finding sand dollars. She is also set to hold a library-sponsored book signing in the town this summer.

Her love of the ocean stems from her childhood and having the beach as a constant. Growing up, her great grandfather had a beach house in Mantoloking so she and all of her father's side of the family would spend their summers beside the sea. "When I get there I feel better about myself, it's just sort of an escape," she said.

Lourenco's parents, brother and sister have all moved away from the Union area as well. Her parents, Edward and Colleen Leppin, now live in Toms River and have just celebrated their 50th wedding anniversary. Edward is a Navy veteran and Local 68 Operating Engineer, and Colleen was a stay-at-home mom who cared for a neighborhood child in her home after Lourenco and her siblings went to college.

While Lourenco spent many years on the beach with her father's side of the family learning how to crab, her mother's side of the family is much larger but is still very close-knit. They always make time to get together for the holidays. 

Growing up, she did things like gymnastics, cheerleading, Future Business Leaders of America, yearbook and others. In college, she wrote for the Montclarion, her school paper, and was in a sorority.

Lourenco's writing process starts early in the morning. Though she claims that she never used to be a morning person, now with a daughter and two dogs, getting up in the morning is just part of the routine. 

To make time to write, she gets up earlier than the rest of her family so she has time when it's quiet. 

Lourenco graduated from Montclair State University with a degree in communications and has largely worked in human resources ever since. She's been working in the human resources department for Ann Taylor for almost 12 years, and commutes to her office in Manhattan via train. 

The book Lourenco is currently writing, called Commuter Bob, captures the life of a commuter and all of the trials and troubles that go with depending on the trains to get you to the place where you make your living.

For the Love of the Ocean was easy to write, according to Lourenco, because the beach is such a significant source of peace for her. Commuter Bob, however, has grown into a more challenging process for her because of the nature of the story. 

"Commuting issues are frustrating, so when you write about it, it puts you in that place of complaining, it pulls you into the character," she said. "So, it's taking me longer to write it…I think people will get a kick out of it because everyone can relate to it, for sure."

For someone who is fascinated with the magic of inspiration like Lourenco is, the process of trying to get published is probably the least magical. 

"I do think that people always focus on the end result, like fame or the book, and they forget that along the way you still have to work to get there," she said.. "I always tell my daughter this, too—'Find something that you enjoy because it won't feel as much like work, but you're going to have to work no matter what you choose.'"

Lourenco sent out anywhere from 75-100 query letters to publishers. She found success with Archway Publishing, which is a Simon & Schuster company. 

"There's always obstacles. You just have to find your path," she said.
Today
,
Community
,
Arts+Entertainment
Christine Lourenco
For the Love of the Ocean
Avon-by-the-Sea
Archway Publishing