Vinyl idols get into the groove

Mar 30, 2016 01:28PM ● Published by Samantha Sciarrotta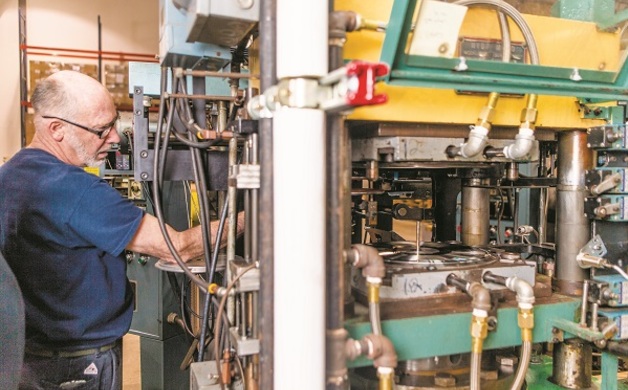 By Samantha Sciarrotta

You flip through your record collection and pick out an album—let's go with Miles Davis's Kind of Blue. You remove the record from its sleeve, place the vinyl disc onto the turntable, press "start," and the needle drops. The needle settles into the first track's first groove; a pop or crack might pass through the speakers before the smooth upright bass of "So What" kicks in, but what follows is a warm, rich sound that many audiophiles swear by. 

The needle travels from groove to groove until Side 1 ends. You flip the record over, enjoy the second half and place it back in the insert once the turntable's arm falls back into its holder.
Before all of that, though, the album is mastered, and grooves and ridges are etched into metal plates during an intensive procedure that yields stampers, which flatten a puck of melted vinyl into the records you see on shelves today.

For a record like Kind of Blue, that process happened nearly 60 years ago. But for the 15 or so record pressing plants in the United States, vinyl is still their livelihood—actually, most of them still use machines that were built during the time albums like Kind of Blue were released. 

And as the medium's popularity continues to surge, so does the need for facilities. That's where Bordentown's Independent Record Pressing plant comes in.

"[The vinyl renaissance] has been happening for about 12 years," said floor manager Dan Greathouse. "I helped set up a record company in Cleveland almost 10 years ago now. We saw the sales increase around 20 percent a year, every year. I think last year it was closer to 30. One of the labels said they sell more vinyl now than CDs, which is really kind of cool."

Independent moved into its 300 Bordentown Hedding Road space in February of last year and started production in late summer. Production ramped up in December. The plant was featured in The New York Times shortly after it opened in September.

General manager Sean Rutkowski said the space was basically a "dumping ground" when they first moved in.

"It was like, literally, a mountain of junk in here," he said. "It was a storage area. We didn't even have a light switch to turn on the lights. There was no electricity. There were no power outlets."

Walking into the plant now is a music lover's dream. Large cardboard bins filled with vinyl pellets to be melted sit on the floor, and employees package the pressed records by hand step-by-step. Crates of the finished product—albums by Patty Griffin, Mac DeMarco, Dr. Dog—are stacked on shelves and paletts throughout the space. Compared to other plants, it's right in the middle in terms of size, Rutkowski said.

Independent works with decent-sized independent labels like ATO, Epitaph, Matador, XL Recordings, Secretly Canadian, Jagjaguwar and Captured Tracks. Many of their labels, Rutkowski added, never left vinyl. They like to stick to working with independent labels. 
They press everything from country artists like Patty Griffin to metalcore bands, from electronic to Filter, a band from the 90s. Rutkowski categorizes the variety as "Brooklyn hipster to the Warped Tour lineup."

But the real star of the show is the machinery. Six presses, five of which are up and running, line one section of the plant—and one of their original builders is a manager at the plant today.

Dave Miller has been in the business for most of his life. His father, uncle and grandfather bought a few presses in the 40s and went on to build plants in Germany, South Jersey and Cranbury. Miller himself worked at the Cranbury plant, Hub-Servall, throughout high school and helped construct the machines in 1971 now used at Independent. Though he said he wasn't the "major brains" behind the pressers, he assisted in the wiring  and put them togther.

They were originally built for a Canadian company, which was sold in the mid-80s. Hub-Servall purchased the machines back after the Canadian plant closed, but when Hub-Servall closed in the early 2000s, the pressers were sold to a different plant in Canada, and now, they're back in Central Jersey.

Clearly, they've traveled a lot over the last several decades.
"They're kind of like vagabonds," Miller said. "A few companies are starting to build their own machinery, but at pretty much every record plant in the world, I don't think anybody is using any new machines yet."

Which is why Miller's presence at the plant is so crucial. New machines haven't been introduced in years. Now that vinyl is becoming more and more prominent in mainstream stores like Barnes and Noble, production of new pressers is slowly starting to whir back to life.

Keeping the machines up and running, Rutkowski said, is a concern, but having Miller on hand helps when something goes wrong. Miller was even called upon to write the narration for an episode of "How It's Made" detailing the pressing process. It was filmed at Hub-Servall when the plant was still in operation.

The number of pressing experts has dwindled, Miller said, and it was already a relatively small community.

"I know some other machine manufacturers," Miller said. "Most of the people that built them have pretty much passed away. We all kind of know everybody in general. Not like we call each other every day, but pretty much any of us can get a hold of the principle of a plant for a question or to run things by someone else."

Miller, Rutkowski, Greathouse and their investors all have decades of experience in the business, whether with labels, plants, machines or a combination of the three. Miller estimates they have over 100 years in music between them. But there's  such a shortage of plants and working machines, Rutkowski said, that labels jumped onboard fairly quickly.

At some plants, it takes upwards of six months to get some records on the press.

Other than some occasional macinery issues, things generally run smoothly at Independent, which keeps prospective customers calling. It would be impossible to accept them all, though.

"Right now, we're trying to keep our customer base fairly tight because it could be very easy to get out of control," Rutkowski said. "If I took every order, I could press records 24 hours a day, seven days a week for a year, and I still wouldn't finish."

The process at Independent begins with vinyl pellets and metal stampers, which are prepared at another facility. The pellets are melted down in a boiler and molded into a "biscuit," which is a little bigger and thicker than a hockey puck and has a hole in the center, under 100 tons of hydraulic pressure. Labels are attached, and once the biscuit cools, it's squashed between the two stampers, which are basically negatives of the music. Once pressed, the record is trimmed and checked for imperfections. If everything looks OK, it is ready to get packaged.

Greathouse said the plant presses around 3,000 records a day and is aiming for 1 million records a year. Dawn Scheideler, who oversees the packaging department, said an order can be pressed, packaged and filled in as little as two days, though some orders can take longer, depending on the size and timeline.

At her end of the process, employees are responsible for checking the finished records for scratches or warping, jacketing the records, assembling all of the components and shrink-wrapping the finished product. It is all done by hand, and Scheideler said there are a lot of details to keep track of.

But everything is in good hands.

"Once you know how detailed it is, you're not going through the motions of the typical warehouse, where you're just pushing the product," she said. "I think the difference with us is we know that consumer. Who's buying them are people who truly have a collection and value that collection. It's not just buying, like, a new iPhone or a new CD. They literally have a great respect for vinyl. Once it gets to our department, knowing the connection, what it means to people, we really keep an eye on things."

Several staff members are part of that crowd. Packaging employee Mason DiGiaimo says he has an "addiction" and is a fan of many of the artists Independent presses for.

Rutkowski said he appreciates the overall experience of playing a record.

"It forces your attention in a way no other format can," he said. "I can't just put on a record and then walk away and do something else. You kind of have to sit down and listen to it. It's the forced attention and really spending time with the record in a way you might not spend otherwise. It's not like you can skip to your favorite track. I mean, you can, but it's inconvenient."

Working at the plant has rekindled Scheideler's love of vinyl.

"It kind of made me reminisce, like, 'Oh my god, I did listen to records when I was little,'" she said.  "I memorized all the Barry Manilow. I had all different stuff. Elton John, Billy Joel. You don't really think of it until you're back into this. I found that passion again."

Though some suggest streaming services have hurt the vinyl industry, Rutkowski said it's actually helped. Stripping away the tangibility of music makes pieces like a vinyl record that much more desirable. 

It's the best music gets in a physical format, he said, because it's a true showcase of each aspect of the artist's work. The music is pure, and the jacket and other components are like their own art forms. There's no limit to the amount of vinyl one can collect, he added.
Greathouse agreed. It's something you can see and feel up close, where as a CD might include "just a mini poster," he said.

"I think a good analogy is if you have a really nice digital TV, if you get really close to it, all you see is dots," Greathouse said. "Vinyl is more like looking out a window. The closer you get, the better it looks. It's really kind of nice. There are imperfections, but it goes along with the music."

And preserving that is important to Greathouse.

"You're taking machines that were basically tossed out in the 90s, and you're bringing them back and turning them into a useful piece of equipment again," he said. "You're bringing back something that would have been in a Ford Fusion or something, and turning it into something that someone can enjoy. It's all kind of a neat process. Keeping it alive."

Independent Record Pressing is looking for hard-working employees—it's a plus if you are passionate about music, too. E-mail info@independentrecordpressing.com for more information.

Record Store Day is April 16 this year. There are two record stores in town if you're interested in building your own vinyl collection: Randy Now's Man Cave is located at 134 Farnsworth Ave., and The Record Collector is at 358 Farnsworth Ave.
Today
,
Community
,
Arts+Entertainment
Independent Record Pressing
Vinyl records
Record presser