Miller settling in as chief

Mar 30, 2016 01:32PM ● Published by Samantha Sciarrotta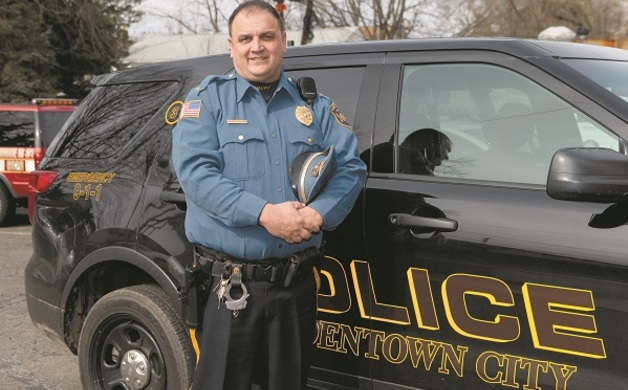 Fred Miller has served as Bordentown City's Police Chief for just over a year. (Photo by Suzette J. Lucas.)
By Samantha Sciarrotta

When former Bordentown City Chief of Police Matthew Simmons began to eye retirement a couple of years ago, he knew he wanted a certain type of officer to replace him. Just over a year into his role as chief, Fred Miller is living up to Simmons' expectations.

Serving as a police officer in Bordentown City is different than serving in other towns or cities, both said. While they undertake the standard police duties, there is also a lot of foot patrol and community involvement—aspects of the job Miller has well under control, Simmons said.

"Freddie has all the right attributes," he said. "He's knowledgeable, and he picks up on things very quickly. You have to be a good listener. It's a combination of things, and he has the right attitude. He makes good judgment calls. Freddie's a people person. He knows a lot of residents, and they support him. That's a good thing."

Miller, his parents, Fran and Lee, and brothers, Frankie and Fritz, are lifelong Bordentown residents, and they all still live in the area today. He graduated from Bordentown Regional High School in 1989 and coached football at the school for a decade.

The town is important to him, and it influences the way he serves, he said. And it's not just Miller—most of the department's officers are from the area. The department is made up mostly of men and women in their 20s, 30s and 40s, "90 percent" of whom Miller said are BRHS alumni.

"It's closer to my heart," Miller said. "We try to hire guys from the city, so we have that kind of family atmosphere here in the police department. You're going on those calls, you're really helping people that you know. Not in a city like Trenton when you're trying to arrest somebody every day. We're more community-oriented, helping the residents and things like that."

On the other hand, Miller said he sometimes has to arrest people he may have grown up with or knows from town. It's "tough," he said, but it's part of the job.

Miller's father was a volunteer firefighter, which Miller said piqued his interest in public service. He graduated from the police academy in 1997, and he has spent his entire career with the Bordentown City Police Department.

The police department promotion system is test-based, and Simmons said Miller ascended the ranks quickly, often scoring at the top of the list. Miller, 44, worked directly under Simmons for two years before he retired, which made for a smooth transition. The biggest change was the added administrative duties, like writing policies and handling purchases, that come with being chief, but Simmons said Miller adapted quickly.

"Prior to that, he was a sergeant and patrol officer," Simmons said. "He was in charge of a squad, but [the position of chief] is a whole new ballgame. He has to do administrative work and patrol because we didn't have enough men to keep him off the road. He picked it up very, very quickly. When he was my second-in-command, he did an excellent job."

Miller attributed that to Simmons, who he said left everything in order when it was Miller's time to take over.

One of the biggest changes Miller has overseen over the last year was the absorption of the Fieldsboro Police Department, starting Jan. 1 of this year.

"It gives out guys a little more room to roam," Miller said. "It's not a real busy town. It's small. We deal with them just like we deal with our residents. They're happy to have us, and we're happy to be down there. We have a good rapport with their government. When they have events in town, we get down there."

Same with the city, where street fairs and festivals happen year-round. Miller and his officers go to provide security, but it's also just another outlet for communication with residents. He also likes to keep a line open with groups like local churches and the school board.

The department sponsors soccer and baseball teams and often invites Boy Scout troops to tour the police station. They oversee arrival and dismissal at the local schools, and Sergeant Vincent Bernotas runs and explorers program.

"Other towns, sometimes they don't even get out of their car," Miller said. "People feel more comfortable coming up and talking to you. I try to have an open-door policy here where if anyone wants to come in and talk to me, they can."

In the city, Miller, along with Mayor Joseph Malone, Deputy Mayor James Lynch and Commissioner Zigmont Targonski, has met with residents and business owners from different sections of town to identify and address their concerns. Lots of business owners expressed a desire to see more foot patrol, so more officers are out on the streets.

Some residents complain about speeding in certain sections of town, so Miller increased the department's presence in those areas. Residents also want a larger police presence at the River Line station.

"We monitor a lot, the faces coming off the train," he said. "We find out who they are, what they're doing. That's a lot of residents' concerns."

That just aligns with Miller's own philosophy: the best way to gain the trust of residents is to be out and about as much as possible. That way, they're more comfortable approaching you when they need help or see something unsavory.

"The main point is just to get the community involved," he said. "A lot of times, people will see something and not call us. Then they put it on Facebook and say, 'They police didn't do anything.' I try to make my guys more accessible for the community. Growing up here makes it worth more."

And Miller has accomplished what he set out to do, said Simmons.

"He's always meeting with residents, talking to them and walking the streets," Simmons said. "Everybody knows Fred Miller. It was wonderful to be able to promote him. I felt very secure that he was going to take over the department after I retired."
Today
,
Community
Matthew Simmons
Fred Miller