Renovated Tavern aims to bring a little Heart to town

Mar 30, 2016 01:50PM ● Published by Community News Service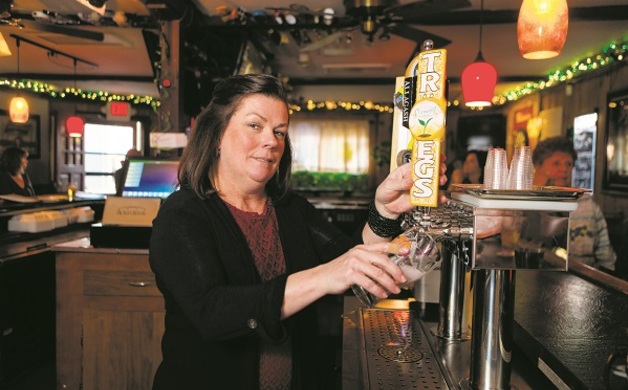 Owner Mary Buhrer pours a Tröegs beer at the HOB Tavern. (Photo by Suzette J. Lucas.)
By Jacquelyn Pillsbury

The HOB Tavern—and its owner Mary Buhrer—have become a central part of Bordentown City's culture. The Jersey native bought the Heart of Bordentown Tavern 14 years ago and fell in love with Bordentown right away, so much so that she helped found the Downtown Bordentown Association. She currently serves as the DBA's treasurer.

Owning a bar and restaurant was a huge career shift from her original life plan. Buhrer, formerly Mary Barnes, grew up in Ocean City and graduated from Trenton State College, now The College of New Jersey, with a degree in nursing, a field she pursued for over 15 years.
She worked for Greenwood House long-term care in Ewing, and then for the State of New Jersey. After working and raising her three daughters in Ewing she decided to make the move to Bordentown. That's when she came across the HOB.

"A friend of ours ended up owning the bar through the death of the former owner. I was interested. I decided to get it and rehab it. Ever since then I have been trying to update it. The HOB Tavern is probably over 150 years old. There is always something to fix and update," she said.

Buhrer is a self-taught bar and restaurant owner, with a self-described "hard worker, organized, Type A personality—traits she has passed onto her daughters Courtney, Samantha, and Jamie Barnes. Courtney is the bar manager, and all three daughters tend bar.
"It is really nice having them close. Courtney makes a fabulous Bloody Mary, she makes most of our cocktails for specials."

The HOB Tavern features different beer and drink specials almost every night. Monday nights are $1 tacos, Tuesdays feature beer specials, Wednesdays have live music, Thursdays are $1-off craft beers from the bar's 11 taps and Saturdays are karaoke nights. The tavern also hosts occasional open mic nights.

Buhrer named some menu items after some of Bordentown's historic figures: the Thomas Paine is a Reuben, the Joseph Bonaparte is a French dip sandwich and the Clara Barton is a boneless chicken breast sandwich with roasted red peppers, garlic and spinach on a Kaiser roll. "We have a wonderful historic town that is about 350 years old," she said.

Following a trip in 2015 to Ireland, she decided it was time to make some renovations to the HOB Tavern and bring the décor up to the 21st century. She went to pubs in Ireland and noticed many of them had a "snug—a little room. The story is when women went to the bars in Ireland they had a living room off the side where women went to have beer." Upon her return home, Buhrer decided to rename her dining room "The Snug," and started "changing it up with a new floor, updating it, to get people to use it more." In the past the room was mostly used for private events, such as surprise birthday parties, but with the change she hopes to see more people use the space.

"We have so many different crowds. We have a lot of regulars, they mostly sit at the bar. People are starting to sit in the restaurant. We have a round circular bar, then people pass through the vestibule to get to the dining room. We have a dart board, board games, groups of people come to play cards. There are many uses for a dining room in a small town," she said.

Buhrer is passionate about Bordentown. "It is a very small community. Everybody knows everyone. Unlike other places, you really know your neighbors." As part of the DBA and as a small business owner, Buhrer finds ways to give back to the community. Five years ago, she and a few other business owners formed the Foundation for Bordentown Traditions, a non-profit group dedicated to planning, developing, organizing, and funding community events in Bordentown with the express goal of raising funds for Bordentown's annual fireworks.

The hard work of the Foundation's trustees has paid off. This year's fireworks are set for July 1 in Joseph Lawrence Park. The HOB Tavern sponsors the beer garden for the annual Farnsworth Car Show, this year taking place on June 18.
Buhrer is also involved with the Bordentown Historical Society. In June, the society will sponsor a walking tour of Bordentown City, and "will come to the HOB for lunch," Buhrer added. The tours will be set up through Buhrer at the HOB, and more information is available at 
downtownbordentown.com
.

Plans are also in the works for the return of last year's beer and wine festival, though this year the focus will be on beers, including New Belgium's beers which made their much anticipated New Jersey debut in March.

"Bordentown is a nice town. It is a great place to work, live, and play. There are tons of festivals and street fairs. The River Fest at the firehouse had about 5,000-6,000 people on the beach with bands and beer, and it was really fun for a first-time event," Buhrer said.

She is a strong supporter of the local fire departments. "A lot of my customers are firemen," she said. Buhrer is involved with fundraisers for Hope Hose Humane Company #1, the second oldest all-volunteer fire company in the country, to refurbish its 1794 antique hand pumper.
The Heart of Bordentown Tavern is located at 146 Second Street, Bordentown. Hours: Monday 11 a.m.-midnight, Tuesday and Wednesday 4 p.m.-midnight, Thursday 11 a.m.-midnight, Friday and Saturday 11 a.m. to 2 a.m. and Sunday noon-midnight. Phone: (609) 291-7020. On the web: 
facebook.com/HOBTavernBordentown
Food+Dining
,
Business
,
Today
HOB Tavern
Heart of Bordentown Tavern
Mary Buhrer