Cheyenne Mountain Outfitters finds a home on Route 130

Mar 30, 2016 01:55PM ● Published by Community News Service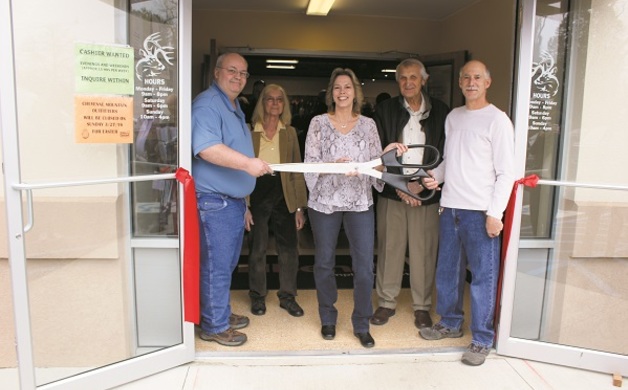 Dave Worth, Betty Papp, Cindy Silcox, Babe Papp and Rocky Silcox celebrate the grand opening at Cheynne Mountain Outfitters on March 19, 2016. (Staff photo by Samantha Sciarrotta.)
By Jacquelyn Pillsbury

Dave Worth is living his dream. Growing up, he always wanted to own a sporting goods store.
When he was a senior at Hamilton West, from where he graduated in 1979, Worth's distributive education teacher set him up with a job at Harry's Army Navy in Hamilton as part of the school's work program. "I was a kid. I rode my bike [to Harry's] for the first few months until I got my driver's license," reminisces Dave. "At the time I wanted to go into taxidermy or gun smithing," but Harry Mehr talked him into staying after high school and working for him full time.

Fast-forward to today. Worth and his partners, Cindy and Walter "Rocky" Silcox, presided over the official ribbon cutting on March 19 at the new location for Cheyenne Mountain Outfitters on Route 130, inside the former Papp's Bowling Center building, five miles south of where he began. His teacher continues to stop by the shop.

Harry Mehr passed away in 2006. His son, Rick, owned Harry's Army Navy, as well as the entire shopping center on Route 130. Harry's Army Navy was still in its original location, and the Wawa that currently sits in its place was far in the future. As Cindy Silcox explained, "Dave had been at Harry's about 28 years. Somewhere around 2007 Rick came to Dave and decided he no longer wanted to be in guns and archery. He knew it was always Dave's dream to own a gun and archery business. I ran some numbers for him and talked to my husband and decided to give it a go."

They opened the first Cheyenne Mountain Outfitters location, a rented space owned by Rick Mehr in the same complex as Harry's Army Navy. "We figured we had a good following and more would come to the building and people would find us." At the time, Cindy Silcox was the bookkeeper at Harry's Army Navy, a position she held for 13 years.

When Cindy and Rocky moved to the area from South Jersey years ago, she interviewed for a position at Harry's Army Navy. "My husband has always hunted, and my son hunts. They were more than happy to see me get a job" at the store, she said. At the time, Rocky Silcox was working with the labor union "for a long time when the opportunity came up. I ran the numbers and we decided to get him out of the hardworking outdoor work," Cindy Silcox said.

After settling in, the three of them started to look for a new location. They met with Babe and Betty Papp of the iconic Papp's Bowling Center, a Bordentown fixture for 50 years, and purchased the space in August 2014. They opened last October.

"They are wonderful people," Cindy Silcox said. "We bonded. They weren't anxious to sell, but we liked them and they liked us, and they were able to retire. We are all good friends. It was hard for them after 50 years to imagine doing anything else. They are very happy to spend time with their grandchildren and go where they want to go. We bought some of the history with the building. We use some of the lanes in the store. Customers seem to like it. They come in and reminisce. We like it here because we have plenty of space and are only five miles from our other location."

Worth said they used some of the bowling alley wood in the main aisles and archery range in order to preserve the history of the building. They still have more alley wood to see, and he noted that people use it for tables, work benches and coffee tables. They also kept the original cash register counter.

Worth and Cindy Silcox credit Rocky Silcox with the successful renovations. "Rocky did most of the work himself just about every day," Worth said. He worked with subcontractors, but it was his vision and hard physical labor that made the store what it is today.

Cindy and Rocky's son is a police officer in Mercer County. Their daughter, Megan Silcox,works in the office along with her mother. Worth's daughter, Cheyenne—yes, the inspiration for the store's name—also works at the store.

Their first store was only 4300 square feet, but this is much more spacious than the original "cramped" space, Cindy Silcox said. The store had a storage room that also served as a receiving area and a conference room "and whatever you needed it to be." At 15,000 square feet, the new location is more than triple the size. "We have a lot of room, including a pro shop to do custom bow work in, and more storage room, more room to merchandise, it looks better and feels better."

Included in the new location is a twenty yard indoor range for archery, with five aisles. They had a test range" in the former location; now they have space for archery tournaments. "We have had quite a bit of participation," Cindy Silcox said.

Last summer, Vincent and Gregory Mancini joined the 35-person staff. Vinnie is a National Field Archery Association professional archer shooter. His son, Gregory, is a 2014 and 205 New Jersey State Champion. Together, they run the bow shop.

"I believe we have the best selection in state for firearms and archery," Worth said.
Cheyenne Mountain Outfitters sells guns, ammunition, hunting clothing and boots, archery equipment and everything related to hunting and archery. It is located 244 Route 130, Bordentown. Hours: Monday-Friday 9 a.m.-8 p.m.; Saturday 9 a.m.-6 p.m.; Sunday 10 a.m.-4 p.m. Phone:(609) 570-8430 or 1-800-GUNSUSA. Fax: (609) 570-8425. E-mail: info@cheyennemtnoutfitters.com. On the web: 
cheyennemtnoutfitters.com
Business
,
Today
Cheyenne Mountain Outfitters
Papp's Bowling Center