Community, hoops squad become one team

Mar 30, 2016 02:04PM ● Published by Community News Service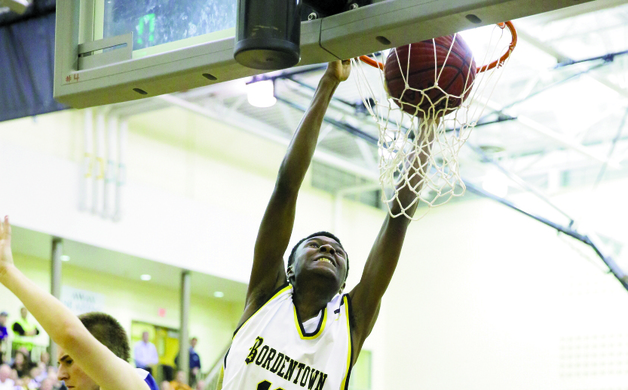 Manny Ansong throws down a dunk during a 59-54 win over Manasquan at Bordentown in the Central Jersey Group II title game on March 7, 2016. (Photo by John Blaine.)
By Rich Fisher

As the Camden High School boys basketball team celebrated its NJSIAA Group II semifinal win on the court at Perth Amboy High school, the Bordentown players dejectedly walked toward their locker room.

Before they got there, however, something happened that made senior Dante Gipson smile through the dejection.

"Honestly, I was upset at the end of the game but walking into the locker room I heard our crowd start chanting 'One team!'" Gipson said, referring to the Scotties war cry all year. "That was one of the best moments ever. It showed how we affected the community, and they stuck with us even in the end."

It was a moment that coach John Myers felt defined a season, in which Bordentown set a school record for wins in going 26-5 and won the first Central Jersey Group II title in school history. The Scotties' last sectional crown came in 2006.

Myers, however, felt the season went far beyond mere numbers. He pointed to Gipson winning South Jersey's Burlington County Sportsman of the Year, and to Melvin Brown winning a Most Courageous Athlete award. And he marveled over the incredible bond formed between the team and the town.

"Out of everything we've done this year, the three things I'm most proud of have nothing to do with the performance of the basketball game," Myers said. "Those two awards, and this whole community theme we had."

It was indeed something special that culminated with that evening in northern Middlesex County, where a disappointed crowd pulled together to salute the players for all that they had done.

"I have never seen a team that captured what they captured," Myers said. "You understand it, that when you're good, the fans start to come. But the way they got a community to get behind them, you just don't see that at the high school level."

Not around here, at least. Maybe in Indiana with Gene Hackman coaching the team. But not in the Northeast.

"It was really nice," Myers said. "You didn't feel like people were there to just watch a basketball game. You felt like they were there because they felt they were part of something. I had this crew of guys who sat behind me, during games. I'd talk to them, they were great, supportive, wonderful. They have no kids, no nothing. They were just there because they loved the team."

As the season went along, the larger the crowds became. And it wasn't just parents, grandparents and Bordentown students.

"I felt like the team really did a unique thing and made people feel like they were part of the 'One team' thing," Myers said. "I really think that's a stunning thing for high schoolers to be able to pull off. Fans can be a fickle group, but when our student body was chanting as loud as anybody could do it after the Camden loss, it was really incredible."

It was truly a memorable group, perhaps ranking up there with the state finalist team that played in the Meadowlands in the early 80s. Bordentown came up one achievement short, as it won its Christmas Tournament, division title and CJ II. All that was missing was the state crown.

"Even though it didn't end the way we wanted it to, obviously, we still felt we accomplished most of the things we wanted to accomplish," Gipson said.

Senior and 1,000-point scorer Myron Gordon praised the team effort this season.

Gordon, who is looking into playing at Harcum (Pa.) junior college in the fall, led the Scotties with a 22.3 scoring average. Gipson, who plans on playing football at either Lycoming or Delaware Valley University, was third with 13.2 points per game.

The two have been the nucleus of a team that went 10-16 in their sophomore years, to 24-6 last year, to this season's record-setting performance. Other regulars were juniors Manny Ansong, the team's leading rebounder, and Darnill Brown, the team's second leading scorer with a 13.4 average. Sophomore Jacquey Mendez was the Scotties' second leading rebounder.

Those five got the majority of the playing time as sophomore Eric Price suffered an early season-ending injury.

"We were brothers, we were more than friends," Gipson said. "Everyone definitely had a few moments in the season where they really shined. There was never any jealousy, everyone was happy for everybody else when they got big numbers rebounding or scoring."

The tone for the season was set last July when the Scotties defeated Notre Dame to win the Ewing Moody Park championship. The Scotties had lost the title game the previous summer.

"We told ourselves we wanted to win that," Gordon said. "That was basically starting off our year. The Moody Park announcer said it was unfinished business, and we really kept that motto going through this year."

The next stepping stone was winning Bordentown's own J. Michael Tucker holiday tournament, which the Scotties did by defeating Nottingham and defending champion Hamilton by a combined 70 points.

Since this current crop of seniors joined the squad, the team had never won the tournament.

"That was one of our first accomplishments that we really wanted to get [this season]," Gipson said. "That boosted our season by winning that tournament and definitely opened some people's eyes when we scored 97 on Nottingham."

Bordentown rode that momentum through the season and into the state tournament, where the team ended up with a rematch against Manasquan in the CJ II final. The Shore Conference squad won last year, 61-45, and it stuck with the Scotties throughout this season.

More unfinished business, said Gordon.

It wasn't easy, as Bordentown let an 18-point lead nearly slip away before emerging with a 59-54 victory. With foul trouble hindering the Scotties, Ansong and Brown stepped up to score a combined 35 points in the win.

"That was really amazing," Gipson said. "It was the first time in school history we've done that (in CJ II). It's just nice to do something people don't do often. And especially to do it against Manasquan. Ever since we lost, that whole time [leading up] to that point we wanted revenge. We hoped they won so we could beat them in the sectional championship."

Camden, which had won its fifth straight South Jersey title, proved to be a tougher opponent as the Panthers ended Bordentown's season. Gipson said Camden out-rebounded the Scotties.

"They have a lot of very strong players, but I just feel like if we boxed out and got some more rebounds and stopped them from driving to the paint, we had a chance," he said. "I wouldn't classify anyone as a shooter on that team. But our defense definitely should have closed up the middle a little more."

Gordon said Camden had some bigger players—in stature and reputation—that may have intimidated some of the Scotties early in the game. Once Bordentown picked up the tempo in the second half, Camden adjusted, and it was too late, he added.

The loss definitely hurt but as time goes by it will be overshadowed by the season itself, and the incredible memories of winning and bonding with an entire community.

And while losing players like Gordon and Gipson could decimate a lot of teams, the two seniors and Myers all agree that next year has another chance of being special.

"It took me a week to get through the doldrums and then I started thinking about it," Myers said. "Next year's team is going to be badass. This team was great and we will be very good next year and the goals still remain the same—win the Tucker, the division, sectional and state titles. We have three starters returning along with Eric Price. It will be different. We may not score 75 a game but I also believe we won't give up as many. I have high expectations for them. I hope that the community will continue to come out and support these kids, because they just love having them."

The feeling was definitely mutual.
Sports
,
Today
,
Community
,
Schools