Scotties' ace is an asset in the circle and at the plate

Mar 30, 2016 02:07PM ● Published by Community News Service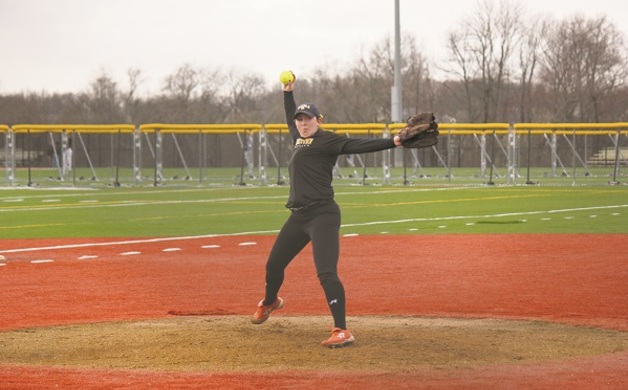 Katie Schroeder throws a pitch during a home scrimmage against Ewing on March 15, 2016. (Staff photo by Samantha Sciarrotta.)
By Rich Fisher

Toeing the rubber just felt right from the beginning for Katie Schroeder.

"I started pitching when I was nine, and it felt special to be in the circle," the Bordentown Regional softball player said.

Schroeder has been pretty special herself, recruited to pitch for Division III power The College of New Jersey next year.

After a freshman season in which she pitched just six innings and went 1-0, Schroeder went 8-1 with a 1.51 ERA and 64 strikeouts in 54.1 innings as a sophomore. Last season she was 6-4 with a 2.44 ERA and 72 strikeouts in 66 innings.

Despite her decrease in wins, Schroeder, now a senior, was making no excuses.

"I am OK with how with how I pitched, I feel like I could have done better," she said. "But I did not and that is on me and it's why I put extra time in this year to get better. We had some very close games that did not work out in our favor and as a pitcher I feel like I am the one responsible for that. I can't blame errors or mistakes for a game when I am in the circle. I have to get the job done for my team. They have my back and I have their backs."

Hillary Allen, who serves as co-coach for the Scotties along with Nicole Walls, had no complaints. She praised Schroeder's work ethic and passion for the team.

Schroeder's career on the diamond began with T-ball, and she moved over to the softball diamond at age 8. She began pitching a year later in the Bordentown Little League said it was a good experience right from the get-go. She fell in love with the sport after making the All-Star teams and playing in district games.

Her travel career started with the Bordentown Bandits, who once reached the World Series.

"We didn't do very well there, but we had such a great time together, I will never forget it," Katie said. "The time you spend with all your friends in travel is really special."

Schroeder moved on to the West Jersey Witches for three years, and suffered a heartbreaking loss in the PONY national championship game during her second year. For the past three years she has been with the Pennsbury Gems Gold team, which travels around to country to play.

Schroeder also began seeing an instructor at age 9, and for the past six years has been under the tutelage of former Princeton University hurler Stacey Bonner, who Schroeder said has helped her "tremendously."

As if all that softball didn't keep her busy enough, Schroeder also played travel soccer and high school soccer. But her first love was always on the diamond.

When she arrived at Bordentown, former Hamilton High School West pitching great Melissa Hodge was the coach. Schroeder pitched just one game but was a regular at the plate and hit .467 with 28 hits.

"I never even thought I would be on varsity," Schroeder said. "The team had their returning pitchers for the year and I was not worried about pitching, I was just worried about playing. I guess coach Hodge saw how I could hit and brought me on. I didn't get to start a lot but I figured if I was going to play, I had to hit."

Walls and Allen took over the following year, and Schroeder became one of the Scotties' main pitchers. She also played first base and continued to hit, batting .347 with 14 RBI as a sophomore and .364 with 17 RBI last year.

Schroeder said she just wanted to make a good impression on Walls and Allen when they took the reigns. She did just that.

"When we first saw her, we thought she was a great leader on the field," Allen said. "She's one of the hardest-working kids I know. That definitely leads to her being successful. She's just a very motivated kid."

Part of that motivation comes from her coaches themselves.

"They are both from Bordentown, they love softball and want us to do well on and off the field," Schroeder said. "But I do pride myself on my leadership abilities and use them on and off the field. It is helpful to me not only in softball but also with school."

That is obvious in that she is part of the National Honors Society and does plenty of volunteer work, particularly at Holy Cross Lutheran Preschool. She likes to stay active in as many extracurriculars as possible, and she especially enjoys travelling. Schroeder is all set to go on the senior trip to Florida, as well as a post-graduation trip to Switzerland and Paris with her friends.

She also practices in her free time. For Schroeder, it's not drudgery. She loves the game of softball and enjoys any chance she can to play. She is particularly enamored with competition, especially in a tight game.

"When you are in the circle you feel pressure, but it is good pressure," Schroeder said. "I feel like I can make a difference for my team. One of the great things about pitching is the boost I get from my teammates. A good team always has your back and you want to pitch for them, you want to make it happen for your team. I love bases loaded, game on the line and being in the circle."

Softball overall has been a great experience for Bordentown during Schroeder's first three years. The Scotties have a three-year record of 48-12, reached the Central Jersey Group II finals in 2014 and are coming off a 17-5 season.

"We lost six seniors last year but we have a lot of really great freshmen coming in and we have a really strong core coming back," Allen said. "You can tell they're a close knit group of girls. They've always been that way, getting along on and off field. We're excited."

Some key returners are senior third baseman Anna Price, junior shortstop Amelia Ditolvo, junior outfielder Anastasia Salera and junior pitcher/first baseman Debra Jones. Schroeder will also be at first when she's not pitching.

Schroeder thinks this is the year for the team to make a deep run in the state tournament, and she will be right in the middle of it, either at the plate or toeing the rubber. She has a full complement of pitches, which makes her effective against any kind of lineup.

"She was always really good but she's grown as a player," Allen said. "Coach Walls and I are very proud of her hard work. She's the type of kid who wants to keep doing better and better and keep developing her pitching and her hitting. She constantly practices on her own. She goes the extra mile in practice, if something is not the way she wants it she'll stay and do more. She's out there hitting on her own."

Schroeder's routine certainly does include a lot of softball. She pitches to her father several times a week year-round,  and she practices with her travel team every week from September through March and then with Bordentown every day from March through May. Every Friday she works with a hitting coach, Larry Robtison, separate from high school and travel. For the past five months she has worked with a strength and conditioning coach to improve her core strength and power at the plate.

The work has paid off, as she will continue her career at TCNJ. She and her family visited a lot of schools for softball, but after attending the TCNJ Urban Teachers Academy last summer, she knew the school was the right one for her.

"Coach (Sally) Miller at TCNJ has won the (Division III) World Series a few times, and she is a great coach," Schroeder said. "I went to her camps the last four years and she is a coach that will help you, and she believes in her players. I cannot wait to play for her."

When it comes to softball, Schroeder feels the sport has made a tremendous impact on her life, giving her plenty of friends and giving her numerous positive influences. Schroeder hopes to return the favor and coach one day.

"My coaches have been great," she said. "They have taught me so many things, not just about softball, but things about success and being a good person and contributing to society. I hope I don't let them down."

Judging by her track record, that seems highly unlikely.
Sports
,
Today
,
Community
,
Schools
Katie Schroeder
Bordentown softball