Community garden lays roots in city

May 02, 2016 12:56PM ● Published by Samantha Sciarrotta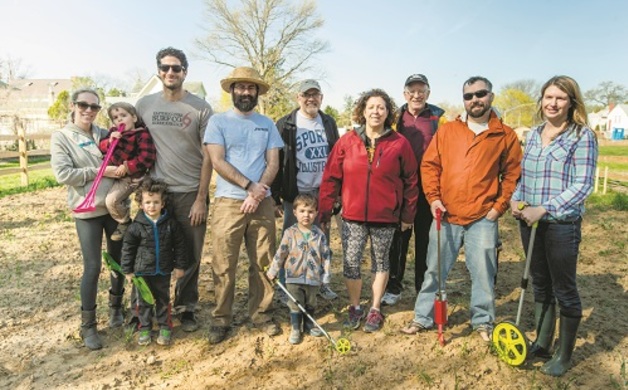 Devon Valenti, Foster Valenti, Grey Valenti, Joe Valenti, Ralph Simon, Joel Dowshen, Cole Ducey, Cindy Gallagher, Ralph Tolomeo, Brian Ducey and Leah Ducey enjoy a sunny day at the community garden on April 16, 2016. (Photo by Suzette J. Lucas.)
By Samantha Sciarrotta

Leah Ducey knew that many of her Bordentown City neighbors would love to tend their own vegetable gardens—if only they had the space.
So Ducey, a Bordentown City resident and secretary of the 
Bordentown City Environmental Commission
, recognized the issue and brought it up at a 
Green Team
 meeting about four years ago. She suggested starting up a community garden, and other members took to the idea, but the difficulty of finding a location left the concept dead in the water. The same cycle happened in years past, too.

This year, though, the garden finally came to fruition, and growing season at Bordentown City's first community garden opened April 1.

The garden is located on East Burlington Street across from the Clara Barton School playground. Each 6-by-11-ft. plot costs $25, which covers the cost of common expenses, like maintenance and water. Gardeners provide their own tools, plants, seeds, soil amendments and other supplies, and growing season lasts until October.

Plot owners are responsible for cultivating and managing their plants, and the Green Team may occasionally ask for volunteers to help mow paths and keep weed growth down. Anything that is grown in the space is meant to be as organic as possible, so no toxic or chemical fertilizers are permitted.

"We are small town surrounded by a strong agricultural community so residents are familiar with growing their own fruits and vegetables and having access to them, but many of our yards in the city are too small for personal gardens," Ducey said. "Bordentown City also has a strong sense of community so the BCEC and Green Team believe there will be good community support and participation."

Ducey, Bordentown City Mayor Joseph Malone and BCEC Chairman Ralph Tolomeo "did some extensive vetting" as far as scouting out a location, said BCEC Vice Chariman Joel Dowshen.

"It was difficult to find a large enough and sunny space in the densely populated city, but the field we are using is owned by the School District, which they graciously allowed us to use since they don't use the field," Ducey said.

Because everyone on the BCEC and Green Team is a volunteer, finding the time to organize garden projects and work days was the most difficult part of the process.

At the start, Dowshen said he was a little skeptical—especially because the city is so small, and because many residents already belong to Community Supported Agriculture programs at other local farms—but he has since changed his mind.

"I am now convinced that there is no reason why the garden should not thrive," he said. "The town has a lot of rental property and apartments, making it difficult for people in those situations to have access to a garden. And I will be getting plot myself, since we have a hard time getting tomatoes to grow in our shaded property."

So far, 20 or 30 of the just over 40 available plots have been reserved. Ducey said even on work days, like fence installation, residents and volunteers showed up ready and willing to help.

For Devon Valenti, her husband, Joe, and their children Foster and Grey, it's part of what living in a small town is all about. Valenti said her family heard about the garden though the Green Team last year, and once it opened, they signed up for a plot right away.

"Bordentown City has such a cool small town feel and this will continue to enhance that," she said. "The garden brings another opportunity for people to discover the neighborhood they live in and get the chance to talk with their neighbors."

They plan on planting mostly vegetables and herbs that they eat regularly. That way, instead of making a trip out to the grocery store, they can run over to the garden and pick something before dinner.

The garden has familial benefits, too—the Valentis gardening beginners, but because it's something young children can participate in, going to the garden has become a bonding experience for the family.

"Our kids love planting things at home and watching them grow, so we thought having a larger gardening space in walking distance to our house was a great idea," Valenti said. "If the kids take part in growing the veggies, they actually start begging to eat them, which, of course is a huge benefit. It also provides a great opportunity to see our neighbors and learn from other expert gardeners."

Ducey hopes that idea extends beyond families and into the community as a whole.

"The garden space will hopefully bring together neighbors you might not have met but [with whom you] share the common interest in gardening and being outside," Ducey said. "Growing your vegetables is a great source of nutritious food and good physical activity. It will hopefully serve a a space for families to gather. Between the garden, baseball field and basketball court there is a wide range of activities family members can enjoy."

The Green Team hopes to see a wide, colorful variety of veggies, greens, herbs and flowers for pollinators. Ducey suggested that gardeners can pass along crops and recipes to one another once the growing gets started.

And that makes for a much more rewarding experience than just driving to Shop Rite.

"People seem to be learning about the many benefits of fresh organic food in general," Valenti said. "Things like community gardens and CSAs allow you to start to experience what really goes into farming and makes it way more engaging and satisfying than just buying from the organic section of the food store."

Overall, though, Valenti feels that the garden speaks to the flavor of Bordentown City life.

"It's a great example of how unused space in Bordentown City could be turned into another positive benefit of living here," she said, "and how a group of local residents worked together to create something completely new and exciting for the town."

The Bordentown City Green Team meets the third Tuesday of every month at the Carslake Community Center's Seniors Room at 7 p.m. For more information about the community garden, or to reserve a plot, e-mail bordentowncitygarden@gmail.com.
Today
,
Community
,
News