Powerlifting duo muscles competition

May 02, 2016 01:00PM ● Published by Community News Service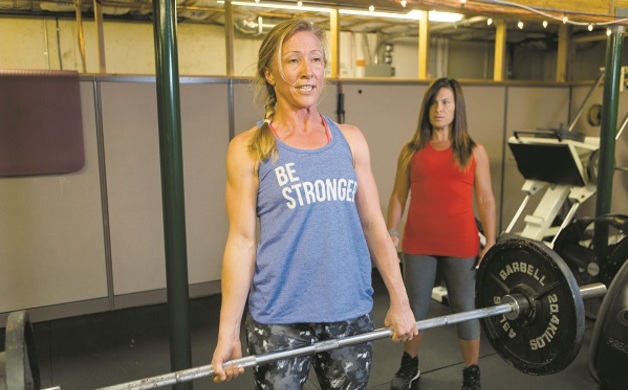 Carrie Ward looks on as Becky Free executes a lift during a recent session at Shock It Fitness. (Photo by Suzette J. Lucas.)
By Lisa Zola-DeLibero

Every day, Carrie Ward and Rebecca Free are up before the sun rises. The women meet daily in the morning's early hours, Ward training Free in the deadlift. Both World National Powerlifting Federation competitors, the two work and work, gradually increasing Free's reps and weight progression from session to session. Free can deadlift 255 pounds, the weight of her husband and their two sons combined.

Ward competed for the last time—at the WNPF Lifetime All Raw National Tournament of Champions—in February 2013, earning second place. Almost immediately following that showing, a stage 3B cancer diagnosis brought her brief career to an abrupt halt.
But she knew she had the knowledge and passion needed to use her skills to coach others who shared the same desire to become stronger and healthier.

Free was one of those people, and she has taken over the competition reins.
Competing never crossed Free's mind until Ward suggested it in December. Two months later, she entered in her first WNPF competition at the Ramada Inn on Route 206—and won.

It was a sweet victory, but one she never would have envisioned prior to a year or two ago. Free just wanted to better herself when she enrolled in classes at Shock It Fitness, which Ward owns.

"Taking care of your personal health is one of the most empowering things you can do," Free said. "Fitness is Carrie's passion, and it is evident in everything that she does. [Free and Ward's other clients] are mothers, teachers, scientists and homemakers who go from ordinary to extra ordinary for a small part of the day. I am a better mother, wife and employee because of the physical strength I have developed."

Ward and Free spend many of their sessions focusing on the deadlift. The emphasis is on a gradual of progression of weight, starting off with a 10-rep warmup that uses a 45-pound empty bar. The weight gradually increases with weights added to the bar, starting at 135 pounds for eight reps. The eight reps are continued with each weight increase, until Free has reached the weight limit. At that point, the reps decrease to six. The warm down consists of accessory lifts, such as pull-ups, which help work the muscles that help to promote a stronger deadlift.

Though her first compeition focused solely on the deadlift, Free is considering taking part in a full powerlifting competition this summer or fall. She will compete in three different exercisess: deadlift, squat and bench press.

Watching Free, 43, lift at the February tournament was like seeing double, said Vivian Tuccillo-Giglio, who also trains at Shock It. She has seen both women compete.

"It was like Carrie crawled inside Becky's body and took over, motoring her forward," Tuccillo-Giglio said.

The foray back into the competitive circuit was a welcome change for Ward. Since her cancer diagnosis, she has struggled daily with finding her new identity—the physicality and competitive desire that once defined her were forced to take a backseat once her treatment started. It's been that way ever since.

"I highly doubt there is one cancer survivor that can say that their diagnosis and treatment didn't change them in one way, shape or form," she said. "On a daily basis, the path of destruction that six weeks of daily radiation and chemo has left behind, to save my life, has shattered the core of who I am. Before cancer, I relied on my physical capacity to do some pretty crazy things to keep me in a positive, confident mindset and fuel my spirit."

But she is still strong, and still able to train others—she doesn't take any days at the gym for granted.

Most days, Ward, 43, wakes up at 3:55 a.m., first making sure everything is in order for her 11-year-old son, Zach. She is out the door and on her way to the gym by 4:15 a.m., when she starts her daily routine of reciting three different things she is grateful for each day while listening to songs that motivate her. She gets things ready for her "Fit Crew" at the gym, jotting down the day's workout schedule on a dry erase board, and the first class of the day starts at 5 a.m., Free's usual class.

That class is usually a 45-minute workout that focuses on strength and metabolic training. The second class begins at 6 a.m. and is usually a conditioning class, yoga or another strengthening class. After that class on Tuesdays and Thursdays, Ward runs back home to get Zach ready for school in between workouts—that time is "super special," she said.
She spends the rest of the day at the gym, and, if time allows, squeezes in a workout for
herself.
Free's mornings are similar. She starts most of her days at Shock It, up at 4:30 a.m. to get to the gym by 5. She takes part in strengthening and conditioning, as well as High-Intensity Interval Training, a 30-minute interval training class. Free, the director of communications and membership for the Pinelands Alliance, then heads home to get to work at 9 a.m. Free, who is married to Fernbrook Farm manager Jeff Tober, goes back to the gym in the afternoon on days when she isn't coaching her son Pete in soccer, or watching her son Henry play baseball. Saturdays are her off days. Sundays, she runs.

"I really admire Carrie as a person, a role model and a coach," Free said. "She has a way of seeing something in us that we don't see in ourselves. This means so much to all of us. All of us have better days because of Carrie."

That's exactly what Ward has set out to do.

"I love the saying by Martin Rooney who says that 'A trainer lights a fire under someone. A coach lights a fire inside someone,'" she said. "This is what I believe in every day."

And it's helped her reinvent her purpose during a period of uncertainty.

"I have not given up," Ward said. "Whether you are a cancer survivor, or your life has had some sort of devastating turn, you still have purpose. Don't look back, but don't look to far forward either, especially if it's defeating and robbing you of the joys of today. Most importantly, surround yourself with people who love you, support you, believe in you and lift you up. Have faith and your redefined purpose and path will be clear."
Community
Shock It Fitness
Becky Free