Rising Stars students win big

May 02, 2016 01:31PM ● Published by Community News Service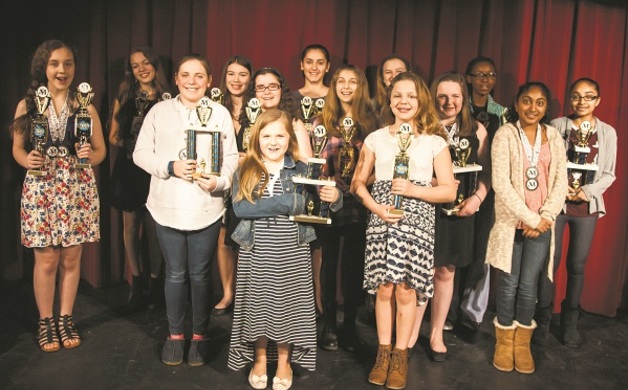 Front: Lia Flynn. Center: Nicole Minar, Abigayl Lynch, MacKenzie Foster, Katie Raynor, Angelina Marrano, Mia Procaccino, Sky Muthuramalingam and Maya Muthuramalingam. Back: Ana Del Valle, Isabella Mayo, Abigayle Harnum and Lola Coker.
Students of Bordentown's Rising Stars Voice Studio have been competing this season in several singing contests throughout the tristate area. Rising Stars' students have been working hard to enhance their talents by entering competitions and have brought their voices and stage presence to a competitive level, which can assist them in getting ready for a career in singing and/or the arts.

At the beginning of the year, several students participated in the National Association of Teachers Singing Competition in New York where Gianna Marrano placed 3rd in the Junior Musical Theater category.

At the New York City Opera Competition, Abigayle Harnum, Nicole Minar and Grace Hoffman all placed 4th in the National Competition. Harnum also won first place in the Intermediate Idol category at the Laurita Idol Competition in March.

At the end of March, many students won awards at the Mid Atlantic Music Teachers Guild competition in Whippany. This competition consists of hundreds of singers from various studios and music schools competing in different categories. Rising Stars' students won a total of 18 awards in the following categories: Lola Coker, 1st place, Idol and Musical Theater Freshman; Ana Del Valle, first place Jazz Intermediate, 1st place Pop Solo; Harnum, 1st place Pop Solo and 2nd place Jazz Intermediate; Lia Flynn, 2nd place Idol Elementary and 5th place Classical Solo Elementary; Mackenzie Foster, 3rd place Classical Solo Junior; Brittany Krall, 4th place, Pop Solo Senior; Abigail Lynch, 3rd place Idol Freshman, 5th place, Pop Solo Junior; Isabella Mayo, 2nd place Classical Solo Intermediate; Camryn Norman, 5th place; Minar, 1st place Jazz Solo Junior, 4th place, Musical Theater Freshman, and 5th place Pop Solo Junior; Maya Muthuramalingam, 2nd place Idol Freshman, 3rd place Jazz Solo Intermediate, and 5th place Pop Solo Intermediate; Sky Muthuramalingam, 4th place Pop Solo Junior; Mia Procaccino, 3rd place, Musical Theater Freshman, 5th place Pop Solo and Jazz Solo Junior; Ashley Nadolny, 4th place, Voice Pop Solo Intermediate; David Rowcotsky, 3rd place, Musical Senior; 3rd place Musical Theater Freshman, Gabrielle Takacs, Jazz Solo Intermediate.

The following students placed in the following duet categories: Minar and Gianna Marrano, 1st place, Junior Duet, Katie Raynor and Procaccino, 2nd place, Junior Duet; Sky Muthuramalingam and Maya Muthuramalingam, 4th place, Intermediate Duet; and Rowcotsky and Krall, 3rd place, Senior Duet.
For more information about Rising Stars, e-mail director Sophie Taillefer at sophiechante@hotmail.com or visit 
risingstarsvoicestudio.com
.
Today
,
Community
,
News
,
Arts+Entertainment
Rising Stars Voice Studio