Couple locks in a romantic tradition in Bordentown

May 02, 2016 01:36PM ● Published by Community News Service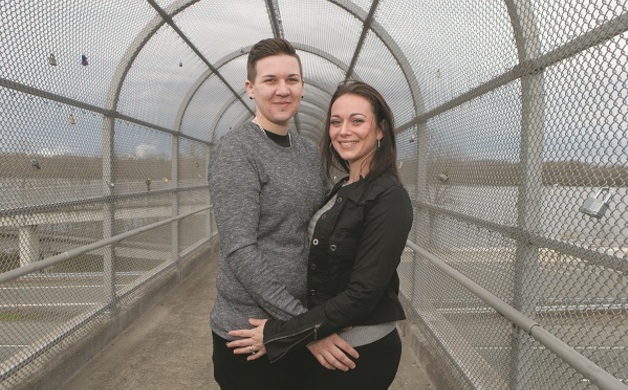 Shannon Douglas and Dianne Simmons, surrounded by locks on the scenic overlook overpass. The couple started an Instagram page dedicated to keeping track of other couples' and families' locks. (Photo by Suzette J. Lucas.)
By Laura Pollack

Thousands of people drive under the Interstate 295 scenic overlook just before exit 57 in Bordentown every day, but most of them don't realize they've just passed what has become one of the most romantic places in the township.

High above the busy highway there are more than 100 locks hanging from the overlook fence. The "love locks" are placed there by couples, families or friends to symbolize the unbreakable bond between them. It's a trend that's more commonly seen in Paris or along the Brooklyn Bridge, but one township couple decided to bring the craze back home.

When Shannon Douglas and Dianne Simmons read about the Pont des Arts bridge in Paris a few years ago, they immediately fell in love with the idea. Up until last year, every corner of the bridge's fence was covered with thousands of love locks left by couples from around the globe.

Douglas and Simmons—who recently got engaged—were moved by thought of so many people sharing their love with the world, and they were inspired to start their own love lock tradition. Whenever they traveled somewhere new, the couple would leave their own love lock in a special place. They have yet to visit Paris, but they have locks in Ireland, Maryland and they will leave one in Las Vegas when they travel there this summer.

While they are enjoying building a collection of love locks around the world, the couple also wanted to have a special lock close to their Bordentown home. In addition to wanting a place close by, they wanted to choose a location they passed frequently and that didn't have any other locks.

They thought about putting a lock on the Trenton Makes bridge until they decided the I-295 scenic overlook would be the best location. Not only did the overlook not have any locks on it, but it right in the town that has become their home. Douglas and Simmons are both from Hamilton but have lived in Bordentown ever since they've been together.

"When we went up we just had the idea to put the lock [on the overlook] because we pass it every day, and it'll remind us every day when we're not together about each other," Douglas said.

Both Douglas and Simmons drive under the overlook on their way to work each day—Douglas is the manager of a CVS Pharmacy in Plainsboro and Simmons is a stylist at Hair Works in Hamilton. For a while, they'd drive down I-295, see the overlook and think of the one another, however, they quickly noticed they weren't the only ones using the highway as a place to lock their love forever.

A few weeks after their love lock was added to the overlook, they began to notice more and more locks popping up next to theirs. Eventually, there was a cluster of love locks from strangers from all over the area hanging above the highway.

"It was exciting to see something we started kind of take off as more and more people were doing it," Simmons said.

Toward the end of 2014, Douglas and Simmons decided to start an Instagram page to share photos of all the locks. The page, @scenicoverlocks, documents all of the locks and the stories behind them. Between Douglas taking photos of the love locks and people taking their own photos and then tagging or submitting them to the page, the Instagram account has become an online diary for different local love stories.

One couple celebrated their two-year anniversary by putting their lock on the overlook, while another married couple added a lock with special charms to honor their children and celebrate two families coming together as one.

"The ones that really stand out to me are the ones that aren't from couples," Simmons said, adding that some of the locks are from friends or from people who lost a parent and want to honor them in a unique way. "It's not just the love in a relationship."

Simmons and Douglas didn't anticipate that other people would want to add their own lock to the overlook. They met eight years ago through mutual friends, and simply thought this would be a fun way to celebrate their relationship. They had no idea how quickly others would follow.

"We thought maybe someone would see it, throw one up there, but nothing like what's happened," Douglas said.

Douglas and Simmons agreed that the craziest thing about this experience has been being interviewed by different news outlets. 6 ABC was one of the first TV stations that reached out to Douglas through the Instagram page, and when she got the call she didn't believe it was real.

"I was coming off working a 10-hour overnight shift when I got the call to meet them at the overpass," Douglas said. "I was half out of it when they called me, and I thought it was a joke at first."

Before the news stories, Douglas said there were 112 locks on the overlook. She hasn't counted them recently, but she estimates that at least 50 more have been added since March.
The Instagram page has also seen a recent increase in followers (it currently has 237), with Douglas unable to keep up with all of the photos being sent in.

While the rush of attention can certainly be overwhelming, Douglas and Simmons agree it has been a positive experience—both for them and the township.

"I think it's a way to bring the community together, and now everybody has a reason to go to that scenic overlook," Simmons said.

When they first put their lock on the overlook, they noticed most most people would stay in their cars off to the side of the highway. Now, however, more people are getting out and walking across the bridge.

What started for two people has rapidly grown into something for their entire community, and Simmons and Douglas are happy to see so many people share their love in a unique way.

"It's living art," Simmons said.

Both Douglas and Simmons are interested in art—Douglas enjoys photography while Simmons likes to draw—and they view the love lock overlook as an artistic expression for people to share the story behind their love.

While they see the love locks as works of art, others see it as vandalism, with some people critcizing the idea. The Pont des Arts bridge had to remove all of the locks because the added weight was causing structural issues. The overlook has a long way to go before it reaches levels close to the Paris bridge, which was so packed with locks the fence was no longer visible, but Douglas and Simmons both hope it won't ever get to that point.

"I'd hate to see it where they can't do it anymore, but we had no idea it was going to take off like this when it did," Douglas said, joking that if it ever got to the point where it caused an issue she'd remove the locks herself and save them somewhere.

Overall, the couple said the reaction has been incredibly positive, and they think it's because people enjoy participating in little acts of kindness and love.

"Even if they don't share them [on Instagram] I think it's a nice thing for families or couples to do together," Simmons said. "Once it's there, it's there forever, we're not taking them down. It's a commitment."

Now, as people travel down I-295, they may look up and see the tiny locks above the highway. Whether they're going to work, school or heading home, Douglas and Simmons hope it'll be a reminder that love can flourish in even the most unexpected places.
Today
,
Community
Shannon Douglas
Dianne Simmons
Instagram
scenicoverlocks
Ponts des Arts Bridge