Creature comforts in demand at Golden Halo

May 02, 2016 01:46PM ● Published by Samantha Sciarrotta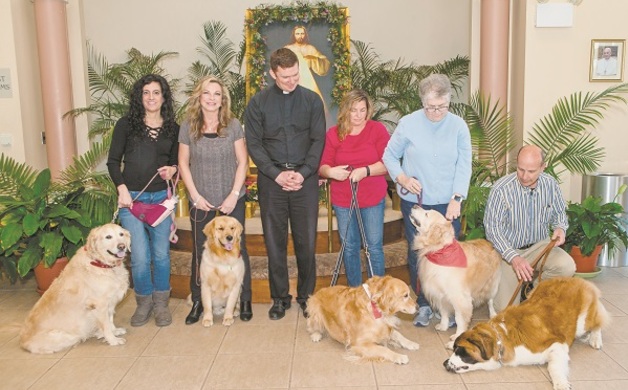 Angela Dormer, Mary Theresa Weil, Michael McClane, Barb Anderson, Linda Zefutie and Ward Taggart gather in the St. Gregory the Great church lobby with their dogs Mika, Kimiko, Lacey, Molly and Elsa on April 12, 2016. (Photo by Suzette J. Lucas.)
By Samantha Sciarrotta

When Mary Theresa Weil hears the familiar patter of paws on the ground coming her way, she lights up. Her 2-year-old golden retriever, Kimiko, loves to be pet and can sense when Weil is feeling down. The dog "hugs" her when she's upset and comforts her when she needs a pick-me-up. Because of the dog's gentle nature, Weil planned on eventually enrolling Kimiko in training to become a certified therapy animal.

In the meantime, though, she thought, why not pass along that enjoyment to other people?
A parishoner at St. Gregory the Great Catholic Church in Hamilton Square, Weil shared her thoughts with pastor the Rev. Michael McClane about a year ago. McClane, a dog lover himself, thought the idea had legs. He recalled seeing a photo of golden retrievers comforting the residents of Newtown, Connecticut, following the shooting at Sandy Hook Elementary School in December 2012 and thinking it was a unique way to help people suffering through such a major loss.

In March 2015, the two launched Golden Halo Outreach, a program that uses dogs and their owners to "bring emotional heating to children and adults who are grieving or are in need of comfort through a visit."

"People really responded to the dogs beautifully," McClane said. "It's kind of verified for us what we were wondering in the beginning—is this a way to help cheer people up who might be struggling or suffering or lonely?…We find that this really enhances our outreach. It's really brought joy to a lot of people."

They came up with the name Golden Halo based on Kimiko's breed (though dogs do not have to be golden retrievers to participate) and placed an ad in the church bulletin to gauge interest. Now, the program has five dog-handler pairs in addition to Weil and Kimiko, who live in Robbinsville: Linda Zefutie and Molly, a golden from East Windsor; Angela Dormer and Mika, a golden from Mercerville; Barb Anderson and Lacey, a golden from Robbinsville; Ward Taggart and Elsa, a St. Bernard from Robbinsville; and Peggy Nicol and Max, a golden from Hamilton.

The initial plan was to start off serving the church and possibly the school. Once word got out, though, elderly care facilities like Brookdale Senior Living in Hamilton and the Clare Estate in Bordentown reached out.

"We've been having them come as often as possible," Kristen Morgan, Clare Estate's activities coordinator, said. "They took to us so quickly. The residents here love anything adorable—they love babies, and they love animals. We have quite a few therapy dogs that come here. We try to make it once a week that a dog comes by."

The visits are not regimented by any means—the residents usually gather in a common meeting area, and the dogs are free to roam around from resident to resident. They pet the dogs and talk to their owners, and some have treats in their pockets, ready to give to the pooches.

For some residents, it's a reminder of pets that have long since passed. One resident, Morgan said, was missing her dog and feeling down, but during one Golden Halo visit, Morgan had "never seen her beam so much."

"It always brings back memories," Morgan said. "They're always talking about how cute the dogs were, and how they remember having dogs themselves."

Weil sees it when she visits, too.

"We go to nursing homes, and people love the dogs," she said. "They talk about how they used to have a dog, maybe the dog was a golden retriever. It brings joy to them."

Dormer heard about Golden Halo in the church bulletin and joined up right away. She remembers one blind resident who, after petting one of the dogs, could not stop smiling.
Zefutie recalled one patient who was having trouble adapting to his new environment.

"What about the man who had been there weeks and hadn't said a word?" she said. "When he saw the dogs, he half-smiled and said, 'It's good that they brought the animals.' That's the first thing he muttered. One of the nurses started crying."

That's just the power of dogs, Weil said. And it's exactly the kind of impact she was hoping for when the program started.

"They're always there for you," she said. "They greet you. It doesn't matter what kind of mood you're in. They're always with you, and they comfort you. They sense it, too. If I get upset about anything, Kimiko will literally hug me—she'll put her arms around me. They know. They're very calming. They make you smile when you see them, automatically."

Being involved with the program is just as meaningful to the owners as it is to those they serve, though, said Weil. They "joy" they feel when they visit assisted living facilities or church events, she said, is unsurpassed. It's clear to Morgan, too.

"I do believe they pull something from their visits," Morgan said. "The dogs always seem happy because they're getting loved, and the owners feel happy, as well, because they're giving back to the community."

Golden Halo attends sensory-adapted masses at St. Greg's on the first Saturday of every month. The masses, intended for children and adults with disabilities, are incense-free and low-lit. The music is softer, and smaller and low-gluten hosts are also offered. The dogs scared some of the children at first, Weil said, but that fear quickly dissipated. She's even heard from some parents that they've gotten dogs for their families based on the impact of Golden Halo alone.

They're also present at Anointing of the Sick and Healing Masses, and participated in the Ability Tree Christmas Party at the Robbinsville Senior Center last year. They walk in the Robbinsville St. Patrick's Day parade, which is where Max was recruited.

Leading up to their monthly visit sensory-adapted mass, Anderson said attendees look forward to the dogs, asking if Golden Halo will be there that week. And her dog, Lacey, looks forward to it almost as much as the parishoners do.

"She, of course, is in totaly heaven when there's a whole line of people lined up to pet her," she said. "It's almost like you feel like you're bringing the dog here more for the dog than for the people. It's almost selfish, but they do love it, and it's great to see everyone smile immediately when they see the dogs."

Anderson, Weil's neighbor, heard about Golden Halo through the church website, and reached out once she saw that Weil was involved. She also knows Weil through Green Leaf Pet Resort (the same facility where the Trenton Thunder's bat dogs are trained), where Lacey and Kimiko are "friends."

Not every pair attends each event, but every member is active within the program. Eventually, Weil hopes to add more dogs, as well as diversify the breeds involved. She doesn't foresee a limit on the number of dogs, either. That way, McClane said, they might set up a rotation so different dogs can work at different events.

The dogs are not certified therapy dogs, and prospective members don't have to be. Some dogs might go down that path, McClane said, but it's not required.
"You don't want a dog that jumps or barks a lot," Weil said. "That could tend to scare people. You want a dog that is basically calming, and not a dog that is jumping a lot. Some dogs, that's just the way they are. There are certain breeds that are like that. Every dog is individual."

The Golden Halo dogs do get excited when the group meets up before events. They play with each other and might tend to get rowdy, but once their owners put their Golden Halo bibs around their necks, they go into work mode.

"It's almost like they understand they're on," Anderson said. "They kind of go into this role they play, which is really great and instinctive."

And it's been nothing but positive for the people they serve at Brookdale, Clare Estate, St. Greg's and beyond.

"I love that they come," Morgan said. "They are really just a fantastic group of dogs. I'm so happy to actually have met them and have them come spend their time with our residents. It's just something that makes them happy. When they're out there with the dogs, they have the biggest smile on their faces."
Today
,
Community
Golden Halo Outreach
St. Gregory the Great
Comfort dogs