Golfer Stewart learns to trust his instincts on the green

May 02, 2016 01:52PM ● Published by Community News Service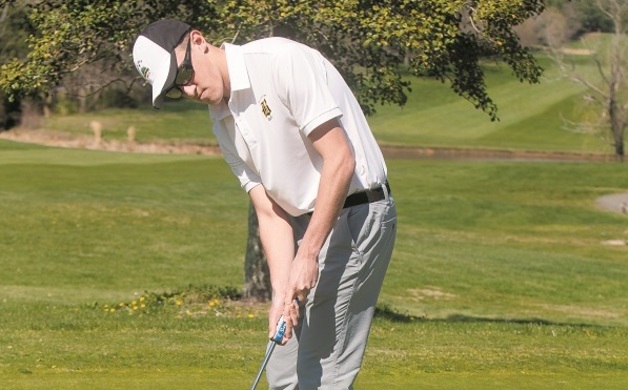 Jack Stewart lines up a putt during warmups before a match this season. (Photo by Suzette J. Lucas.)
By Rich Fisher

As captain of the Bordentown Regional High School debate team, Jack Stewart has to be good at thinking on his feet. As the No. 1 player on the Scotties golf team, Stewart knows that skill can be counter-productive on the course.

"That's probably why I don't do too well on the 18-hole courses most of the time—overthinking a lot of stuff," Stewart said with a laugh.

When you're as smart as Stewart, it's tough to turn the mind off. The senior has a 4.0 grade point average (4.15 weighted) and will major in aerospace engineering with a minor in business at either Maryland, West Virginia or Florida Institute of Technology. From there, he may join ROTC, or go for his masters degree with thoughts of applying to NASA and maybe going up in space.

Unless he grows.

"Apparently the upper limit in height is 6-foot-3, which is where I'm at," he said. "Hopefully, by the time I'm old enough to do any of that, I've stopped growing."

And while he has dreams that are sky high, Stewart's feet are definitely on the ground when it comes to golf. He has been a four-year starter for the Scotties, bringing his average down each year.

Stewart averaged in the low 50s to high 40s (for nine holes) as a freshman. That dropped to 46 and 47 as a sophomore, to 45 and 44 as a junior, and to the low 40s this season.

"The first time he came out, you could see that he knew the game and understood the game," Bordentown coach Ron Jones said. "He practices, he works at the game over the summer. He's constantly involved."

Last summer, Stewart worked as a caddie at Metedeconk National Golf Club in Jackson, considered to be one of the premiere country clubs in the state.

"Doing something like that over summer puts so much in your mind about the game, and that's the kind of thing you have to have," Jones said. "That's what Jack has, the dedication, the desire to put in the work he needs to make himself better. And he still has the wherewithal to look at what he's doing and saying 'OK, I didn't have a good day, where did I go wrong, what do I need to work on?' The next day you'll see him working on that."

While Jones considers that mental prowess a strength, Stewart feels it sometimes gets the better of him. He noted that when he was younger, putting for a double bogey was no big deal, and he would tap it in. Upon his improvement, he is lining up birdie putts these days.

He's learned to keep calm, he said.

"The short game is where I mess up the most," Stewart said. "I have all the tools it takes to shoot good rounds. It's transitioning that mental game. Just realizing now that it's another putt as opposed to an odd chance."

Stewart first got a club in his hands when his grandfather took him to the driving range at age 12. Two years later, family friend Eric Haus took Stewart to a nine-hole course in Levittown, Pennsylvania on a Thursday afternoon. On a course that consisted of mostly Par 3s and 4s, Stewart shot a 49.

"It was all right, I had fun just playing, just enjoying it," Stewart said. "I wasn't too frustrated. I was frustrated in later matches, but I was just happy to get out and play."

Haus saw enough in Stewart to invite him out with his buddies to play on Sunday mornings. Haus didn't think Stewart was ready to play on a crowded course, but he saw that Stewart had talent to be developed. They played almost every Sunday.

When he got to high school, Stewart ran cross country and winter track and decided to go out for the golf team, too. Jones immediately noticed Stewart was someone a cut above what he usually inherits, as Bordentown does not have a reputation as a golf school. Former Scotties Russell Hill and Corey Meyer went on to play college golf, but Jones never really had a team full of depth.

"Halfway through Jack's freshman year, we realized we had something a little more special than the average golfer," the coach said. "It's a matter of numbers here. With between six and seven hundred golfers, the chances of us getting a good golfer, like Russell or Corey, are about one in six or seven hundred."

Jones quickly began to notice that Stewart knew his way around the course and understood what needed to be done. He appreciated that Stewart could actually do what he said he could.

"Some kids come out and just want to play nine holes, they tell you 'Yeah, I shoot a 45,'" Jones said. "Then you send them back in a competitive vein and they come in with a 52, a 56 and things like that. You're like 'What happened to the 44s and 45s?' Well, they never really existed. It's a lot different going out playing competitively than going out by yourself. You're by yourself, you miss a two-footer and don't count it. When you have another team playing against you watching everything you do, you have to play an honest side of the game."

Stewart was honest from the start, and still is when assessing his game. He has mastered the art of nine-hole golf, but admitted he has trouble sustaining the mental toughness over 18. His first full-length tournament for the Scotties, he shot a 121 at Seaview in Egg Harbor.

As a sign of his improvement, he carded a 96 at Little Mill in Marlton in mid-April, but he was not thrilled with it.

"That isn't too good," he said. "But I used to shoot 110s or higher and just wouldn't do too well. But playing in summer tournaments I started to shoot in the low 90s and got into the high 80s sometimes."

It has basically been a case of shooting a good nine holes, followed or preceded by a shaky nine holes.

"I'm still working on that transition," he said. "I'm getting 40s and 41s for nine holes, but I'm not showing two of those yet. Sometimes it's on the front nine; sometimes it's on the back nine. It's definitely tough. Probably the hardest thing for me to improve, and what I lack in my game currently is trying to transition those great rounds of nine into two rounds of 18. It's just mental. It goes back and forth through the nines."

In analyzing his overall game, Stewart feels he is a strong ball striker with his irons and can get off the tee well with his driver, although he doesn't use it that much. And while his putting and chipping have improved, he feels that is where he needs to improve.

"When it comes to the irons, I'm a lot more consistent," he said. "I put myself in good positions, I've been hitting greens in regulation with the irons, and the driver has been helping me out a lot lately. When it comes to putting, especially getting a feel for certain greens, I need work. Especially lag putting up front for 20 feet or longer."

One improvement that Stewart has made is shaking off bad holes and moving forward.

"It's definitely why I think I've matured as a golfer," he said. "If I have a bad hole, I take it as more of a challenge to get what I need. I'm playing to get those numbers down. There's nothing wrong with my shot or play style, it's just thinking what to do and going through the motions and trying to play golf. I think about other things. I think about how my day went. I think about anything but golf until I approach my ball. Then I think of my shot. I'm trying to get that over-thinking out of the way."

Stewart certainly has a lot to think about, as he is one of the lead members in Model UN, and is also part of the Technology Student Association, Math Club, National Honor Society and Student Council.

His highest leadership role is with the Debate Team, as he gets the troops ready to argue by undergoing arduous preparation.

"When it comes to debate, you just make certain plans," he said. "For the affirmative we make certain plans based on what the topic is and get very creative with that. It's just a lot of research. In the end it just comes down to if know your stuff after doing the research."

It's a lot like golf. Stewart knows his stuff; he just tries not to think about it too much while he's out there.
Sports
,
Schools
Bordetown boys' golf