Oguonu's 'lead-by-example' style speaks volumes on track

May 02, 2016 01:58PM, Published by Community News Service, Categories: Sports, Today, Schools
---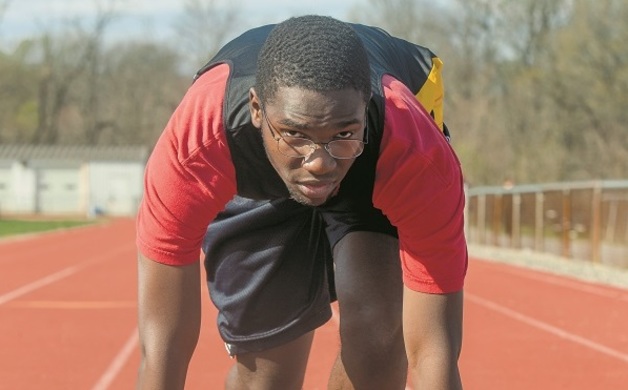 Chinedum Oguonu gets in starting position during a practice this season. (Photo by Suzette J. Lucas.)
---
---
By Kevin Kunzmann

It can be hard to get a read on Chinedum Oguonu.

Xander Sommers was a sophomore at Bordentown Regional High School last year, relatively new to the area after having moved from Georgia. He had met Oguonu through a new mutual friend, and at first felt intimidated by him. Oguonu looked tough, and his quiet demeanor around new people didn't ease Sommers either.

It'd just take longer for Sommers to get the right read on him, but being in the Bordentown gymnasium for Oguonu's basketball game one night definitely helped. He watched an opponent come down the court on a fast break, with nobody nearby and a clear lane for a layup.

Then came Oguonu. The 5'10 sophomore sped down the court in the blink of an eye, Sommers said, leaping from his full stride to slap the layup against the backboard.

"His speed is crazy," Sommers said.

Speed is something you either have or you don't, Bordentown boys track coach Joe Minch said. Not only does Oguonu have it, but he's shown the potential to get even faster. The current junior is the best 100m sprinter Minch can recall in his four years as head coach, posting times at about 11.4 seconds.

"I can definitely see it with his work ethic, that you can expect him to run 11-flat or so by next year," Minch said.

In fact, shedding about a half-second off an already excellent 100 time is Oguonu's goal in the next year. Such a feat would be difficult, but Oguonu is centered around goals. He's currently focused on his SATs in May, and has plans to study computer science in college and become a software developer.

He and his friend Seth Asare, a junior, believed they could win the division in track this year, so they quit basketball to better train for the spring season.

He and his teammates will tell each other their goals for a meet, and spend the event reminding each other what their magic number is. Oguonu does that more for his team than he does for himself.

"I don't really have a specific time," Oguonu said. "I just try to run as hard as I can."

Oguonu first joined track on the advice of his 19-year-old brother, Abuchi, who also ran at Bordentown. Oguonu was looking for another sport aside from basketball and Abuchi had talked up sprinting and just how good Oguonu could be at it. The little brother joined and was immediately surprised.

"I always thought when I had come in that my brother was super fast, so I had all these high expectations," Oguonu said.

Oguonu was already faster than him. But just like his brother, he was a natural athlete, Minch said, and was called upon almost immediately for different events or being used as an example in practice. Whereas Abuchi was more talkative with his teammates, putting Oguonu on that pedestal often drew a nervous grin, Minch said.

"Chinedum's more of that quiet, show-by-example leader," Minch said. "Abuchi was very animated and vocal. Their work ethic was pretty much the same. You like to have leaders in both."

Oguonu is admittedly not a vocal leader, but for a talented team with just one senior, he is an experienced teammate who sets the bar. He'll be the one to leave social circles at the beginning of practice to get everyone warming up, Asare said.

Sometimes he'll walk nearly two miles from his home to get to practice if he doesn't have a ride. Between runs, he gets feedback from different coaches, constantly tinkering his form.

"With sprinting, I always thought it was all about legs—if I'm fast, I'm fine," Oguonu said. "But really, the faster you move your arms, the faster your legs move."

Minch has noticed how much the junior has improved lifting his knees, using his arms and getting off the block at beginning of races. Oguonu's absolute strength is about halfway down the stretch, where Minch said you'll never see anyone run away from him. Because of that, he's not as much in favor of the 200 meter event, which starts with a bend and lane change before turn into a straightaway race.

Oguonu still believes he can post a time under 23 seconds in the 200 before he graduates, though.

For friends like Sommers, the challenge is catching Oguonu—even if it's just once.

"My main goal is to at least beat him in one race this season," Sommers said. "That's one fast kid. Sometimes I'll have a good start ahead of him but he'll zoom past ahead of me. Sometimes he will just beat me off the gun."

For a sport so focused on individual statistics, track really translates into a team sport for Oguonu. Though he's dependable for points in his events and is an athlete coaches can ask more of, he prefers not to think of himself as Bordentown's star.

"I don't want to put it all on myself," Oguonu said. "I don't want to have all the credit. My teammates are important. Track is a team sport."

Sommers described Oguonu as their group of friends' "operating system," always bringing a reasonable approach to situations. Asare said he's a funny guy who can get the team to relax when they need it. During at meet at Woodbury High School this season, two underclassmen botched a handoff during a relay and Bordentown placed eighth. While Asare fumed over the mistake, Oguonu made light of it and even helped the two teammates to correct it.

Other times, Oguonu is motivational. Asare ran the 100 with him last year until he tore his quad muscle during a meet. When Asare pulled up short and limped to the finish line, Oguonu was one of the first people to him, having turned around immediately after crossing the finish and going back to Asare. The two have been friends since Asare moved from Franklin Township in sixth grade, and Oguonu knew what to tell him.

"Because of him I was looking forward to coming back," Asare said. "He's what pushed me to work hard for this year. He was saying stuff about needing me back so we can get some medals. He knows I'm competitive and really wanted to get back."

Having a close-knit group of teammates and even a younger sister on the team—Kasi, a talented sophomore thrower who also plays basketball—helps Oguonu see track as something more resembling a fun hobby than passion.

Because early Saturday morning meets mean doing less on Friday nights, the quiet sprinter likes to socialize with his competition. It makes sense—his barrier is down when he's with his friends, and he's with his friends at every practice and meet.

"I like it," Oguonu said. "I like it a lot. I want to meet new friends and meet new people. I kind of don't really show myself often."

Because he's afraid it'll just serve as a distraction in college, Oguonu is content with being done with track once he graduates. For as driven as he is, for as much fun as he has with his friends and for how fast he can run, he knows there's other goals to reach. A number in the school's record books would be great, but it wouldn't really explain Oguonu.

"He doesn't want to be the one you're always exemplifying," Minch said. "It just doesn't go with his personality. He's more of that example of how you hold yourself—how you win, how you lose. You'd kind of want all of your runners to be like that."
---
---
Chinedum Oguonu Bordentown boys' track
---