New Mission chief takes reins

Jun 01, 2016 06:31AM ● Published by Samantha Sciarrotta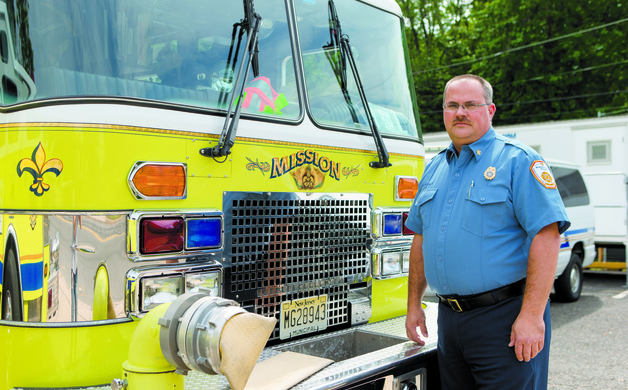 Steve Scholey was recently appointed career chief at Mission Fire Company. (Photo by Suzette J. Lucas.)
By Samantha Sciarrotta

Mission Fire Company is responsible for a lot in Steve Scholey's life.

He's gotten satisfaction from helping residents of his hometown, he's gained friends, he's gotten the opportunity to lead—Scholey even has the fire department to thank for his wife, Maria. The two met on a blind date through one of Scholey's colleagues at Mission nearly 30 years ago and married in 1993.

He has a lot to thank the department for, but Scholey's colleagues say he's the one who deserves the praise. Scholey was recently appointed Mission's Career Chief after former chief Ray Fackenthall retired this year.

Ask around the department, and you'll hear he was the perfect man for the job.

"It's a promotion well-deserved," said Mission Commissioner and Volunteer Captain Anthony Gadecki. "He's put in his time throughout the years, and he finally worked his way up. The company and the commissioners support him all the way. We're happy to have him as the face of our organization."

And he has certainly put in his time.

Scholey was born and raised in Bordentown. He went to Bordentown Regional High School for two years and then transferred to the Burlington County Institute of Technology, where he studied design and drafting.

He graduated in 1987 and did a variety of odds-and-ends jobs up until the early '90s, initially pursuing a career in what he studied at BCIT.

Scholey, a Hamilton resident, started out as a volunteer fireman at Hope Hose and later became the city's volunteer fire chief. Scholey's mother, Gloria, was involved with the Hope Hose ambulance squad, and his grandfather was also a fireman. Their experiences as first responders inspired him to get involved.

"I just enjoyed what they did for the community, getting involved in the community, working with the community," he said. "I was fortunate to be able to make a career out of it."

Gloria, especially, had—and still has—strong ties to Bordentown. Aside from her involvement with Hope Hose, she also served a term as mayor and worked at a local bank, and she still lives in the house Scholey grew up in.

He has vivid memories of Gloria stopping when she was doing if a call came in.

"Growing up, the volunteer ambulance squad was right around the corner from our home," Scholey said. "There was many a time where she's jumping up and running out to a call in the community. It was one of those situations where she served the community any way she could and later decided to get into politics. Just doing her part. It's good to find people who are willing to do that."

Scholey himself is one of those people, Gadecki said.

"It started with his mom and grandfather," he said. "Any time anyone has a question, he answers. He is the go-to guy for everything, even if someone calls the firehouse by mistake. He still manages to answer their questions and help. Everyone goes to him. He is always willing to help, no matter what. He will find a way."

Scholey started at Mission in the early '90s as a part-time fire inspector and became a full-time employee in 1996. He previously served as the company's deputy chief.

Scholey has also worked as a member of the New Jersey State Task Force One Urban Search and Rescue Team, and he is the past president of the Burlington County Fire Chief Association.

Spending the last 20-plus years at Mission has left Scholey feeling "blessed," he said. And taking over for a man he admired in Fackenthall, who had served as chief since '93, was even better.

"He was in the position for a long time," he said. "It's kind of interesting when I reflect back on it. When I took over as the volunteer chief in Bordentown City, Ray was taking over as the volunteer chief here. That's how far back it goes. We've worked together for many years. To take that job after him, it's an honor, to say the least."

Fackenthall is still active with the organization, Scholey said.

The two built a friendly and professional relationship over the years. They attended county chief meetings together and worked on grid development.

"We were always close, being able to communicate back and forth when I was involved in the city. It was an excellent relationship. It was kind of the transferring of the baton, really not even seeing any change in the way the business is. We're very fortunate."

The company currently employs five full-time firefighters, along with 20 volunteers. Scholey praised the dedication of Mission's volunteer firefighters, many of whom have over 20 years under their belts. Becoming a volunteer firefighter is time-consuming, so it can be hard to find new ones, especially when the veterans start to retire.

Scholey said the department is always looking for new volunteers, especially younger people. This year, the department plans on "making a real push" to recruit and gain new members.
And the effort is worth it, he added.

"I think probably one of the biggest things that I can say that we're proud of is that we can mix guys on the fire scene, and you won't know which are the full-time guys and which are the volunteers," Scholey said. "They all train together, they all work together. They interact well.
To me, that's something that exemplifies the organization."

Who is the glue that holds all of that together?

Scholey, said Gadecki.

"He can bring people together," he said. "Not only on a social level, but on a professional level, too. Everyone gravitates toward him. Everybody knows how to have a good time when he's around. He is in upper level management, a supervisor, but he still can meld with the regular employees. They can joke around, but they know there's that line. He's still the boss. When it's time to work, he means business, and they know where that line is."

It's really all about communication, Scholey said. And that is something he learned directly from his mother.

"She showed me a lot of different ways to communicate with people," he said. "If everybody's on the same sheet of music, things go 10 times better. I think a lot of times, communication is the biggest thing. Sometimes, there's a lot of frustrations and when you dig down deep enough, it's because someone didn't get the whole story. If there's a good communication line in the beginning, you make things a lot smoother, and everyone's up to date."

Scholey and his family currently live in Hamilton, where they moved in 2007—Maria was born and raised in the town. They have one son, Ryan, who currently attends the University of the Sciences in Philadelphia, where he also plays baseball.

In his spare time, Scholey likes boating, fishing and watching baseball and football. He's a diehard Phillies and Eagles fan—"True to the Philadelphia area. We're right at that dividing line between Philly and New York teams," he said—and makes the trip to the Linc and Citizens Bank Park whenever he can.

He has no timeframe for when he plans to retire, but said he'll stick with the department as long as he can "safely do it and do the job well." All the better for the department, Gadecki said. Even after the official work day ends, Scholey spends time at the firehouse volunteering, and he brings traits like that out in everyone, Gadecki added.

"I think the thing he does best is not only organization and the typical traits of a good leader, but he also motivates through his actions," he said. "He touches the department as a whole by bringing out everyone's strengths. Even someone who may think they have nothing to give, he manages to bring out their good traits."
Today
,
Community
,
News
Steve Scholey