Taillefer aims to help students' stars rise at voice studio

Jun 01, 2016 06:55AM ● Published by Community News Service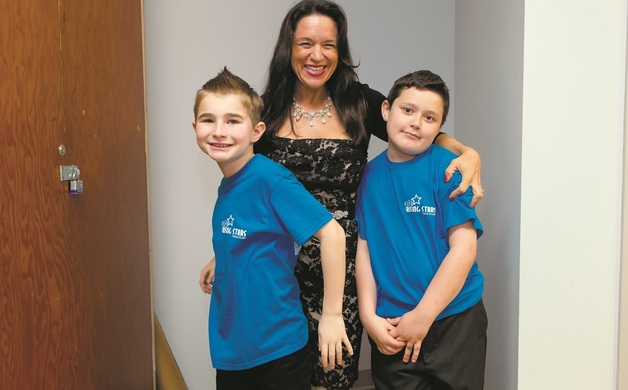 Aidan Gould, Sophie Taillefer and Nickola Taillefer pose before a performance at the Scottish Rite on May 22, 2015. (Photo by Suzette J. Lucas.)
By Jacquelyn Pillsbury

Sophie Taillefer has dedicated her life to the art of music. The French Canadian singer, stage director and vocal coach moved from Montreal to Philadelphia 20 years ago, when she was invited to study at the Academy of Vocal Arts in the city. The mezzo-soprano has performed national opera companies including Opera Philadelphia and the Cleveland Opera. Her diverse repertoire also includes French music hall songs made popular by Edith Piaf, Charles Aznavour and Jacques Brel.

A decade ago, Taillefer opened Rising Stars Voice Studio to pass that passion along to young performers looking to hone their craft. "We are a vocal institution," she said. "We place more and more of an emphasis on getting really good coaches and great voice teachers. Our students are learning how to become semi-professional singers and to try to get better roles and into good colleges. We are teaching them something more than learning their parts. They are working with real vocal coaches."

The teaching staff at Rising Stars is comprised of high-quality professional vocal coaches and performers. Vocal coach Dyan Zbikowski is a Bordentown resident, graduate of both the Mason Gross School of the Arts at Rutgers University and Westminster Choir College of Rider University, a teacher at Phifer Middle School in Pennsauken, and an accomplished singer.

New to Rising Arts is Vocal Coach Emily K. Byrne, who is originally from the greater Philadelphia area. For the past five summers she has worked with Delaware Valley Opera Company. Vocal Coach Emmanuel Acosta is a lyric tenor, graduate of Westminster, voice teacher, and coach based in Princeton. He has performed with the Philadelphia Orchestra, the New York Philharmonic, the New Jersey Symphony Orchestra, and the Vienna Philharmonic. He will be performing this month at the Princeton Festival in Benjamin Britten's Peter Grimes.

Kay Streeter is a professional piano teacher who studied at Westminster under Steven Allen and Jerry Rife. Streeter, an artist who shows pieces in local galleries, is also a set designer and painter at Rising Stars. Vocal coach Lorraine C. Perri is a recent Montclair State University alumna. She was most recently seen in New York City as Lilly in the new play Holidaze. Vocal coach Megan Malfi is a student at Westminster.

This summer, the coaches at Rising Stars will work with students to put on two Broadway productions: Les Miserables for ages 11-18, and Disney's Aladdin Jr. for ages 7-12. Audition dates for leads for both productions will take place on June 5. The productions are triple cast so that every student has a chance to shine.

Rehearsals for Les Miserables run three hours Monday through Thursday evenings from June 27-July 20, culminating in performances July 29-30. Disney's Aladdin Jr.'s performers will rehearse six hours during the day from Monday through Friday from August 1-20 (before and after care is available) and perform August 19-20. The cost for participating in Les Miserables is $325. It is $425 to participate in Disney's Aladdin Jr. camp.

Rising Stars is a year-round vocal studio. The teachers are committed to bringing participants and vocal students to the next level—from beginner to advanced students. In addition to performing in musical theater, Rising Stars students also learn in-depth what it means to be part of a musical production—how to prepare for a role, how to sing solo and harmony, how to become a character, how to dance, and how to audition for other local and professional companies. Participants will use their imaginations with the staging and set creation.

Students at Rising Stars also participate in competitions throughout the tristate area and have been doing so all year. Gianna Marrano placed third in the Junior Musical Theater category at the National Association of Teachers Singing Competition in New York. At the New York City Opera Competition, Abigayle Harnum, Nicole Minar, and Grace Hoffman all placed fourth in the National Competition. Harnum also won first place in the Intermediate Idol category at the Laurita Idol Competition in March. At the end of March, Rising Stars' students won a total of 18 awards at the Mid Atlantic Teachers Guild competition in Whippany.
Rising Stars Voice Studio is located in the Open Arts Performing Arts Center at 146 Route 130 S, Bordentown. Phone: (609) 775-7488. On the web: 
risingstarsvoicestudio.com
Business
,
Today
,
Arts+Entertainment
Sophie Taillefer