New approach at the plate helps Guzik make big strides

Jun 01, 2016 07:00AM ● Published by Community News Service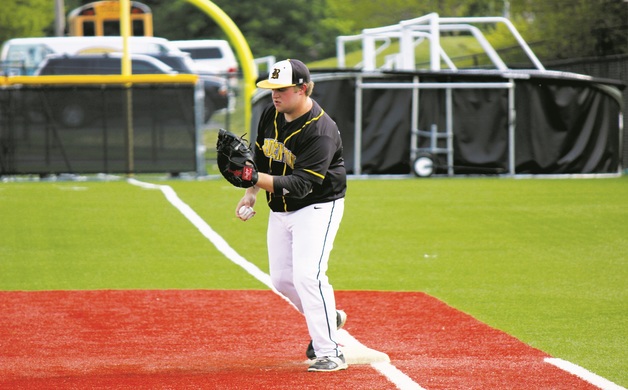 Jon Guzik handles the ball during a 7-2 home win over Holy Cross on May 12, 2016. (Staff photo by Samantha Sciarrotta.)
By Laura Pollack

Bordentown Regional High School first baseman Jon Guzik has become one of the strongest hitters on the Scotties' baseball team, and it may be due in part to a lackluster sophomore year.

Last season, the current junior had just two hits in 15 at bats—a .133 average. Guzik knew he was capable of more, so he spent his offseason adjusting his swing. As he began to break down his at-bats—working to keep his arm down, hitting the ball to the opposite field—he quickly realized that sometimes doing a little less yields a lot more.

"I was going up like I wanted to hit the ball as hard as I could, but now this year I'm just trying to get on base," Guzik said.

His new approach at the plate has paid off. As of May 19, Guzik was batting .370 with 11 BB and 8 RBI.

"Right now, he's swinging the bat as well as anybody I've seen," head coach Chris Glenn said. "If you look at Jon's stats this year, all his hits are singles, and he's got a totally different approach where he's not looking to do too much. He's getting in there and he's hitting the ball hard."

Glenn said Guzik had a slow preseason, but any doubts about his hitting were quickly put to rest during the first game of the season on April 1 against Florence. Guzik went 2-4 with 3 RBI, driving in more runs in one game than he did during his entire sophomore season.

While the improved stats are nice reward for Guzik's hard work, his newfound power at the plate has had a huge impact on the team as a whole. Bordentown is a young team—the only two seniors are captains Austin Fraser and Corey Smith—and its 5-14 record reflects their inexperience.

However, Glenn hopes Guzik's transition from a sophomore who was pulled out of the lineup to a junior dominating the batting order will teach the younger players an important lesson about the game of baseball.

"I hope it makes them realize this game is cruel at times, it can be very tough, but just keep working," he said. "[Guzik] adapted, and I'll use him a lot. I'll say, 'Look at Jon in the game yesterday, he had a runner on third and he knew all he had to was put the ball in play.'"

One of the main points a young player can learn, Glenn said, is that they're not going to get a hit every time they're up to bat. While every player wants to hit a home run in a big spot and have a strong batting average, putting the ball in play and driving in runs with a single are often the keys to winning games.

"You do those things right, and the batting average is going to follow," he said. "Jon's shown that this year."

It's hasn't been an easy road for Guzik, however. He started out as an outfielder his freshman year, before finding a permanent spot at first. When he made the switch to the infield, the same drive that would later help him improve his hitting pushed him to focus on honing his defensive skills.

Glenn said that between Guzik's fielding and hitting, he's become an invaluable part of the lineup.

"He started off slow and just kept working and working to get himself in the lineup every day," Glenn said. "I always say to kids, 'Look, make it so I can't take you out of the lineup,' and he's done that."

Fraser and Smith both agreed that Guzik is going to have a great senior year, with an even stronger team of young players behind him. They believe the future of Bordentown baseball is bright, and the way this year's team fought through tough losses proves their resilience.

Guzik may not be a captain, but he's become one of the leaders of the team. Guzik is quick to pass along praise to his teammates, highlighting their accomplishments above his own. When asked about the game against Florence, Guzik didn't discuss his RBI or plate appearances, but rather Kyle Marchetti's pitching.

"We all had a good contribution, and it was a great win and it felt good starting off strong," he said. "Marchetti coming in to pitch, a freshman coming in and getting the win, I bet he was nervous. First game of the season, doing that as a freshman, and he gets his first win. That stuck out to me."

Despite the losing record, Guzik said he feels that the team's chemistry is stronger this year. Freshmen typically look up to the upperclassman, but since there are so few seniors on the team, everyone has come together help push past some tough games. Guzik said captains Fraser and Smith have helped create an atmosphere where after a loss, everyone has the same desire work hard and get ready for the next game.

Throughout the season, Glenn said hitters have gotten better at getting on base, but they're still unable to score, which has lead to some tough losses. In practices, he organizes drills and friendly competitions between players to simultaneously improve their situational hitting while still having fun.

Guzik said there is an improved confidence among teammates. It doesn't matter who is up to bat because they know they're capable of driving in runs.

"It's good because now if you get on base you have people coming up who can hit you in," Guzik said. "And if they're on base they're confidence that you can hit them in."

With the season winding down, Bordentown won't end with a winning record. However, Guzik's persistence will ensure he continues to give it his all.

"Some stuff hasn't gone our way this year, but we're still trying to get the wins and finish the season strong and have good momentum going into the next season," he said.
Sports
,
Today
,
Schools
Jon Guzik
Bordentown baseball