Dominant Yanucil leads Mount St. Mary's in javelin

Jun 01, 2016 07:03AM ● Published by Community News Service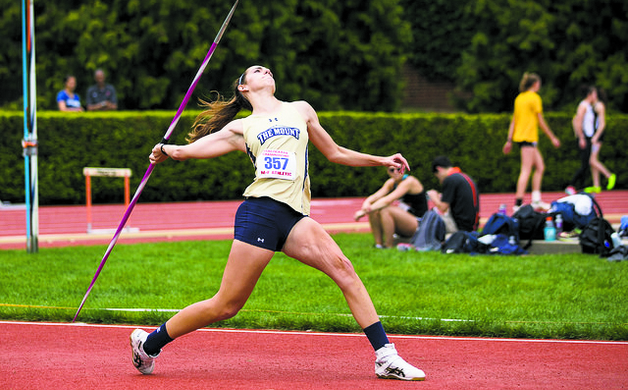 Kelly Yanucil throws javelin during a Mount St. Mary's meet this year. (Photo courtesy of Mount St. Mary's University.)
By Rich Fisher

Here is what Mount St. Mary's University associate head track and field coach Tim Nickas has to say about Kelly Yanucil.

"Quite honestly," Nickas said, "she is having the best season a female athlete from the Mount St Mary's track team has ever had as far as the victories she's recorded and how high she's ranked in the country."

Best. Season. Ever.

That's probably enough to make the junior javelin thrower pretty full of herself, which probably is a turn-off for her teammates.

Here is head coach Jay Phillips' take on that.

"Kelly might be," he said, "the only one on our 70-person team that everyone likes being around."

Wow. Talented and humble.

"She has a way of just bringing people together," Phillips continued. "A way of making them comfortable, getting them to laugh, getting them to work harder."

And that's not just conjecture. Phillips actually has documented proof of that. Each year, he meets with every team member for a peer evaluation, in which every athlete anonymously evaluates their teammates.

"This is 68 people evaluating their peers on everything from hard work, to performance based on potential, to team dynamics, to selflessness, to courage and to commitment to academics," Phillips said. "Kelly did not get a single grade below A. So from a head coach perspective, you can see right there the type of respect and admiration that her teammates have for her."

Phillips feels that Yanucil gives as much of herself to her teammates as she does to her craft. Analyzing her performance this season, the former Bordentown High Prom Queen—hence the nickname PQ—gives a heck of a lot to the craft of javelin.

Heading into the NCAA National Championship preliminary meet on Memorial Day weekend, Yanucil was ranked 26th nationally and 12th in her region. She needed a Top 12 finish at the prelim meet to qualify for the NCAA Nationals in Eugene, Oregon.

Her resumé is on overload this season, as Kelly finished second in the season's first meet at Coastal Carolina, and took first in every event thereafter. That included victories in the Colonial Relays, Penn Relays, Northeast Conference Championship meet and the ECAC/IC4A Championships.

"Honestly, I was not expecting any of this," Yanucil said. "It's all a surprise for me and I'm just so thankful that I have all these opportunities. I'm just focusing on doing the right things. I take it day by day and hopefully it works out for me."

It has been working out ever since ninth grade, when Yanucil was at varsity basketball practice for the Scotties. A teammate bet Yanucil that she couldn't throw a basketball the length of the court. Coaches Bill Lloyd and Larry Carthan, who also coach the track team, watched it unfold.

"During one of the breaks, I just chucked it across the court and off the wall," Yanucil recalled. "They stopped me, stared at me and said 'You're throwing the javelin, you have no choice.'"

Thus, Yanucil became a three-sport athlete in soccer, basketball and track, though by her junior year it became pretty clear where her future was. That season she won sectional titles in discus and javelin (she did not throw the shot), while taking second in NJSIAA Group II and sixth in Meet of Champions in the javelin. As a senior she won sectional and group championships in both events and was fourth in MOC in javelin.

Yanucil was recruited by several schools, but Mount St. Mary's started as her frontrunner and she never wavered. At the time, Phillips and Nickas were both assistants under Jim Stevenson, who recruited Yanucil.

"I can remember what [Stevenson] was saying about her," Phillips said. "It was, first and foremost, sort of the potential he saw in her. As a senior in high school and as a freshman here, it was like 'Man, she is a baby giraffe right now, but as soon as she gets a year or two of training in her, it will be a lot of fun.' We knew this was a possibility from the beginning."

Yanucil, who chuckled when she heard herself termed a baby giraffe, showed flashes of that potential as a freshman. She was third in the NEC meet with a throw of 41.76 meters (137 feet) and her mark of 43.58 (143) at the Penn Relays was second best all-time at the Mount.
For the most part, however, she was still finding her way.

"That was a big-time learning experience," Yanucil said. "The first time out, you just realized you're not that same kid in high school. Those girls were chucking 20 feet farther than me. It was a wake-up call. It was a good wake up call to have."

Once she woke up, Yancuil said she focused more and thought to herself "Look, if you want this you got to work for it. You got to work harder, you got to do things 10 times better.'"

Yanucil began working harder in the off-season, as she listened to her coaches, began a strict weight-lifting regiment and did numerous workouts. She would throw several times a week and work on technique.

It added up to a breakout sophomore year for the accounting major. She won the George Mason Invitational, finished second in the ECAC Championships, took ninth in the Penn Relays and was 14th in the NCAA Preliminary. Her greatest accomplishment was winning the conference title with a school record throw on her home campus.

"I still can't believe that day at all," she said. "It was just like 'Oh my God, that actually did happen, that jav was actually released out of my hand.' I was really surprised that happened."

Nickas noted that Yanucil increased her distance by five meters over the course of her sophomore season.

"That is just an insane jump to make in a short period of time," he said. "You could tell there certainly was more there and she's cashed in on that this year with just how consistent she's been in the competition."

Yanucil has been unstoppable this year. She quit discus and is focused solely on the javelin, and has twice been named NEC Track Athlete of the Week.

Nickas said there have been some slight tweaks in her form, but most of that was just a technical progression that most athletes go through. He feels the biggest difference is that her commitment has jumped even further.

"She's worked a lot harder and is a lot smarter this year in every aspect of the training," Nickas said. "Kelly has always been someone who has given all her effort. This year she understands more so exactly what effort is going to pay the biggest dividends in javelin. She's really in tune with her body, as to when she's feeling banged up or when she can exert a little more energy. She's really aware of the little stuff that will help keep her healthy and make bigger improvements. She's just a lot more mature in a sense of really being able to work hard to maximize her talents."

Prior to the NCAA prelims, it had not bothered Yanucil that she had not broken her record yet, considering she was only beaten once. And she came back at the Penn Relays to beat the woman who defeated her at Coastal Carolina, meaning Yanucil had bested every competitor she faced this year.

Yanucil hopes the PR comes "in a big meet," and prior to the prelims, Nickas said he thinks it's going to happen. Her current best is 50.32 (165.8).

"We've had a lot of poor weather meets this year," he said. "It's been cold and rainy at a lot of these meets and Kelly's just been throwing from a shorter approach. She's not maxing out the speed and velocity on the javelin; just to make sure she's safe and she's healthy. Some of these meets are just lower key. Now, at the national stage I think this is when she's gonna see some big PRs."

Nickas rated Yanucil's effort at the Penn Relays her best of the season for several reasons. First and foremost, there is the prestige and the competition she conquered. Second, it was 40 degrees and raining at Franklin Field that day.

"It was a crappy day, it was freezing out," Yanucil said. "I remember we were all trying to keep warm. I just remember my first throw I threw a 50. I don't know how I did it in that weather but I was so thankful after that throw."

It was enough to win the meet and the watch that goes with it. And now Yanucil looks toward more mountains to climb in the NCAAs. Nickas was confident she could get a Top 12 finish at the prelims and Kelly was hopeful as well. One of her greatest traits in such meets, is not thinking about the big picture.

"I just go into the meet, clear my head, and tell myself to just throw it," she said. "It doesn't matter where it goes, just throw it and be proud of yourself."

Yanucil also takes pride in the fact some folks have actually broached the subject of the Olympics with her.

"People have said stuff to me about it, and it's cool to hear," she said. "But I just take it day by day. If it happens, it happens. If it doesn't, it doesn't."

Quite a humble mindset. It's the kind of attitude that makes her a great athlete who is loved by the masses when it comes to the Mount St. Mary's track program.
Sports
,
Today
Kelly Yanucil
Mount St. Mary's
Track and field
Javelin