Reeves uses camera's lens to open city's doors

Jun 29, 2016 05:37AM ● Published by Community News Service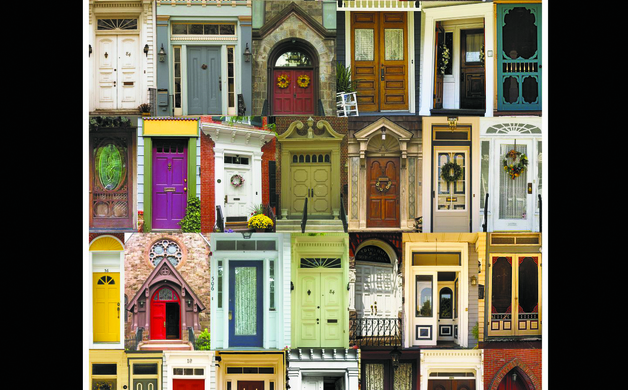 By Scott Morgan

If you've ever been to Bordentown City's Cranberry Festival or Street Fair, you've almost surely seen photographer Louise Reeves selling prints of a poster she calls "The Doors of Bordentown City."

Fans of Bordentown's old school charm and its historic and restored  homes gobble up copies of the 16×20 poster (as well as its 8×10 counterparts) often as fast as Reeves can sell them. 

For Reeves, the poster presents art as a means of preserving history, but she doesn't spend a lot of time thinking about what it means.

"It's not a matter of what I want to say," Reeves says. "I just shoot what I like and I hope others like it too."

As it turns out, others do.

Reeves was 18 months old in 1956 when her family moved from Mount Holly to Bordentown. Here, her father settled in as a salesman, eventually becoming a trainer for Kirby vacuum cleaner sales staff. 

In the early 1970's, Bordentown was far from the art hub it is today. The Bordentown Regional School District had just one art teacher, Pasquale Rago, who mentored an astonishing array of top-notch artists given how little he had to work with—artists like Michael Budden, Michael Oeming, Christine Anderson and Kate Lynch—all of whom do the unthinkable: make a living from their art.

"A lot of people went through [Rago's] door who have made a career of their art," Reeves says. "If he were alive, I think he'd be flabbergasted."

Rago had a policy of never giving 100s on art assignments, Reeves said. Art is subjective and never perfect, so there were no perfect grades. That lesson has stuck with Reeves since 1972, when she graduated from Bordentown High School, and she still carries it with her, alongside her camera and her ever-watchful eye.

The problem wasn't the quality of art education in her youth, though. It was that "making a living with art" part, which is something her parents didn't believe was a real thing. Reeves wanted to go to Parsons School of Design after high school. She'd expected to become a commercial artist or graphic designer. Maybe even a writer–illustrator of children's books.

But back then, student loans were not an option for her, which meant money for school would have to come from her parents. They, in turn, had no plans to pay for an art degree that they imagined would end up being little more than an expensive wall decoration.

Here's the irony: both her parents were both artistic. Even so, they saw art as a dead-end venture unworthy of pursuing as a career. "So I never went to college," Reeves says.

Not then, anyway. She eventually did, but that would be 30 years or so in the future, and we'll get to that. With her art school dreams deferred, Reeves became a professional job hopper, paying the bills however she could in whatever job she moved on to next.

She stayed living in Bordentown until 1978. In 1985, then-recently married, she moved to North Brunswick.  A with a brand new set of twins (a boy and a girl) arrived in 1992.

The Bordentown she left then was not quite the Bordentown she'd grown up with, though. 

When she was a girl, everything the family did, from doctors' visits to recreation was in town.
By the mid-'80s, the city had become a seedier place. Revolution-era homes, turn-of-the-century properties, and classical old buildings had become run down. Nobody wanted to go to Bordentown, much less admit they lived in the city.

"When people asked us where we lived, we would tell them Bordentown Township," she says. "And really emphasize township."

By 1995, Reeves' parents were gone from Bordentown and her connections to her hometown were pretty much gone with them. She never let go of her love of art and image, though. With her husband, Reeves liked to take photos of cool designs, patterns, and, especially, old buildings.

At the age of 49, Reeves decided it was finally time to go to art school. She enrolled at Gibbs College (a for-profit school that no longer exists), on the associate's degree path, and merrily butted heads with her instructors over how to go about making great images.

She says she was not the type to just copy images line for line, like a lot of her classmates did. She also found that pushing 50 was a huge advantage for getting through school. A lot of "the kids" in their 20's fell out of the program, she said. But it had been a 30-year goal to go to college for art, and she was going to do it right.

The head-butting, by the way, was something she used to do with Mr. Rago back in the day as well. Rather than imitate, she just kept trying new things, based on what she liked. And the artist inside her kind of liked to buck the system.

One assignment at Gibbs was to bring in a magazine portrait and paint a copy of it. Reeves brought in a photo of Greta Garbo—a monochrome photo of Greta Garbo. Her teacher told her she couldn't use that, because it was black-and-white and she needed color.

Her response was to paint its sepia tones in shades of brown, gold, and black. And when the teacher saw that she knew what she was doing, he let her go on. The same as all her other teachers, including Rago, did once they realized she had a different way of seeing.
But she took most to photography, especially when digital SLR cameras became a thing and she didn't have to worry about darkrooms and chemicals. She could just take pictures and work on them digitally to create whatever effects she wanted.

It should be noted that Reeves doesn't view herself as a photographer so much as a "photo manipulator." The art in her photos comes squarely from her ability to take the existing image and work some digital magic on it. Maybe even make it look like a painting.

Irony recognized. And speaking of irony, there's the story of how Reeves got into shooting and selling her most famous—and commercially successful—work, The Doors of Bordentown City.

You'll recall that back in the early '70s, Reeves' mother, Rose King, was not on board with her daughter chasing an art degree. But by 2005, when Reeves finally embarked on her photographic art career, her mother had become intensely supportive of her daughter's creative enterprises and suggested she put her work in some shows. One of those shows was the Cranberry Festival, back in the family's longtime home of Bordentown.

She also suggested that Reeves walk around and shoot the city, as it had changed so much.
By 2005, those dilapidated old buildings and neglected homes were revitalizing at a rapid pace, and homeowners had started adding certain creative touches to their abodes.

If you were to walk the streets in Bordentown City today, you'd certainly notice the incredible variety of front doors, painted all kinds of colors, featuring all kinds of styles. Reeves did. And once she started shooting the doors, she found that the homeowners loved regaling her with history lessons about their properties and their dazzling entryways.

Reeves collected the images and built a 16×32 poster using them. The next time Street Fair came around, in 2006, she brought five copies of the poster with her, and was stunned to sell them out in a hurry.

"I had to take orders for them," she said. "I thought, 'Oh, I think we've just found something here.'"

If she did find something here, the city's array of galleries and art outlets didn't see it. Reeves sought to sell her poster through one of the galleries, only to be turned down by all but one.
C.J. Muggavero, owner of the Artful Deposit at 142 Farnsworth Ave., says she saw "a perfect little package" in Reeves' poster; "a very pleasing display of the unique doors in Bordentown City" that could be ideally sold as a keepsake of the city or as a gift.

Artful Deposit doesn't carry the posters anymore because Reeves is present for all the outdoor festivals in town, Muggavero says. But she will still contact Reeves if someone comes in asking for one.

Muggavero also suggested Reeves put "The Doors of Bordentown City" on the poster, which has proven to be a shrewd exercise in branding. And, as it turns out, that something Reeves was on to in Bordentown works equally well in Metuchen and Lambertville. She has posters for each of those towns that sell extremely well, she says. Burlington City is another in her "Doors of …" series.

"I've got my own little cottage industry," she laughed.

A decade on from the dawn of her great idea, Reeves also laughs that she's "running out of doors," but is always happy to shoot interesting ones. And by "interesting," she means "not from Home Depot. "If it's new," she says, "it's got to look old."

While it took her 30 years to get to art school, one additional irony is that Reeves still doesn't have a degree. Her last two classes for an associate's degree were at a Gibbs campus too far away, so she completed the certificate course instead. It proved hard for her to get work in graphic design because someone with a degree would be up for the same job and employers opted for the other person. But she did eventually find work: she worked as a graphic designer at P.M. Studios in Edison from 2007-12.

Above the awards (which she's won a few of, for her photo work of some of the region's great historical artifacts) and the realizing of a lifelong dream to actually be a working artist, Reeves is satisfied to know that she's preserving pieces of history.

Muggavero was also drawn to the poster's historic importance. "Other towns nearby are putting in new made-to-look-old Main Streets," she says. "But we're authentic here."

Reeves cherishes that history. "This town's been through hell and back and the people are proud of it now," she says. "If there are photos, it means that this stuff hasn't really gone away."
Arts+Entertainment
Louise Reeves
The Doors of Bordentown City