College beckons to Scotties' sports stars

Jun 29, 2016 05:45AM ● Published by Community News Service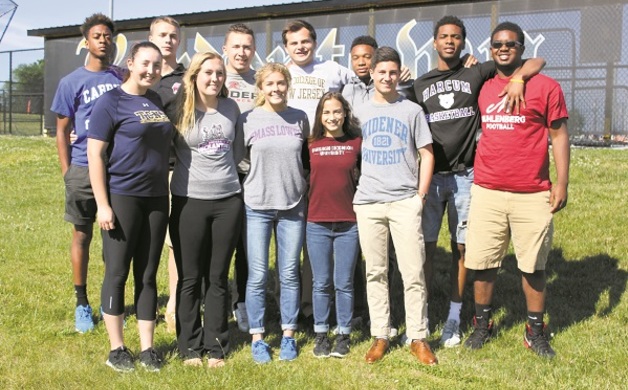 Thirteen Bordentown student-athletes will go on to play sports in college in the fall. Fron, left to right: Katie Schroder, Anna Price, Morgan Irons, Ericca Cermak and Cam Ciarrocca. Back, left to right: Andre Justin, Adam Bijou, Dino Gromitsaris, Mitch Luyber, Dante Gipson, Myron Gordon and Nate Wiggley. (Staff photo by Samantha Sciarrotta.)
By Rich Fisher

In case anyone has missed it in recent years, a culture change has been going on in the athletic program at Bordentown Regional High School. And it has been for the better.

Resounding proof of that came this year. Not only did numerous programs have outstanding success, but 13 graduating Scotties are also going on to play college sports—the largest amount from the school in at least two decades, said Mike Brennan, who just completed his 18th year at BHS as a teacher and 11th as boys' soccer coach.

The boys' soccer and football teams lead the way with four apiece, while the softball and field hockey programs will also send athletes to Division I and III programs.
Dino Gromitsaris leads the soccer players, as he will play at D-I Rider. Cam Ciarrocca and Andre Justin are headed to D-III Cabrini and Adam Bijou is attending Rowan College at Burlington County.

The football team has four D-III players in Dante Gipson (Lycoming), Mitchell Luyber (TCNJ), Nate Wiggley (Muhlenberg) and Kevin McClary (Misericordia), while basketball player Myron Gordon will go the junior college route to Harcum.

On the girls' side, field hockey player Morgan Irons signed a letter of intent with Division I UMass-Lowell, while teammate Ericca Cermak will go to D-III FDU-Madison. The softball team will send two players the D-III route in Anna Price (University of Scranton) and Katie Schroeder (TCNJ).

With 175 graduates this year, that means 7.5 percent of the Scottie seniors will play collegiate sports. Athletic Director Joe Sprague feels it's a list to be proud of, no matter what level the students play at.

"I think," Sprague said, "if you ask most people in the community, 'Did you play sports in college?' most people are going to tell you they haven't. Playing Division I, II or III, to me, the division is not as important as the environment is. To be a collegiate athlete still requires a ton of time, talent and accountability regardless of the level."

As a former Division III baseball player, Sprague understands the importance of playing college athletics.

"It was a great experience for me, in terms of the lessons I learned and growing up, being a respectful person and being a part of the community," he said. "Whenever we have a chance to get our kids in these athletic programs after high school its an opportunity for them. It's an extended classroom. They can learn so much more about life being involved in sports at the collegiate level."

The trick, of course, is that students can't just be good athletes. They need to have the grades as well, in order to get accepted into the school and to perhaps garner some sort of financial assistance. Those full-ride players seen on ESPN play at a small percentage of schools, where the TV revenue is so big they can afford to pay for a kid's entire four or five years.

Not so at most places.

"Yes, there's athletic money out there," Brennan said. "But in reality, our kids have done a pretty good job of figuring out pretty fast that their grades are going to get them a whole heck of a lot more money for college than athletics will. For the most part that's proven to be true and we've had a handful of kids that really take advantage of that by excelling in the classroom and having their grades get them some scholarship money."

For Price, the Bordentown faculty played a major role in helping her with that and other aspects of the college application process.

"The college recruitment process is often long and tiring," she said in an e-mail. "Without the support I received from my coaches, athletic director and teachers, I would probably not be playing softball in college. The biggest way they helped me was by encouraging me to keep going through the process and how worth it it would be when I wanted to give up."

Sprague, who's also the Scotties' wrestling coach, took over as athletic director five years ago and Brennan feels he has made a huge impact on the entire program from an athletic and academic standpoint.

"He's working as hard as he possibly can every single day for his athletes and his coaches and it has really, really made a notable difference," Brennan said. "If you ask any coach, he's not a guy simply going in and doing his job. He goes above and beyond. He lives for these kids. If you're sitting in the press box with him in the softball playoffs in the last inning, he's living and dying with every single pitch. It really means a lot to him and it comes out in what he does every single day."

Brennan added that Sprague's dedication has a trickle down effect. The coaches want to work hard for Sprague and their players, who, in turn, want to work hard for their coaches. It's a "cycle," Brennan said. Justin added that because Sprague supports each sport "evenly," players are more confident in all aspects of school life.

Sprague looks at things a little differently. Rather than taking the credit, he gives it to others. He feels every Bordentown coach works hard at finding the right situation for their athletes looking into college. For instance, none will send a kid to a D-I school just to satisfy their own ego at the expense of what could be a bad fit for the athlete.

"The coaches put in a lot of time working with the kids," Sprague said. "The kids, with the help of their families, put a lot of work in the classroom. Their teachers and guidance counselors are supportive. Our guidance department does a good job working with me and the principal and others, in terms of 'Hey, how can we help this kid?'"

Sprague feels there is constant communication between all parties involved in order to look out for the student.

"It's special, because I don't think you see that in a lot of places, where everybody kind of works as one cohesive unit," he said. "We all try to emphasize that playing collegiate athletics is a good thing. It helps you concentrate, it helps you get through college. It really comes down to the kids, the community, the administration, the teachers, the coaches. It's not one specific thing. It's based on everyone believing in the same thing."

That includes a faculty that also takes an interest in supporting their students. Brennan said it's not uncommon to see an athlete's math teacher on the sidelines watching a game. Teachers invest their own time in extracurricular activities—not just sports—and that creates respect between both parties, Brennan added.

Justin credited his coach Brennan, Sprague and guidance counselor Stephanie Ashton with helping him throughout the college application process. He said Brennan, also a social studies teacher at Bordentown, has pushed him on the field as well as in the classroom, and Sprague often checks in with the school's athletes. Ashton helped Justin come to the conclusion that Cabrini was the right fit for him.

None of the external support would mean much, however, if the student-athletes did not buy into it. Bordentown's program has been filled with kids who can see the positives of being strong in the classroom and on the field.

"Coaches and teachers always repeat to the student-athletes that there is a lot of character that comes with the privilege of being one," Justin said in an e-mail. "Also, the coaches reiterate that being a student before an athlete is a big part of personal success. Another point is that we can balance the both of the tasks of being a student-athlete."

It's that kind of attitude that has helped this crop of seniors set the pace for the underclassmen coming up behind them, Sprague said.

"We've done some pretty good things over the past few years in the athletic program, and a lot of it is because of the kids who are in it," he said. "It's exciting to see us lay a good foundation in place for the future. We've started to get more kids playing college sports and I think other kids can say 'I can do that.' It becomes a goal and a cool thing to do and they kind of get themselves involved with it."

According to Brennan, one thing that has been key to the process—and also a rarity—is the support given by parents. It was not so long ago that Scottie coaches were quitting because they couldn't take the grief they were getting from moms and dads. Somewhere along the line, that has changed for the better on Ward Avenue.

"As high school coaches, we're pretty demanding and out of our minds at times with what we're trying to push these kids through in an attempt to succeed and better themselves," Brennan said. "You hear from coaches all over the place about a line of parents waiting to confront them in the parking lot and they make every single thing the coach tries to do very difficult."

Instead, Brennan said Bordentown's parents back up their children's coaches and Sprague, and their support for each program is "a really good thing we have going right now."

And it's only getting better, said Price.

"Every year, Bordentown Regional High School's athletic community improves its programs for the years to come," she said. "Whether this is by holding camps and clinics for younger students or improving our facilities, Bordentown sports are definitely on the rise, and I can't wait to come back and watch."
Sports
,
Today
,
Schools
High school sports
College sports