New bike group aims to combine socializing with cycling

Jun 29, 2016 05:57AM ● Published by Community News Service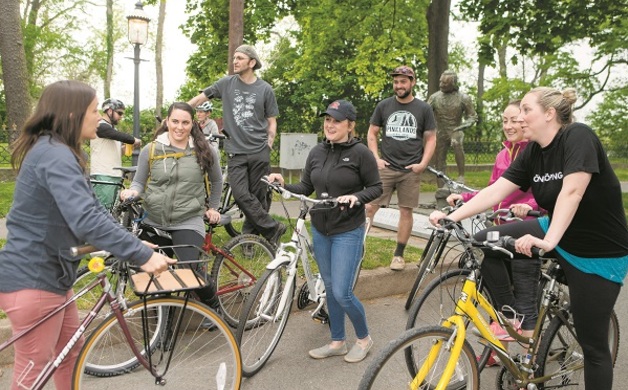 By Laura Pollack

Courtney Vanarsdale learned two important lessons after moving to Bordentown: residents are eager to meet new people, and word about new activities quickly travels through town.

Vanarsdale recently moved from Allentown, and she wanted to find a way to simultaneously get to know her new neighbors and explore the ins and outs her new town. She figured out a way to do both—while also getting some exercise—almost 2,000 miles away in Austin, Texas.

While visiting friends in Texas, she discovered Social Cycling Austin. Every Thursday evening, thousands of cyclists get together and ride through the city. Vanarsdale knew a cycling group would be the perfect way to learn the trails around her home while meeting the residents, and Bordentown Social Cycling was born.

"I'm very social, so while I like to do things by myself and I can do things independently I always have 'the more the merrier' type of mentality," Vanarsdale said. "If I'm going to take a bike ride, I'm going to say 'why don't I invite other people?' I guess other people were probably thinking the same thing."

In late April, Vanarsdale, a Spanish teacher at Northern Burlington Regional High School and Rowan College at Burlington County, started a Bordentown Social Cycling Facebook group and promoted it on other Bordentown pages to generate interest in the group. The goal was to get as many people involved as possible, regardless of their cycling experience.

Despite participating in the Five Borough Bike Tour in New York City, Vanarsdale said she bikes for enjoyment rather than sport. She often rides her bike down the shore with her friends as a green way to quickly get around town. While she enjoys riding her bike with people through shore towns, she didn't know how many Bordentown residents would share her interest.

At the first Social Cycle meetup, Vanarsdale said she was happily surprised to see about a dozen people show up. As they rode along their route, other people took notice.

"Just putting it up on the Bordentown City Facebook page of a couple of days before the ride, people were already asking us as we were riding by on our bikes 'Are you guys the cycling group from Bordentown?'" Erin Morrissey, a Jobstown resident, said. "I was like, 'Wow this is crazy.' There's this eagerness, and people are interested."

Morrissey used to live in Bordentown and is friends with Vanarsdale. Even though she came out to support her friend, she said she wasn't surprised so many strangers come out to do something together, since Bordentown residents always seem to be looking for new activities in their town.

In order to attract a wide range of ages and skill sets, Vanarsdale said the rides can be kept as casual as possible. Each ride lasts about an hour—which allows them to cover about 10 miles—with a designated halfway point along the way to stop, catch your breath and chat with the fellow cyclists.

"There's no pressure," Vanarsdale said. "It's not a race, everyone goes at their own place, and we do a half hour meetup. The slower bikers can come and also have a couple minutes of social time and then we head back—totally casual."

The group also tries to give back to local businesses in town, stopping for drinks or appetizers after the ride.

"I'd say the best part is taking a break and getting to know one another and sharing stories and experiences about living in town," Vanarsdale said. "And then knowing, 'Oh, you live across the street from me, when would I have met you if we didn't meet today?'"

Rich Dziegielewski lived in New York City before moving to Bordentown in 2004, and he participates in the Five Borough Bike Tour every year. When he found out a social bike group would be riding right down the road, he was eager to get involved and meet other casual cyclists.

"I'm a scout leader so I already know a lot of the families in town, so it's nice to get to know some of the other people in town, some of my other neighbors," Dziegielewski said.

While the social element is the main draw for people to come out, the group also has a healthy environmental impact.

Cindy Gallagher, co-chair of Bordentown City Green Team, attended one of the rides and is hopeful more residents will start to bike through town. She hopes to see more people out and about on their bikes in order to promote community health and wellness.

While there does seem to be a buzz about the Social Cycling group, finding places to ride in Bordentown can be difficult. Vanarsdale maps out the routes beforehand, but many of the smaller, bike-friendly roads are separated by large highways or busy roadways. Despite the busy roads cutting through town, every cyclist interviewed felt Bordentown was bike-friendly.

"Bordentown has worked really hard to ensure there are signs posted to make sure everyone shares the road," Richie Zendrosky, a Bordentown resident, said.

One of the biggest upsides to riding through Bordentown, Zendrosky said, is the diversity of the scenery and terrain.

"There's always something to look at. There's always something you haven't really noticed before which keeps it interesting," he said. "The terrain changes. You have different skill levels, so it goes from an easy to moderate ride depending on where you're going."

Vanarsdale hopes the group will continue to grow with each ride. The goal is to meet every Wednesday at 6 p.m. for a ride around town together, but as more people with different schedules join she encourages people to plan their own meetups.
Today
,
Community
Bordentown Socal Cycling