Holocaust survivor speaks to BRMS students

Jun 29, 2016 06:03AM ● Published by Community News Service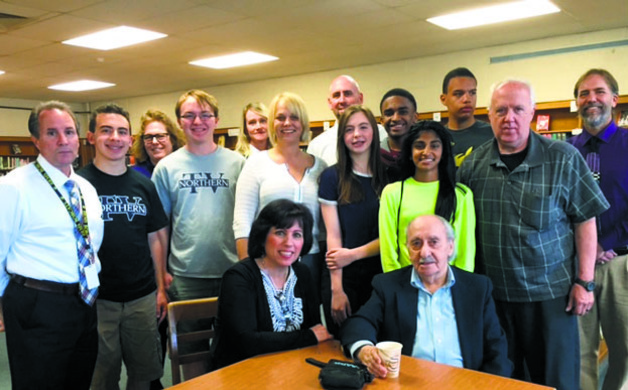 David Tuck, seated at right, with BRMS staff and students May 20.
David Tuck, a Holocaust survivor, visited with and spoke to seventh- and eighth-grade students at Bordentown Regional Middle School on May 20, 2016. Tuck, a native of Poland, was forced out of his home at 10 years old and sent to the Lodz ghetto in 1939. From there, he was set to a labor camp in his home country and then to Auschwitz. After being freed, Tuck spent several months recovering in a refugee camp. He spoke about his experiences hiding illnesses, surviving on very little daily food and watching those around him die.

Tuck currently resides in Bristol, Pennsylvania. He immigrated to the United States in 1950. He and his wife Marie have a daughter, three grandchildren and several great-grandchildren. Tuck spoke on behalf of the Holocaust Awareness Museum and Education Center.
Today
,
News
,
Schools
David Tuck
Bordentown Regiona Middle School