Post 26, under new coach, reels off six straight wins

Jun 29, 2016 06:14AM ● Published by Community News Service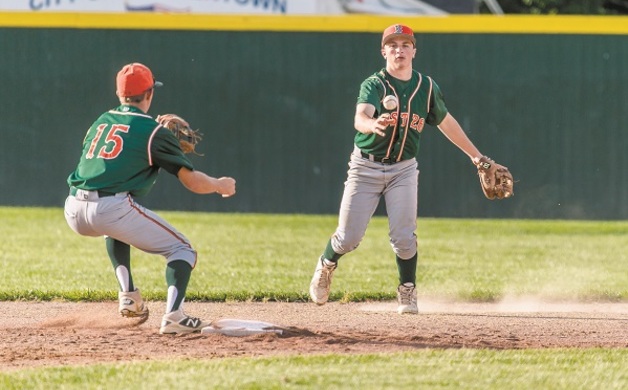 By Rich Fisher

Through the first week of the American Legion baseball season, a change at the top did not seem to affect Bordentown Post 26 in an adverse way. Quite the contrary, in fact.

With Doug Moore in his first year as manager after Tom Dolan completed a successful 17-year run, Bordentown opened the season with six straight wins though June 14. It hardly seemed to matter that they lost the services of league MVP Zack Gakeler, who in his final season was only the third player in Mercer County American Legion League history to win the triple crown.

There is enough talent back to keep Post 26 among the best in the league as it tries to gain a Final 8 berth in states that eluded the team last year with two District 3 losses to national power Brooklawn.

"If we have our full lineup every day, we'll be hard to beat," said Moore, who inherited a team that went 23-7 last year. "We play really good defense. We know we can hit."

Second baseman Cody Schroeder agreed, adding that the team is solid in the field and at the plate. It just needs to focus on pitching.

That might be well worth focusing on, as Post 26 appears well stocked with arms. Moore considers right-hander Eric Stinglen his No. 1 starter, but feels that the rest of them can be considered 1A, 1B, 1C and so on.

"I feel we have four horses that we can go to any time and just stick with our rotation," the skipper said. "I don't have to match anybody up with certain teams. I can throw any of the four guys against (Hamilton) 31 or Hopewell, who I think are the top teams in the league. We don't have to mix and match, we'll just stay in rotation and go from there."

Rounding out the top five are sophomore left-hander Mike Bell and right-handers Matt Million, Austin Fraser and Mike Cottrell.

"We also have Tyler O'Dell," Moore said. "We're trying to stretch him out. He's been throwing simulated the last two weeks and throwing on the side. Once we get him stretching out he's going to be in the rotation."

Due to a heavy workload in high school, Cottrell was used in relief for the first several weeks of legion season.

"He came in to relieve Sting in a game when we were down, pitched two-and-a-third innings and got the win," Moore said. "He's OK, he understands. He can play first base and hit too."

The biggest key may be Million, who carried a no-hitter into the seventh inning in a victory over North Hamilton on June 10. With a bunch of experienced hurlers ahead of him, Million pitched sparingly last summer and then played for Montclair State this spring.

Moore referenced a solid start against Lawrence last year that was successful despite "a few arm problems." At the start of this season, he told Million he was counting on the pitcher's heavy fastball and good splitter.

"He's been here since day one working hard," Moore said. "He works out with Bryan (Henry) Monday, Wednesday and Fridays. He's a kid who played in college. I don't have to tell him to run his (foul) poles; he knows what to do. I don't have to tell him to long toss. We kind of let him do his thing."

Handling the hurlers will be catcher Bret Parlante. Providing infield support are first baseman Ben Jones, second baseman Cody Schroeder, shortstop Kevin Welsh and third baseman Tyler O'Dell. Schroeder is trying to bounce back after a disappointing season at Bordentown High.

"I broke my wrist in the seventh game of the season," he said. "I didn't play again until the last game against Delran. I'm just looking to get attention (from scouts), get back to how I was."

From left to right, the outfield features Mike Wainwright, Zach Wright and Shawn Allen.

"We feel we have the strongest defense in the league up the middle with Welsh, Cody, Parlante and Zach Wright," Moore said. "That's a pretty solid defense."

Rounding out the roster are Shawn Allen, Alex Popovich, Cameron Clauser, Tom Kimball, Jimmy Porcelli and Chris Wade. The coaching staff includes returnees Henry and Chuck Krichling, and Chris Reyes, who coached with Moore at Trenton.

Schroeder expects a solid season, especially as the team's younger players get "bigger and stronger" as the season goes on.

Although Moore pretty much has the run of Burlington County from which to select, he has limited his roster to players from Bordentown Regional, Florence and Northern Burlington high schools.

It's all about "chemistry," he said.

"I could have went out and gotten other kids throughout the county," Moore said. "But I kind of wanted to keep everyone together and go from there and see what happens. So far, I think we made the right decision."

That's not the only difference between this season and others in the past. Schroeder said Post 26 didn't practice much last year, but the team is out nearly every day this year. The boys get to games and practices earlier, too.

"Yeah, we're a little bit different," Moore said. "I just have a different system I wanted to put in. We've pretty much got it down. Our defense knows the signs, our defensive calls and everything."

Jokingly asked if Post 26 practices more because the younger Moore has more energy than Dolan, Schroeder wouldn't take the bait.

"You said it, not me," he said with a smile. "But (Moore) is a good guy, he's a cool guy. They're both cool guys."

Dolan was so cool that Moore held a ceremony prior to Bordentown's June 19 home game with Broad Street Park. Having spent the past 10 years managing Trenton, Moore was able to see the tradition Dolan built and was more understanding of his situation than a lot of folks.

"People say 'Oh, he draws from seven or eight schools, anybody can coach that team,'" Moore said. "They never gave him the respect that he deserved. If you have an all-star at every single position like he used to have, it's tough to tell a kid 'Hey, even though you start every day in high school, you're not starting here.' But he found a way to keep it together and get playing time for everyone and get the team to gel together."

Moore called it "ridiculous" that Dolan could not win a Manager of the Year award after winning 20 games.

"It's not as easy as you think," he said. "People think I had a hard time with my situation at Trenton, but go try and do it at Bordentown. Try to tell those kids 'You're not playing today,' and still have them on the team and not quitting."

That is the challenge that Moore now faces. Through the early part of the season, he seemed to be meeting it quite nicely.
Sports
,
Today
Bordentown post 26