Sculptor creates for fans, as a fan

Aug 02, 2016 06:08AM ● Published by Samantha Sciarrotta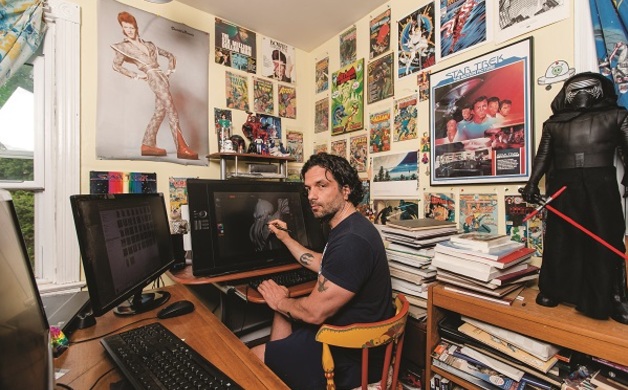 Joe Menna works on a project in his studio at his Bordentown City home. (Photo by Suzette J. Lucas.)
Walk into Joe Menna's studio, and you'll see all the trappings of a man who loves what he does for a living. Posters, superhero prints and comic book art plaster his walls, and his shelves are stocked with novels, comics and Star Wars memorabilia. Mini-busts and tabletop statues dot the space—apt, as he designed a lot of what is on display.

Menna is a digital sculptor, designing works for DC Comics, Gentle Giant, Dark Horse Comics and more using software to mold a design as if it were clay. During a July trip to San Diego Comic Con, he came face to face with the finished products of several of his recent creations—Admiral Ackbar, Poe Dameron, Catwoman, Deadpool. And that's just the tip of the iceberg. He's worked on World of Warcraft statues, figures from The Walking Dead and Sons of Anarchy, and myriad superheroes and villains.

Menna, a Bordentown resident, said his first love was comic books.

"It was by copying comic books and things like that that I began to nurture a love of art and drawing," he said. "Then, Star Wars came out and changed my life profoundly in 1977, along with things like Star Trek, Space 1999 and Planet of the Apes. Those things all expanded my imagination into other worlds."

As a teenager growing up in Blackwood, he developed an interest in science fiction literature—works by Philip K. Dick, Stanislaw Lem, Isaac Asimov, Frank Herbert and Arthur C. Clarke were big influences. Greek mythology and Arthurian legend also played a key role in his drawings and sculptures.

"All these things were the main reason that I wanted to become an artist, because I wanted to express the things that they alluded to mythologically through their architecture and things like that," Menna said.

The older he got, though, the more his attention turned to fine art. That is what he pursued in college.

He studied at the University of the Arts in Philadelphia after high school, and though "it wasn't an optimal experience," he met Russian sculptor Leonid Lerman, who Menna followed to New York City, where he attended graudate school at the New York Academy. He worked with Lerman, his mentor, for another two years but still didn't feel satisfied with his training. So, again, he followed in Lerman's footsteps and studied at Russia's Mukhina Institute, now the Steiglitz Institute, which Lerman also attended.

"It's the most prestigious art school in Russia," Menna said. "By the time I left, they told me I was one of them. That meant a lot to me."

Menna's artistic career took off in Russia, but it's also where he met his wife, Julianna—also an artist—and where their first daughter, Seraphena, now 19, was born, too. The couple also has a 14-year-old daughter, Arianna, and an 8-year-old son, Ian.

But Menna didn't discover digital sculpting when he came back stateside. In fact, it was something he'd previously had zero interest in. He designed and sculpted for the Seward Johnson Atelier at the Grounds for Sculpture for nearly a decade on the recommendation of an old professor.

After higher-ups removed the studio's traditional sculpture enlarging equipment—Menna worked on the life-size and giant sculptures that can still be found at the Grounds for Sculpture today—Menna petitioned Johnson to pursue what was then, in 2001, cutting-edge digital scupting software.

Johnson did go after the program, and Menna at first spent hours each night after closing time learning the software. And it paid off. The new skill enabled him to move on to coin sculpting at the United States Mint facility in Philadelphia, where he still works today. That's when everything changed.

"Once I had a firmer economic platform to stand on, I started to get the bug to return to comics again because there was this whole market of comic book statues and stuff that didn't exist back in the 90s," he said.

It was an urge he hadn't felt since graduate school, and before that, his teenage years. But Julianna convinced him to get back into his first love.

"Throughout my 20s, I abandoned it profoundly," he said. "I was into cosmology. I was reading a lot of metaphysical stuff, a lot of philosophy. When I went to Russia, it kind of reinforced it.
Comic books were garbage culture compared to fine art and literature that you're supposed to like, supposed to aspire to pursue. Just coming back felt like coming home again."
Menna even felt like seriously pursuing pop culture sculpture might be regressive.

"It almost felt like going back to my childhood in an unhealthy way, rather than a way that's nurturing," he said. "Now, I look at is as not looking at time linearly. All of this is totemic. My power stuff. This is my base. My Fortress of Solitude."

So, he cold-emailed artist Randy Bowen of statue company Bowen Designs some images from his portfolio, and Bowen liked what he saw. That's how Menna came to design his first-ever statue, Mephisto from the Silver Surfer comics of the 60s. That statue got him work with DC Comics, which opened the door for a number of other opportunities.

Menna and his peers get a lot of jobs via the internet, but he still finds it useful to go to conventions. Working and meeting directly with clients, walking the floor and showing his portfolios is invaluable in the industry, he said.

Menna generally works on three to five projects at a time, spending a month or so on each. He creates digital renders of his designs and "sculpts" them on a screen with a stylus, both specially made for digital sculpting. Any kind of tool or technique he might use with clay is available within the software. He can test different options and just go back if it doesn't work out.

"It has infinitely more potential, control, possibility, flexibility," Menna said. "Anything I can do with real clay, I can do here."

He works every weeknight and has Fridays off from his day job, so Fridays, Saturdays, and Sundays are often spent working for 12-14 hours, with breaks to go to the gym and spend time with his family.

"Work is synergistically interwoven with my family life," he said. "I don't even think about it. I live and I work. I don't block out time for one or the other. It's like a braided pretzel."

And he's been able to make both pop culture art and fine art coexist in his life, too, working on drawings of the Greek titan Prometheus, the blind prophet Tiresias and King Arthur. He and Julianna did a show at a gallery in 2014 based on the work of Edgar Allan Poe, and he showed a portrait of H.P. Lovecraft at the Arch Enemy Arts gallery in Philadelphia.

"Now, I'm going back to my more mythologically driven fine art roots," he said. "I do them as I have time. There's no imperative to get them done under any time frame."

But there's certainly no shortage of pop culture work, either. In the late 90s, Menna said, comic book companies started to sponsor the production of statues and mini-busts based on their characters. As those stories and characters have become more mainstream, so has the demand for toys and memorabilia.

"I think the market has grown in tandem with the explosion of interest in superhero movies," he said. "These statues are a reflection of people's need to surround themselves with memorabilia that reinforces and reminds them of their love of these films that mean so much to them. Any time I'm doing one of these statues, I'm doing it as an homage to the creators that made them famous. All these things are like love letters to the fans, to the collectors. It's the way I look at it."

After all, he's a lifelong fan of much of what he's able to design. He has tattoos honoring Star Wars, Jack Kirby, Silver Surfer, Doctor Who. Dungeons and Dragons, the film Excalibur and the works of J.R.R. Tolkien were all staples when Menna was growing up. His studio is stocked with original copies of the comics he read as a kid—Shazam, Superman, Spider-Man—and his son has started to take an interest in them.

Which is why watching he explosion of comic book culture has been so interesting to him.

"When I was a kid, people used to make fun of me for reading comic books," he said. "They ostracized me. Now, comic books are the dominant force in popular culture. They drive everything right now. They're not art films. They don't have to be. They're popcorn movies. Superhero movies, science fiction movies, Star Wars—this stuff is not going away anytime soon."

You can follow Joe Menna on Instagram at @joemenna_sculptor.
Today
,
Community
,
Arts+Entertainment
Joe Menna
Comic books
Digital scupting
Mini-busts
DC Comics
Gentle Giant
Dark Horse Comics