BRHS teachers help students discover Europe and beyond

Aug 02, 2016 06:28AM ● Published by Community News Service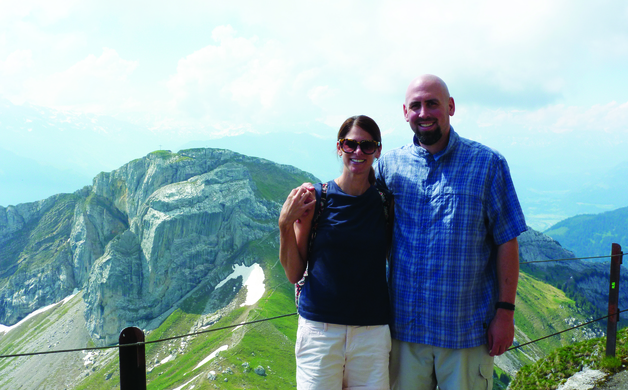 Erica and Kevin Wright at the top of Mount Pilatus near Lucerne, Switzerland on this year's trip.
By Giuliana Grossi

Two days after their wedding vows in 2009, Kevin and Erica Wright, teachers at Bordentown Regional High School, set off to expore Europe. But it wasn't their honeymoon.

The Wrights, who have been teaching in the Bordentown Regional School District since the early 2000s, departed with Kevin's history class, heading to Germany, the Czech Republic and Austria. It all started when one day the students in Kevin's history class jokingly said "Mr. Wright, let's go to Germany!" Two weeks later, he came in with an itinerary, and off they went.

The couple met when Erica was teaching at Peter Muschal Elementary school and Kevin was teaching at the high school, where they both now teach. He was visiting the elementary school to tutor a student when he was introduced to Erica. Five years later, they got married, traveled abroad to Germany with Kevin's class and then came home and later took their real honeymoon to Spain.

That first trip reeled Erica in, she said.

"Just to give other students the opportunity to be able to travel abroad because I never had that, I think it sparks the travel bug in them and just to give them that experience is just a teachable moment," she said.

The trip that the Wrights took this summer with the graduating class of 2016 was called "From the Alps to the City of Light," during which the group traveled to Switzerland and Paris. "It's really neat to see the kids interact and be taken out of their comfort zone, and see how much they matured in just that one week," Kevin said. "Now all of sudden, they're the ones that don't speak the language."

On the last day of the trip in Paris, Kevin said, they gave the students maps and instructions for how to use the metro. After pointing out landmarks like the Eiffel Tower, the Louvre and some cafès, the students were sent off on their own to explore.

"Twenty-six kids were running all over the city with partners, and they didn't have any problems, and they all got back by 6:00," Kevin said.

Hearing the stories of what the students did with their time when given the freedom to do what they want is something Kevin relishes, he said. "Some kids went up to the top of the Eiffel Tower, some spent two hours in the Louvre, some just sat in a park, some went and watched the Euro soccer games going on," he said. "I get a lot of enjoyment and pleasure out of seeing these kids mature on the trip and really open their eyes to a world outside of the United States, and, for a lot of them, the tri-state area."

Kevin and Erica could easily just plan these trips for two and travel on their own, Kevin said, "but to see [the students] for the first time step foot in another country and have to, all of a sudden interact with people…you watch kids who are very intimidated at first and by the end of the trip they're greeting people in the native language."

On the plane ride home some are already asking if they can come along the following year, and some are already planning trips with their friends. And that, he added, is his ultimate goal.

"To make them global citizens, not just contained within their own small society and community, but to realize that there's a whole world out there of good people that have so much to offer in terms of how we can grow and mature as young adults," he said.

Kevin traveled as a high school student on a trip similar to the ones he takes his students on, and it was one of the best experiences of his life, he said. He feels traveling and educating go hand-in-hand, which is why he has dedicated his life to it.

"I have comments from parents when they come home that they see the maturity in their kids in just that one week of travel and independence," he said.

The uncertainty of being in a new place is what he craves when he travels.

"I love being dropped off in a place that I can't even make out the alphabet, and trying to figure it out," Kevin said. "It's contagious. When we're coming home in the airport every year, I ask my wife, 'Do you want to take the kids home and I'll take an eight-hour flight the other way?' I say it jokingly, but I'm somewhat serious."

Erica loves traveling now, but she caught the travel fever from Kevin. The couple has traveled to Europe a few times, and they recently took a two-week trip to Japan with other teachers from around the country. Now, they're shifting gears and focusing on more domestic trips. Kevin is looking to "see some more of my own country."

Kevin and Erica now live in Westampton. Kevin grew up in Moorestown and studied at Ursinus College, while Erica attended Notre Dame High School and the College of New Jersey. Kevin has taught in Bordentown since 2000, and Erica became a teacher in the district a few years later. She now teachers health and physical education. Kevin teaches 10th- and 12th-grade history.

Kevin organizes these trips independent from the school. However, the participants are always graduating seniors from the high school, many of whom have taken Kevin's history classes and Erica's physical education classes. They already have 20 kids signed up to travel to Poland next year on a Holocaust tour, where they'll visit places like Auschwitz and Treblinka. Many of the students participating in this trip will be taking Kevin's history elective, "Genocide."

Trips are organized about two years in advance to give the students time to save their money or make payments toward their adventures. Kevin usually releases the destinations in the fall and the spots have been filling up within a day or two of the release of the destination. He chooses his destinations and customizes all of the trips and then goes through a company called American Council of International Study to set the group up with meals and tours for a combined price.

"[Traveling] has changed everything I do in my life," Kevin said. "The different cultures, the people, the way people do things and how they treat each other. I think that's important for kids. I think the kids learn more in the one week we take them abroad than in the entire semester of my history course."

Kevin explained that these trips have gotten bigger than he ever anticipated they would.
The Wrights' passion for traveling and educating is so expansive that it has had a lasting effect on students' lives. "I could see myself doing this for a while." Kevin said. "Either until I can't keep up with the kids, or until the demand wears off."

It's clear that he and Erica get just as much out the experience as the kids do, even though they're seasoned travelers. "Here's one small place," Kevin said, "and there's a whole world out there that will take you a whole life to explore."
Today
,
Community
,
Schools
Kevin Wright
Eria Wright
Europe