Toes in the sand, eyes on the net

Aug 02, 2016 09:01AM, Published by Community News Service, Categories: Sports, Today
---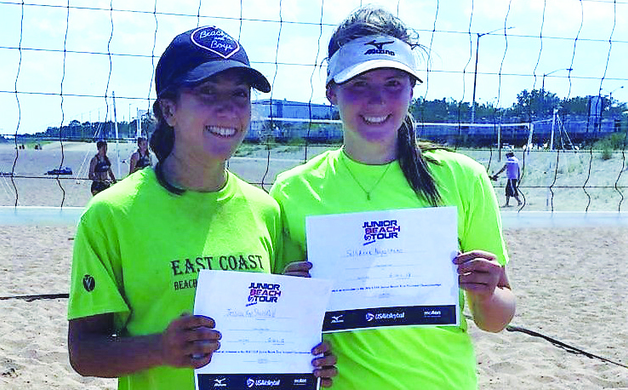 Salli Napolitano, right, poses with teammate Jessica Stansfield after winning a bid to the USAV Nationals after a qualifier in Staten Island.
---
---
By Rich Fisher

Thinking about outstanding beach volleyball players, images of naturally bronzed men and women from the shores of California and Florida are quickly conjured, along with their tall, tanned coaches hailing from the same locales. People from New Jersey do not generally spring to mind.

A couple of people from Bordentown Regional and Steinert high schools want to change that.
Strange as it may seem BRHS rising senior Salli Napolitano has established herself as one of the top beach volleyball players in New Jersey, and she has also held her own among the nation's elite.

She learned much of her trade from Mike Vajo, a 1992 Steinert graduate who founded the East Coast Beach Volleyball Academy 10 years ago. ECBVA has gone from 10 players in its first year to 350, and Napolitano is one of its most impressive athletes.

"She was pretty young when I first saw her," Vajo, a former Princeton University assistant, said. "What caught my attention was how clearly gifted an athlete she was for that age. Volleyball kids tend to start out in high school around here, and she was (13). You could see then she had the ball control had the skills. That was very rare to catch somebody that early and that gifted. I had been working at that point with college teams and high level players and was able to identify she could be a top player."

That's how it always seemed to work out for Napolitano. While playing volleyball for fun, someone would see her and tell someone else It has resulted in a unique East Coast talent, as Napolitano has had Top 20 finishes in several national tournaments in California while also qualifying for last year's Junior Olympics and a national tournament this year.

She has garnered interest from numerous Division I beach volleyball programs, including Georgia State, Grand Canyon, LSU, Alabama-Birmingham, Houston Baptist and Texas Christian.

And to think it all started in a West Windsor backyard.

As a kid, Napolitano's parents would visit their friends the Wainwrights in West Windsor. Their daughter, Julia, took Salli into the yard just to mess around with volleyball. Julia, who is several years older, was impressed.

"She noticed I was pretty good at it," Napolitano said. "She told my mom, 'Salli should go to a tryout and actually try to play because she's better than my friends.'"

At age 12, she tried out for the East Coast Crush club team in Mount Laurel, and a career was born.

"I remember just naturally going into it. I didn't feel very behind all the girls," she said. "I was playing on a 15s team, so they had pulled me up with basically no experience and I learned from the coaches and the girls around me. I immediately fell in love with it. At our first tournament I was so excited to play and I just never stopped playing since then."

At that point she was horseback riding while also playing soccer, basketball, gymnastics and softball. Her dad, Art, was the leading scorer for Steinert's 1973 state champion soccer team.
But the genes didn't kick in, as Napolitano gave up every sport but club volleyball by her freshman year at Bordentown.

The Scotties do not have a volleyball program, and she went from the Crush to the Central Jersey Volleyball Academy in Flemington, to her current team, the East Coast Power in King of Prussia, Pennsylvania.

After her first indoor season, Wainwright suggested Napolitano play beach volleyball at the Jersey Shore just for fun.

"She used it as an outlet," Napolitano said. "It's very common for people living in New Jersey because there is no real beach program."

She quickly took to the beach game, which is more acclimated to her physical stature. At 5-foot-9, she is considered small as an outside hitter on an indoor team. Since beach volleyball is more dependent on skill rather than size due to the two-on-two set-up, it fit her game well.

She and Wainwright played in tournaments at Seaside and Point Pleasant. In Great American Volleyball beach tournaments there are four levels: Open, which is the top, AA, A and B. The pair started playing at A, which is when Vajo spotted her.

At that point he had begun growing the membership in his club and encouraged the Napolitanos to let him work with Salli on ECBVA's courts in Robbinsville.

"I would train with him and also train within that club and that club grew a lot, especially from last year to this year," Napolitano said. "Basically, through Mike Vajo is where I learned all my actual technique for beach volleyball. I could pick up so much on my own, but he really taught me the right form and technique and strategy throughout the game."

Napolitano is disciplined when it comes to learning the mechanics of the game, Vajo said. She is all-around athletic, and he saw similar qualities in Wall Township's Jessica Stansfield. It was at ECBVA that Vajo noticed Napolitano and Stansfield both excelled for their ages, so he teamed them together.

The duo emerged on the national spotlight last summer at Hermosa Beach, California. After attending a camp called Vegas Pursuit for a week "just to get the feel of the sand and the weather and wind in California," they competed in both the AAU Nationals and the Beach Volleyball Clubs of America tournaments.

Those tournaments consisted of first-day pool play that led teams to either the Gold, Silver or Bronze division. Only teams that reach the Gold have a shot at first place.

"Going to California was a little intimidating, just because these girls train year round, and me and Jess were kind of new to it," Napolitano said. "We played in the BVCAs first, and going out there you see these girls warm up and they're banging balls, it's just very intimidating."

That intimidation did not last long. Once the competition started, Napolitano and Stansfield began beating girls who were committed to powerhouse schools such as USC, Pepperdine, Hawaii and UCLA. They made the Gold Division in both tournaments and finished 17th out of over 300 teams in each.

"It was just crazy, even coaches in camp didn't really think something like that was going to happen," Napolitano said.

Napolitano also got a bid to the Junior Olympics last summer while playing in Florida. Stansfield was unable to play in the qualifier and Napolitano played with a girl from Canada, who was then unavailable to play in the JO's.

On the last day of AAU Nationals, Napolitano was scheduled to go home that night. She asked one of the directors if they could hook her up with someone to play with in the Junior Olympics and, long story short, she stayed in California to work out with the San Diego Beach Club, where they found her a teammate. Since she had nowhere to stay, Napolitano couch-hopped all over Southern California until the Junior Olympics, where she and her partner made it to the Silver bracket.

From there, Napolitano and Stansfield attended a camp at the U.S. Beach Volleyball Olympic Training Center in Chula Vista, California. On the last day she was given a new partner (Stansfield was in a different age group) and they won the Olympic Training Center Queen of the Beach tournament championship.

This summer, Napolitano and Stansfield took 17th again in AAU Nationals and ninth at the BVCA Nationals. They qualified for the USA Volleyball Nationals in Milwaukee (July 21-26) by winning a tournament in Staten Island, and over winter break they were invited to train at a U.S. Camp in Clearwater, Fla.

Vajo continues to be impressed by Napolitano's progress.
"She was the youngest player to ever play in an Open Level tournament in beach and do well," he said. "At open level you're playing with the top players around. A lot of her success is coming from her travels, getting out of state and playing in Las Vegas, California, Florida. She's playing some of the best beach players in the country."

Vajo feels that Napolitano is outstanding as both an indoor and outdoor player, but gives her the edge in outdoor.

"The skills from indoor to beach do translate; the serving and passing are all the same concept in theory," Vajo said. "But in beach volleyball you need players a lot more mobile. They have to be, a lot quicker to read and anticipate plays and react."

Napolitano, who feels beach volleyball is on the rise in New Jersey, feels the biggest key to success is communication between partners.

"It's important to know who's picking up what ball when it comes to you," she said. "When you're hitting and there's a blocker up, you need to let your partner know where the defenders are. If you don't have that communication it can really bite you in the butt."

Vajo noted that Napolitano has caught the eye of lots of college recruiters, and he sees her playing both beach and indoor in the future.

"Beyond that, it's tough to say," he said. "I think the sky is the limit for her, she's so gifted and focused on getting better. She can have a career after college, that's not out of question. But does she want to shift her focus elsewhere? Sometimes people just get interested in other things."

For now, however, Napolitano's is focused squarely on the net on the beach.
---
---
Salli Napolitano Beach volleyball Mike Vajo East Coast Beach Volleyball Academy
---