Photographer finds her muse on the Jersey Shore

Sep 02, 2016 06:10AM ● Published by Community News Service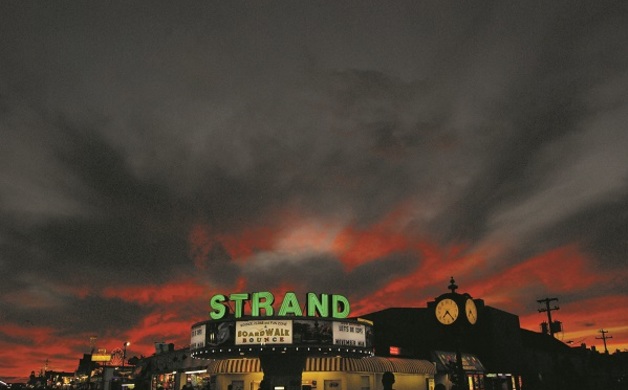 "Boardwalk Bounce" by Susan Van Dongen-Grigsby, on display at the Lakefront Gallery in Hamilton.
By Giuliana Grossi

On a late summer night in 2014, Bordentown resident Susan Van Dongen-Grigsby captured a scene that was much more than a fiery sunset looming over the Ocean City boardwalk. She caught an aging theater, lit up and almost isolated from the rest of the boardwalk against the sunset's dark clouds and red sky.

The focus of the photograph is the Strand Theater, located on 9th Street on the Ocean City boardwalk. The historic Art Deco theatre is illuminated against a contrasting nighttime sky that's highlighted by a deep red sunset. Van Dongen-Grigsby said this photograph was "a very exciting and unusual capture."

Now, the color digital photo that she eventually titled "Boardwalk Bounce" is on view in the Lakefront Gallery at Robert Wood Johnson University Hospital. The collection display is called Wall Worthy: A Juried Exhibit of Mixed Media Artwork.

Wall Worthy is sponsored by the Princeton Photography Club. This year's art submissions were judged by Leon Rainbow and Aubrey Kauffman. A total of 31 artists participated and 65 pieces of artwork can be found on display through Sept. 15 at the Lakefront Gallery at Robert Wood Johnson University Hospital in Hamilton.

Van Dongen-Grigsby, 57, a Bordentown resident, took the photograph during the last week of summer on a particularly hot and humid day. "It represents my favorite season at the shore," she said. After driving in the rain, she and her husband Brian Grigsby arrived in Ocean City late in the afternoon. Then, the wind changed and the weather cleared. "We were coming up on this nice, dry, fall kind of weather," she said.

When she saw how vibrant the sky had become as evening fell over the green lights of the theater, Van Dongen-Grigsby was compelled to take the shot with her husband's 35mm camera. Grigsby, who is a serious photographer, coached Van Dongen-Grigsby as she captured "Boardwalk Bounce." Just moments later, the sky had shifted and the scene was gone.

As someone who grew up in Linwood, 15 minutes from the boardwalk, Van Dongen-Grigsby frequented the Strand Theater—she even went there on her first date with her middle school boyfriend to see The Posiedon Adventure. This photograph is especially meaningful to Van Dongen-Grigsby because, as of this year, there have been plans to close the theater and convert the building into a pizza restaurant.

Growing up, Van Dongen-Grigsby spent a lot of time boating and fishing with her family in Ocean City. "The boardwalk was always a special place," she said. "My cousins would come and we would all go on the rides." The Strand opened on Aug. 11, 1938; by Van Dongen-Grigsby's childhood, the theatre was a staple of the boardwalk for years.

Van Dongen-Grigsby is not just creative when she's behind a 35mm—she actually spends most of her creative time writing. Currently, Van Dongen-Grigsby is a freelance writer, penning arts/entertainment and feature stories for different papers and magazines. You can find her stories in TimeOff and The Press of Atlantic City, as well as two of the Current's sister papers, US 1 and the Trenton Downtowner.

Van Dongen-Grigsby is a graduate of Susquehanna University in Selinsgrove, Pennsylvania, where she received a bachelor's degree in English and music. She lived in Philadelphia and worked for the Philadelphia Inquirer, where she met Grigsby, who was a photojournalist and photography editor for more than 30 years until he retired in 2012.

Grigsby grew up in Gainesville, Florida where he attended the University of Florida, though his degree had to wait as he served in the army during the Vietnam War. Upon returning home, he eventually graduated and made his way up the coast to Philadelphia.

In 2000, Van Dongen-Grigsby and her husband returned to her home state when The Princeton Packet hired her as a full-time community reporter for the Bordentown Register News. Grigsby continued to commute into Philadelphia for his position at the Philadelphia Inquirer. Later, Van Dongen-Grigsby shifted over to TimeOff, The Princeton Packet's art and entertainment magazine, to become an arts reporter where she did "many, many interviews with really cool people in music, theater, writing, literature and visual arts."

Since 2009, Van Dongen-Grigsby has been freelance writing and has also been adjunct teaching at Bucks County College in Newton, Pennsylvania, though she is taking a break from that now. Currently, Van Dongen-Grigsby and her husband live in Bordentown with their two recuse kittens.

Grigsby heard about the Wall Worthy exhibit and encouraged Van Dongen-Grigsby to submit "Boardwalk Bounce." "I'm a little bit of a newbie as far as exhibiting, but I've always loved taking pictures," explained Van Dongen-Grigsby. "With his coaching, I learned I'm always looking, but he's teaching me how to see."

Van Dongen-Grigsby prefers to take scenic or nature shots, while Grigsby seems to gravitate toward people as his subjects. Van Dongen-Grigsby even recalls times where the two photographers got a bit competitive and playfully compared photos.

It was Van Dongen-Grigsby's talent and artistic eye that brought "Boardwalk Bounce" to Wall Worthy, but Grigsby's mentoring and motivation played a role as well. "When you freelance, you're not in an office, you're not working around other people every day," she said. "If you're talking to people on the phone, you don't interact so much, so it's nice to have his support."

The success of "Boardwalk Bounce" must also be credited to the Jersey Shore. "I think my muse, or my happy place, might be the shore," said Van Dongen-Grigsby, an avid body boarder. She misses being able to go to the beach as much as she did when she was a kid, but, when she makes it down there, she still rides the waves. "I'm the crazy older lady with my body board," she said.

Without the Jersey Shore's enticing arcades, whirling rides, tumbling waves, distinct sunsets and Art Deco theater, most might miss the momentary glimpse that Van Dongen-Grigsby caught summer 2014. "Boardwalk Bounce" has inspired her to venture to the shore for a new reason: to take more pictures. "I'll just have to be on the lookout for more magic that happens down there," she said.

If you're interested in purchasing a piece of art, or for information about "Wall Worthy," contact Carl Geisler at carlgeisler@gmail.com or (732) 422-3676.
Today
,
Community
,
Arts+Entertainment
Susan Van Dongen
Strand Theater
Ocean City Boardwalk
Lakefront Gallery