Retired ex-Marine dishing up hot dogs and more

Sep 02, 2016 06:13AM ● Published by Community News Service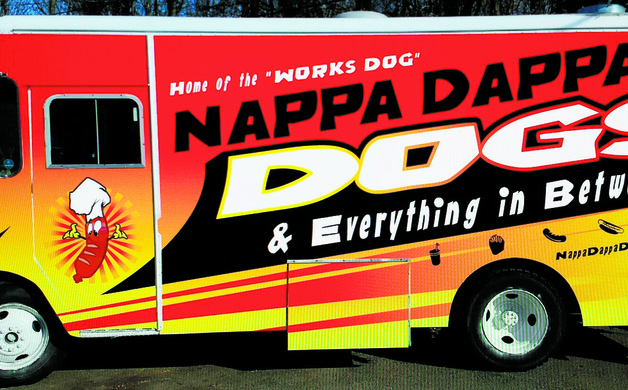 The Nappa Dappa Dogs food truck, owned by Bordentown resident Rich Nappa.
By Lisa Zola-DeLibero

Richard Nappa loves New York City. The arts. The architecture. The vibe. But what he loves most about the city that never sleeps is the food. Well, one food in particular.
Hot dogs.

Nappa, 48, and his family had often taken the train into the city to see the sights or check out a show, and Nappa made a point of sampling some of New York's famous street fare while there. "I always had a thing for hot dogs and carts, " Nappa said. "I would always stop at a cart or two every time the family and I would visit the city, and even when I was younger and visited New York. I knew that one day, when the time was right, I would have a career that involved my passion. Hot dogs. On carts."

Nappa, a retired correctional sergeant who served in the Marines, resides in Bordentown with his wife Lynn and his three sons, Jake, 19, Jared, 16, and Jeremy, 12. Three years ago, he decided that the time was right to retire and live out his dream of owning and operating a hot dog cart locally.

He is stationed daily at the Valero Gas Station where routes 206 and 68 merge, next to the NADE auto auction. Monday through Thursday, from 10 a.m. to 3 p.m., you will find him cooking pork roll, egg and cheese sandwiches for breakfast, and sausage sandwiches, cheese steaks, a variety of hot dogs, mozzarella sticks, fries, onion rings and lots of other food options for lunch.

By chance, Nappa's brother's friend had a garage sale at which an old hot dog cart was up for sale about five years ago. He bought it, and Nappa Dappa Dogs was born.

Nappa initially only took the cart to events and parties. After a year, Nappa invested in another cart, a bigger one he got from a used car dealership in Lakewood.

To start his new career, Nappa spent months researching NYC vendors and how they get their supplies. He wanted to know everything about the business and how the hot dog carts operated, and he figured the hot dog cart capital of the world was a good place to start. He read countless blogs and listened to radio shows, taking in as much information as possible about the business. Organizations like Hot Dog Nation and Ben's Carts were particularly helpful. He also attended a number of seminars. "It was a great deal to learn, but it has all been worth it," he said.

Nappa said he's made connections with local and long-distance vendors. They share recipes, cooking tips, event leads and supply sources. After a couple years using his carts, Nappa upgraded to a food truck in 2014. He was casually looking for a truck at that time and went to see an enclosed food trailer for sale in Philadelphia. It turned out to be very different from what the owner posted about it online, so Nappa passed.

There was another truck for sale not far from the other one, though. He stopped by, not thinking much of it at first, but he liked what he saw once he got there. The deal was too good to pass up, and he drove it home that day.

The additional room in the truck allows him to be more creative with a larger stock of ingredients and more recipe possibilities.

Nappa keeps a CB radio on his truck which truckers who drop off cars to NADE use to order breakfast sandwiches from the road. "By the time they get [to NADE], the meal is all wrapped up and ready to go," he said. "It's great because I have all of the regulars, as well as new people coming in during the day. The owner of the Valero is great, and we work well together."

Nappa's wife Lynn, a lab technician at Capital Health Hospital and his business partner, thought of the name Nappa Dappa Dogs. This, along with 14 other choices, was put on Nappa's Facebook, and he and his wife asked people to vote. "Everyone liked Lynn's suggestion," Nappa said. "It got the most amount of votes, so we locked it in." 

Nappa Dappa Dogs can also be found at the Bordentown City Farmers Market every Wednesday from 3 p.m. until dusk, through Sept. 28. On weekends, the truck can be booked for parties. Nappa has supplied his Sabrett and Black Angus dogs at graduation and sports parties, car shows, showers, birthday parties and events such as Light The Night, an event for cancer survivor Shelly Gallo and Arts in the Park.

"My family and I want to help out the community as much as we can with being part of fundraising and special events, " Nappa said. "We help to raise money for leukemia and lymphoma research, and we want to be involved as much as we can to help when needed. The community has been so good to us, and we want to show our appreciation to everyone."

In addition to the already robust menu, Nappa plans on adding stews, soups and lots of different children's options to his menu this coming winter. He also plans to attend culinary school, a dream that he has had his whole life. "I took some courses at Mercer County College, and plan to go back to school to learn more about my passion of cooking,"he said. "I like coming up with creative ways to cook, especially hot dogs. I make Cruzer, Italian, Reuben, and Cuban dogs that people love, and I am always trying new ideas out. I'm looking forward to learning more, and sharing this with our customers. This makes me so happy. If I can make it for someone, I'll make it."
Food+Dining
,
Today
Nappa Dappa Dogs
Richard Nappa
Hot Dogs
Food Trucks