Chiropractor marks 25 years

Sep 02, 2016 06:17AM ● Published by Community News Service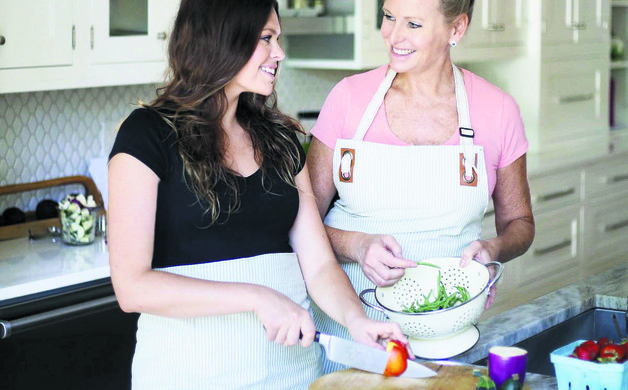 Denise Evans, right, cooks with her daughter Aubrie.
By Lisa Zola-DeLibero

Twenty five years ago, Denise Evans began her career as a chiropractor. As the owner of Evans Family Chiropractic in Bordentown, Evans aims to make treating patients like family a priority, taking time to get to know each and every person who walks through the door of the office.

"My goal as a doctor is to help each of my patients transform into a healthier version of themselves," Evans said. "I am like a health coach as well as a chiropractor, and I want everyone who comes to see me to have less pain, and to live a better quality of life."

And after 25 years in the business, Evans is set to expand her offerings with Properly Fueled, a place where people can come in and order healthy food in the same amount of time it takes to use the drive-through window at a fast food restaurant.

Evans, a 1983 graduate of Bordentown Regional High School, attended The College of New Jersey, where she studied biology. It was there that she decided she wanted to become a doctor, and her interest in the central nervous system helped her decide to work in the chiropractic field.

"The central nervous system plays a key role in the health and well-being of individuals, and it must be balanced," said Evans, who, along with her associate Skip Soriero, has treated many athletes, including members of the U. S. Olympic rowing team. "A muscle can be massaged over and over and over again, but until there is balance in the central nervous system, a patient will not begin to begin to heal. I love seeing the transformation in someone who begins to feel so much better after coming in for headache pain, back pain, digestive issues, sluggishness and any other ailment that brings them to me."

After attending Life University in Georgia and receiving a doctorate of chiropractic, Evans interned with someone she calls one of the top pediatric chiropractors in the country, Dr. Jennifer Palmer Peet, in Burlington, Vermont. Under Palmer Peet's tutelage, Evans learned how to care for pregnant women and children.

"At the moment of birth, I check the new born to make sure that the neurological system is functioning properly," said Evans, a mother of two: Aubrie, 23, and Cole, 21. "If the system is not balanced properly, it will cause pressure on a nerve. This, in turn, will cause whatever is at the end of the nerve to be affected, and this part of the body will not function properly."

Many patients who come in to see Evans are referred to her by other patients who have found good results through her holistic methods. Helping people with a multitude of health conditions, such as Parkinson's disease, cancer, cerebral palsy, asthma, ear infections and a variety of other conditions, Evans's goal is to restore balance in the body, which is the beginning of the healing process. "I really want to see a healthier community, " Evans said. "By working together, my patients and I are seeing very positive results and I am very happy with how they do the things at home that they need to do after our sessions together, which helps them to continue to become healthier and suffer less from pain."

One of the things that Evans has noticed is the need for people to eat healthier. She has teamed up with her daughter Aubrie, a graduate of Drexel University, and in the spring of 2017, they will open Properly Fueled. The restaurant will be located right next to her chiropractic office on Crosswicks Street. "My daughter Aubrie and I want to teach people how to eat better, and that healthy food can taste really good too, " Evans said. "People are extremely busy today, and there is not always time to cook a healthy dinner. We are going here to do this for people."

The menu at Properly Fueled will include foods with no added sugar. Items will be organic whenever possible, and Evans said taste and flavor will not be sacrificed. Items like popsicles and milkshakes will be available, and they will taste like a dessert, but they will also have all of the nutrients needed to fuel the body and help to maintain proper nutritional balance. "We will even have a healthy kids menu," Evans said.

Evans truly believes that people can lead better, healthier lives if they take care of and listen to their bodies and make nutrition a priority. "When people feel better, " Evans said, "they make better choices about everything in life."
Business
,
Today
Properly Fueled
Denise Evans