'Fire and Ice' duo help 10U's softball to state title

Sep 02, 2016 06:24AM ● Published by Community News Service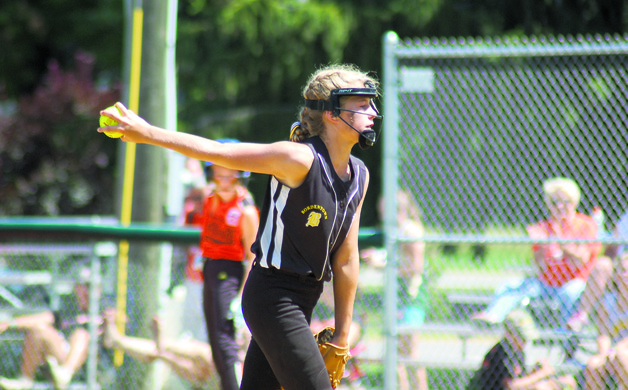 Cadence Mapes-Klemic throws a pitch during a 7-4 loss to Pennsylvania Aug. 7, 2016 at Back Mountain Little League in Dallas, Pennsylvania. (Photo courtesy of Jessica Lucas.)
By Kevin Kunzmann

Michael Hoppe felt like it was "kind of a stretch" to tell a group of 8-to-10 year old softball players last year that they would one day be state champions.

For one thing, they were young. For another thing, there were very few of them—about 15 total. To expect a small group of young girls to develop into players talented enough to win a state championship is not very concrete, but Hoppe believed it anyway.

It was also a stretch considering they are from Bordentown. Any contention for a state championship would force them to defeat a Robbinsville Little League team, a consistent softball powerhouse that won the Little League Softball World Series in 2014.

So perhaps the only thing more surprising than Hoppe's guarantee to that group of girls and their parents is what came just a year later. The 10U Bordentown Little League softball team won the state title this year after beating Robbinsville twice in district play and sweeping the New Jersey tournament and capturing the title Aug. 1.

With a roster of just 13 players—many of whom are younger than 10—the Bordentown team competed in the East regional tournament of the Little League World Series this summer. Speaking to Hoppe between games against the teams representing Delaware and New York, the coach was still just impressed with how his players were able to get through their own district.

"It's just something I'm so happy and and proud of the girls for, because of all the hard work they put in," Hoppe said. "To be at the regional tournament, they're already champions in my eyes."

It's hard to determine when that work began, because most of the players have been training year-round. The girls are involved in the B-Town Bombers program, Hoppe's year-round travel team that plays, practices and trains with professional instructors. Because the premise of the program was to improve interested girls for competitive play, Hoppe required players to commit to play in the Little League program. He was able to recruit 10 players, as well as his three daughters, Allison, Erin and Katelin.

Pitchers and catchers worked with professional instructor Jerry Herrera, while the team played organized games until the holiday season. From then on, the players moved into an indoor facility for speed and strength conditioning while also working on technique, leading up to the spring season. Practice moved back outside again, and play resumed. The constant training and practices would even wear on coaches—Hoppe was sometimes thankful for rainy days.

Even with a fine-tuned team, Hoppe sighed when when he pulled up the double-elimination district tournament bracket this summer and saw Bordentown's opening-round opponent: Robbinsville.

"They're a great program," Hoppe said. "They always put a super-quality team on the field. We looked at it as a great test."

Although unproven, Bordentown had the distinct advantage of great starting pitching for tournament play. Hoppe planned to use his daughter Erin and Cadence Mapes-Klemic on the mound. The contrasting style of Mapes-Klemic's high velocity and Erin's precision led Hoppe to give them the nicknames of "Fire" and "Ice."

Erin took the hill for their first game and cooled off Robbinsville for a 6-3 win. But the team dropped its second game to West Windsor and headed for the losers bracket, where the girls got back on their feet.

"It helped us, playing more games," Hoppe said. "We got used to experienced teams and better pitching."

Opposing hitters never got used to Fire and Ice. According to Hoppe's statistics, the pair racked up 80 strikeouts while surrendering just seven runs in Bordentown's 6-1 district campaign. Mapes-Klemic and Erin led in batting as well, hitting about .500 and .400, respectively. Another four players hit around .300, including catcher Mya Gronstajski, who was behind the plate every inning of the postseason run.

They beat Robbinsville again, 4-2, then topped West Windsor 4-3. The girls beat winners bracket champion East Windsor 4-0, then did it again to finish off the district tournament.
Bordentown only got better in sectionals. Erin threw a perfect game against Freehold Township, and the offense scored 27 runs in three games as the girls continued onto states. Bordentown swept another three games in the next round, and Hoppe's "kind of a stretch" became concrete fact: they were state champions, winning 11 games in a row against some of the best teams New Jersey had to offer.

Along the way, the team picked up some fans. A GoFundMe account to raise money for the team's travel expenses in the upcoming Little League World Series regional tournament drummed up nearly $6,000. A group of girls unrelated to the team raised over $200 through a lemonade stand for the team's expenses. Local businesses and vendors reached out to Hoppe to give their support. And the team was informed they would be recognized for their achievements by the Bordentown council on August 15.

"We've received major response and support from everywhere," Hoppe said from Dallas, Pennsylvania, where the team played out the regional tournament. "The town support has been amazing."

The team's season ended a week later, though, after going 1-3 in the regional tournament. It ended on a high note when they beat Maryland 2-0 to finish this summer's tournament play with a 14-4 record. Hoppe said the elimination wasn't a damper on the team, pointing out that the regional opponents of Delaware and New York were heavily favored in the world series.

And the fact their games were close with both teams proved "we could compete with the best teams invited here," Hoppe said.

The Hoppe family—which made up nearly a quarter of the state champion roster—stayed at the tournament site to watch the regional finals. The other girls went home to enjoy the brief remainder of their summer vacation before school and the B-Town Bombers start up again. Hoppe hopes to merge the 12U Bordentown girls with Robbinsville, and then start an entirely new 10U team of more inexperienced players to work with. It's not a stretch to think they can start a tradition of dominant teams.

"The quality of play these girls have, their work ethic—the sky's the limit," Hoppe said. "They'll really see a bright future and they'll be able to put a great, competitive team on the field."
Sports
,
Today
,
Community