Decoy carvers see art on the water

Oct 03, 2016 06:55AM ● Published by Community News Service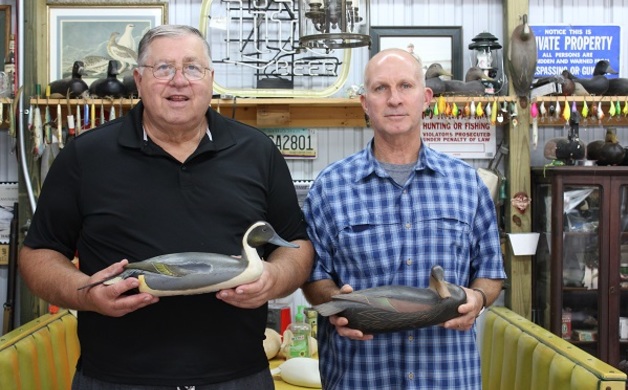 Allen Linkchorst, left, and Bill Ethington hold decoys in Ethington's Columbus workshop Sept. 26, 2016. (Staff photo by Samantha Sciarrotta.)
By Siddarth Muchhal

Lifelong Bordentown resident John Imlay remembers a time when residents relied on the Delaware River for their livelihoods. The depended on the river's banks and wildlife for food and trade during the Great Depression, cooking whatever they could find—especially ducks.

As duck hunting became prominent in the area, so did an art form that was, at one time, crucial to trapping ducks: decoy carving.

It evolved into one of Bordentown's oldest pasttime, and it will be back in the spotlight later this month.

The upcoming Bordentown Historical Society event, titled "Floating Art of the Delaware," will focus on the vast history of duck carving and hunting in Bordentown on Oct. 22. Two well-known decoy carvers from the area, Allen Linkchorst and Bill Ethington, will host the event.

Duck decoys are objects that are placed in a water body, often rigged in groups, in order to attract real ducks towards a duck hunter. However, the specificity used in carving and painting these decoys has transformed the activity into a form of art.

The use of duck decoys first started with "river rats," who used the decoys as simple tools to lure in wild ducks. The hobby of collecting these decoys became popular in North America around the '20s, and now, it is widely considered to be folk art.

Imlay, 82, used to go duck hunting every day, though that has changed as he's grown older—thought it hasn't necessarily been a personal choice.

"When I started duck hunting, there were tons of ducks," he said. "But now, they built highways and factories and sewer plants that did damage to duck hunting more than anything."

Ethington, a Columbus resident with Bordentown roots, first began exploring duck hunting and decoy carving in his childhood, due to the popularity of the activity with those around him.
"Duck hunting was huge in Bordentown. I remember, as a kid, when I went to the river, I (often) couldn't find a spot because there were so many people duck hunting," Ethington said.

His first set of duck decoy rigs were made with plastic. "They were a dollar a piece that were garbage, but that's all I could afford," he said. "Then, I remember the cork decoys that were seven dollars a piece, and I would shovel snow, cut grass, do whatever I had to do to get those decoys."

Ethington, 62, really started to appreciate the art form in 1982, when Harrison Huster's book Floating Sculptures: The Decoys of the Delaware River came out.

Linkchorst, a retired sheriff's officer, lives in Ewing with his wife, Joanne. He has two daughters, Sharon, 37, and Alyson, 33, and a three-year-old grandson, Alan Douglas. Linkchorst began decoy carving in the late '70s. "I started hunting in 1970 using a mixed rig of old, repainted wooden decoys with a few cork and plastic decoys," he said.

He started writing for Decoy Magazine in 1989 and has had over 65 articles about decoys and decoy carvers published. Linkchorst, 69, currently serves as the magazine's contributing editor and writer.

The two first met at a decoy show in 1995, and they have been friends since. Both had served in the military beforehand—Linkchorst was stationed in Vietnam in the Army, while Ethington was in Korea with the Navy. In July 2001, Linkchorst even wrote a feature article on Ethington and his passion for and styles in duck hunting and decoy carving for Decoy Magazine.

In the years after meeting, Linkchorst and Ethington both expanded their interests of duck carving and hunting. Ethington, a parole officer, became an award-winning carver, while Linkchorst joined many decoy carving and hunting societies, such as the New Jersey Decoy Collectors Association and the Delaware Valley Decoy Collectors Club.

Both have attempted to pass their passion for duck decoy carving and hunting on to their children, but to no avail. "A lot of people don't like (duck hunting) because it's cold, it's wet, and when it's good, it's really cold," Ethington said.

Before factories began to produce these decoys on large scales, most decoys were made by hand, which contributed to the object's culture as North American folk art. "Back in the old days, I could pretty much look at a decoy and tell you where it came from, because certain parts of the country each had their own distinct style," Ethington said. "Where we live, you had Delaware River style. And within that style, you had the Bordentown style, the Florence style, and as you went up (the river) you got closer to the Philadelphia style. The Bordentown ones had a distinct look and certain features. They were more functional looking, flatter; the weight on the bottom was more to the rear."

The Bordentown style of duck carving was developed by various successful duck carvers in the town. "Bordentown had more carvers and hunters than any other town on the Delaware River," Ethington said. "Around 35 to 36 guys made decoys in Bordentown, from the ones we know, at least. Everybody tried their hand at it. There were 10 to 15 guys that were well-known, there were 10 of them that were very well known."

Linkchorst believes that many people in the area became interested in decoy carving due to the proximity to the Delaware River, and it helped shape the New Jersey decoy carving community to one of "the best in the country."

Linkchorst and Ethington both referred to the black duck decoys as their most useful, due to the large population of black ducks on the Delaware River. Linkchorst, however, also added that he had a favorite decoy: "an 1890s Widgeon Drake by John English of Florence, New Jersey. John English decoys are special, and it is just a beautiful decoy in its form and paint. It's over 125 years old and still looks great."

As they have grown older, both Linkchorst and Ethington admitted to having a different view on hunting than they used to. "I used to go duck hunting at least once a week; when I was younger, I would go more often," Linkchorst said.

"When we were young, we wanted to shoot ducks," Ethington said. "It was about bragging rights, between all your buddies. Now, when I go out, I don't care if I shoot one or not. I just like putting the wooden decoys on the water, sitting in my old boat, drinking a cup of coffee, and watching the sun come up. That's what it's all about."

The goal of the upcoming presentation is to make the attendees "appreciate the history of decoy carving in Bordentown," Ethington said. Linkchorst and Ethington will attempt to accomplish this through showing the history of duck carving in Bordentown and nearby areas, along with providing information on how to carve a Bordentown-style decoy.

Linkchorst plans to showcase "the decoys of 16 Bordentown carvers," while Ethington will discuss "how to make a Bordentown decoy. I'm going to have an old Bordentown duck boat there, and a decoy in stages of completion."

Linkchorst hopes those who attend the event will begin to study old decoys. "Read everything you can and go look at the old decoys at shows," he said. "Vintage decoys should inspire you to create your own style of decoys."

For those who are already interested in decoy carving, Linkchorst had some advice: "Study and practice and keep carving," he said. "Carving decoys is much like any other art form. Most people always improve over time with persistence and patience."

This event, supported by the Bordentown Historical Society, will be held in perfect timing for duck hunting season. According to Ethington, the hunting season in New Jersey lasts from October to January, so if any attendees have interests sparked, they will have an opportunity to participate in one of Bordentown's favorite historical pasttimes within the season.

Along with expanding an interest in "the dying art," Linkchorst and Ethington hope to share the lessons that he has learned from duck hunting and decoy carving, especially the beauty of nature and the value of patience.

The event will be held on Saturday, Oct. 22, from 10 a.m. to 2 p.m. at the Carslake Community Center, 207 Crosswicks Street, Bordentown. Admission is free. For more information, please contact Allen Linkchorst at njduckman@hotmail.com.
Today
,
Community
Duck decoys
Allen Linkchorst
Bill Ethington