Goalie Ryan uses softball smarts to make saves

Oct 03, 2016 07:12AM ● Published by Samantha Sciarrotta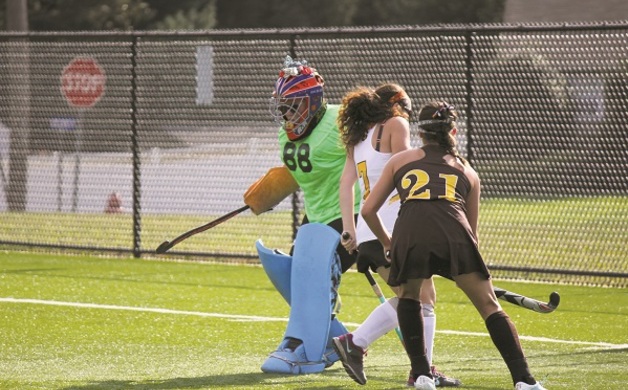 Jenna Ryan makes a save during a 4-1 home loss to Delran Sept. 21, 2016. (Staff photo by Samantha Sciarrotta.)
By Samantha Sciarrotta

Jenna Ryan is quick to react when she hears the metallic pop of a softball bat against the ball. She perks up, glove in the air and ready to make a play. 

Years of playing third base helped the Bordentown Regional High School sophomore develop speedy reflexes, so when she heard the junior varsity field hockey team needed a goalie last season, she figured she should test those reflexes out and give the sport a shot.

Now, after playing field hockey for just one year, Ryan is the varsity team's starting goalie. But she's not letting her youth stop her—even if there are some nerves.

"It's really exciting, but it's also nerve-wracking," she said. "I'm a sophomore up against seniors. My teammates are really supportive of me, and they help me. They've been helping me for the past two years."

Ryan decided on field hockey as a freshman because her sister, Samantha, who graduated from BRHS in 2015, played the sport all throughout middle school and high school in Bordentown. Ryan ended up falling in love with the sport, mostly because of its similarities to softball.

She came into field hockey unafraid of the ball—an important trait for a goalie to have. After years of taking grounders and line drives at third base, making saves came naturally to her when she first stepped into the cage.

"I wasn't going to play in high school, but they said they needed a goalie," she said. "I was like, 'Goalie is kind of like third base in softball.' They said to come out and try it. When I came out, I liked it. I've been practicing since, and it's been fun. I play softball year-round, so I'm playing that and field hockey at the same time. I'm already in that mindset of what I need to do and when, which helps a lot."

Bordentown head coach Julie Reisig sees more and more of her players come from the softball diamond each year. Girls usually transition from softball to field positions in field hockey—the swinging and hitting motions are where she sees a lot of crossover. Not for Ryan, though.

"Jenna has been phenomenal," Reisig said. "She's really learning quickly. Usually the hitters are the ones that come and give us big hits. Now, I like that she just gets everything in the air. She had some nice saves in our summer league. I'm pleased."

Ryan is one of many underclassmen who are relatively new to the sport on this year's team. The Scotties, who were 1-2 in their first three games this year, returned just six players from last season's varsity squad, and five new freshmen are in the starting lineup—the most Reisig has seen in her tenure as head coach.

The team is a work in progress,"  Reisig said. Practices consist of lots of technical drills and skill development. She intentionally scheduled pre-season scrimmages against nonconference powerhouses to challenge the girls. They're practicing on grass as well as on Bordentown's turf field—Reisig said playing well on grass will yield even better results on the turf. 

The team also focuses on structure, versatility and learning different systems and formations.
"It's about trying to get everybody on the same page in terms of the tactics, what we need to do," Reisig said. "They have a lot of raw talent. They're very young and quick. There's just so much to go over. I think it's just going to be a learning curve. I really hope to be hitting our stride pretty quickly."

The learning curve for Ryan, said Reisig, has been "quick." Mentally, the key for the keeper this season will be to brush off goals that get past her, not taking goals personally.

"She's doing great," Reisig said. "She makes almost all of her first saves. It's just a matter of giving her new techniques to save the second and third shots, and for our team to give her that in practice. That's something we have to do, too—follow your shot. I need to get her to come out a little bit. I really like what I see so far. It could keep us in some games, and we have her for three years."

Ryan said she and the team are making progress, but admits reaching their full potential could take a little while.

"I understand that we have a young team," she said. "They know I'm young. They're really understanding and patient with me. I hope to do well. I will be there for my teammates, and they'll be there for me. We understand the level that we were at last year, and we're working up to that level this year."

And Reisig has even more confidence in the team for years to come. Last year, she said, there were barely enough players on the junior varsity squad to field a full team, but this year, upwards of 20 girls play JV for the Scotties. She expects an "interesting and fun" 2016—and a lot of contribution from her six returners.

"I feel like this is a training year, but I want to be able to make something of this year, too," Reisig said. "We really want to try to get our banner. I'm hoping some of the other teams have some adjustments, too. I think we have a chance. We have to win home and away, on turf and grass. If we can do both, we'll be good."
Sports
,
Today
,
Schools
Bordentown field hockey
Jenna Ryan