Father and son soccer duo connect through love of game

Oct 03, 2016 07:19AM ● Published by Community News Service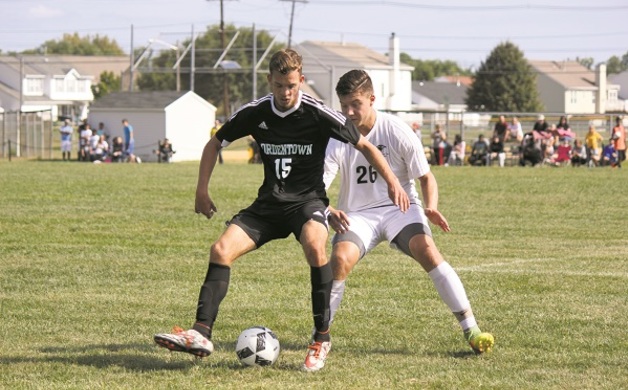 Matt Horner works with the ball during a 2-1 loss to Burlington Township at Fountain Woods Elementary School Sept. 17, 2016. (Staff photo by Samantha Sciarrotta.)
By Karolina Zachor

Fathers and sons tend to be cut from the same cloth. In John and Matt Horner's case, that cloth is the Bordentown Scotties' soccer uniform.

John graduated from Bordentown Regional High School in 1987. Matt just started his senior year at the same school, and he currently plays striker—the same position his dad played 30 years ago. Last season, Matt was the team's leading scorer, netting 25 goals in his junior year, and he seems poised to do that again this year—the Scotties were 5-1 as of Sept. 23, and Horner had already notched 15 goals.

John was the first to teach Matt how to play. Father coached son for about six years during Matt's time playing for Bordentown's recreational, and from the age of nine, travel teams. Matt switched to the travel team in Florence at the age of 12 in order to be part of a team that was drawing a wider range of players.

However, John still continues to give his son advice. "I've always talked soccer with him," Matt said. "He used to coach me up until maybe 10, 11, 12 years old, but he would still act as a coach on the sidelines. After every game, I'll talk to him about the game and little things about what I did wrong here, what I did right here."

The Horners' soccer talks are always honest. "When you're not succeeding, you don't want to hear it from anyone," John said. "It can be tumultuous at times, (but) for the most part, he understands where I'm coming from. I used to always tell him this one statement, I said, 'Matthew, if you're sitting in here doing nothing, someone else out there is doing something to get better than you.'"

Matt regularly goes to an open field just to practice shooting for as long as two hours at a time. He also has a full size soccer goal in his backyard that he uses to practice. That hard work seems to have paid off. "He's driven, I'm glad he's humble, also. He's a good teammate," John said.

The Horners' mutual love of soccer is not where the similarities end. Both have sustained injuries in the past during their respective soccer careers. In his sophomore year, Matt suffered an unlucky injury when he broke his collarbone very early in the season. He had to wear a sling and missed around nine games before he recovered and got back on the field for the Scotties.

John's injury was far more serious, however. At the end of October in his junior year, 1986, he tore his ACL in the last minutes of a game. He opted not to get surgery. For the rest of the season he would practice minimally and before every game, he would leave school early to have a doctor drain his knee. "I was a decoy at the end," John said. "I could hardly walk." He was put on the field to "make sure the other players had the ability to score. It wasn't exactly the smartest thing to do, but I loved to play soccer."

John's injury occurred during the arguably most successful season in all of Bordentown's soccer history: 1986 is the only year that Bordentown has won a state championship. John had surgery the day before the championship game and wasn't able to play at all because he was on crutches. Nonetheless, he called the win a "great experience."

The Scotties came extremely close to winning that same title last year. The team made it to the finals, but lost to Holmdel by one goal. "I'm kind of reminded about (the 1986 State Championships win) a lot, so I kind of want to get one to kind of rub in (my dad's) face," Matt said with a laugh. "I'd say that's the most pressure on me."

That desire, along with a past injury and a distinction as the team's leading scorer, could potentially add up to a great deal of stress. As his father said, "He puts a lot of pressure on himself." But Matt seems to have a strategy for how to withstand it. "Once I start scoring and get into a groove, then the pressure eases off of me." He claims that mid-season is usually much easier for him than the beginning of the year.

There is one thing that John hopes he and his son will not have in common: the gravity of his injury. For John, the torn knee ligament meant the end of his hopes of a top-level career.
Though Matt broke his collarbone, "It's not an ACL (injury) where you're out for nine months," John said. He explained his worry behind his son having an injury such as his. 

"I always worry as a parent. I shouldn't have played through all those injuries. I lost a lot, I cried myself to sleep so many times. (My dream) got taken away. I'm trying to teach (Matt) better than me. You have to look at the big picture. You have playoffs coming, you have college coming. You don't risk it today," he said. 

Even with his injury, John played all throughout his time at Rider on intramural teams. Matt hopes to attend the same school or Rutgers University so he can play Division I soccer.

As for life after college, Matt seems to have one major plan in mind. John described a day where he, Matt, Matt's 12-year-old brother Sean, and a friend of Matt's went to a Philadelphia Union together. John offered to try and make a few phone calls to get the boys on the field so they could meet some players. Matt's response floored his father. "(Matt) said, 'I'm not going to go down there until my name is on the back of one of those jerseys,'" John said.

Perhaps the most poignant connection between the Horners is the annual Bordentown Regional High School alumni soccer game, held on the Friday after Thanksgiving. Though John has participated in the event for many years, this is the first year that Matt will be able to play as an alumnus of the program.

The Horners will play on the same team and hope to kick off the ball together. It will be the first time the two of them will get to play in a competitive game together. "I'm looking forward to it," said John. "It's a big moment."
Sports
,
Today
,
Schools
Matt Horner
John Horner