Scavenger hunt rocks residents

Oct 31, 2016 07:43AM ● Published by Community News Service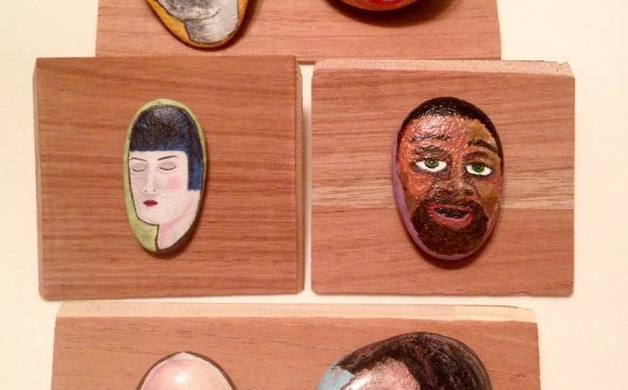 A quartet of rocks painted and later hidden by Bordentown resident Rudy Stumpf as part of the growing Bordentown Rocks trend.
By Amy Macintyre

Eight-year-old Killian picked up a dirty, triangle shaped rock he found on the trail while walking through Veterans Park in Hamilton with his mother, Tracy Hrebik, and brother Lucan. Excitement mounted when he flipped the rock and saw it was painted to look like a slice of pizza.

All over the country, people are painting rocks and hiding them in public places for children to find, and it's taken over in Bordentown, too. Often it's the kids painting the rocks, but many adults are joining in on the massive scavenger hunt that is going on around the nation.

"Once they found that one, they were so excited and they couldn't wait to hide it and make their own," Hrebik said of Killian's discovery.

Hrebik had seen Facebook posts from friends in neighboring Hamilton where the painted rocks trend had already taken off. That evening, she took Killian to dinner with his best friend Kara Parker, 8, and says he immediately showed off his treasured pizza rock.

"We thought it made their day just to find this and I'm sure we could make someone else's day if we left some rocks around town," Hrebik said. At dinner that night, she and Kara's mother, Raquel Parker, decided to start a Facebook group and bring the painted rocks to Bordentown. It was an instant hit.

All over town, children are leaving no stone unturned as they search for the painted rocks that have been hidden bearing the hashtag #bordentownrocks.

The Bordentown Rocks Facebook page has reached over 800 members since its start in early September and each day, families post photos of freshly painted rocks and their children posing with their newly scavenged loot. Some members announce when their batch is ready to be hidden with pictures, while others share knowledge of areas where the most rocks can be found.

"It's like an artistic scavenger hunt that includes the whole community," Parker said. As a Bordentown Township resident and preschool teacher at Play and Learn, she says it's a creative family bonding activity and gets people outside to enjoy their neighborhoods.

An area of Parker's kitchen has turned into a rock-painting station where she and Kara paint after homework and whenever they have free time. Kara, who Parker describes as a foodie, paints her favorite foods and inspirational quotes on the rocks. Together, she says, they have painted 40-50 rocks that have made their way out into the community.

Hrebik's dining room is also serving as an art studio. She enjoys painting landscapes and sunsets and Lucan, 4, is more of an "abstract" painter, she said.

"They come up with so many ideas depending on the shape of the rock, or something from school, or a pumpkin for the season," Hrebik explained.

Some of the most sought-after rocks popping up around Bordentown are those painted by Rudy Stumpf. An active member of the Bordentown Rocks Facebook group, he paints whimsical faces with dramatic features, some of which are characters from films, while others are "regular" faces, he explained.

On Sept. 26, Stumpf posted a picture to the group of five new rocks he painted based on the characters from Netflix's hit series Stranger Things entitled "Stranger Rocks." At 7 a.m. on the 28th, he said the rocks had been hidden and less than 12 hours later, a member posted a picture of one of the "Stranger Rocks" announcing it had been found.

Stumpf, a Bordentown resident and Trenton firefighter, is a self-taught artist and says art runs in his family. His father was a painter and his brother is a tattoo artist, and Stumpf participates in local art festivals including Trenton's Art All Night and Lambertville's Shad Fest.

Now, with the help of Bordentown Rocks, the next generation of Stumpfs are realizing their artist roots. His two sons, Jack, 10, and Carter, 6, paint rocks with Stumpf and his wife when they find free time between school, soccer games, and martial arts classes.

"This is something we can all do together," Stumpf said.

Stumpf is not the only talented parent painting and hiding rocks. Many adults show off their rocks on the Facebook page. "It seems like a natural progression, for parents to get involved," he said. "It's almost a lost art."

As for the attention his rocks have garnered, he's found it inspires him to create more. "It was surprising for me and naturally started a little spark back into what could be, what I could be doing," he said.

It's hard not to draw comparisons between the painted rocks and the Pokemon Go craze from earlier in the summer. The app brought seemingly every resident outside and onto the streets, eating up data and killing phone batteries. Sadly, the madness of "catching them all" fizzled out by late summer.

Hrebik's son was excited about Pokemon Go, but since he's too young to have a smartphone, it wasn't as accessible. Scavenging for painted rocks, on the other hand, is free, and there are no screens involved.

"It's great because the kids are outside and they're not looking at phones," she said. "They are seeing trees and leaves. It's a great conversation piece."

Parker explained besides the cost of some paint and a few brushes, it's a free activity that everyone is welcome to participate in.

They also believe interest in the rocks will endure longer than that of Pokemon Go. Parker expects rock hiding and finding will slow during the winter months, but participants will be inside, hard at work painting fresh batches of rocks to hide next spring.

Parker and Hrebik, who are both moderators on the Facebook group, say that after starting Bordentown Rocks, it has grown organically through social media.

"We went from just our friends being members to over 600 people, and there were more and more people everyday posting about finding rocks, painting rocks and getting together with their friends and family," Parker said.

The only rule, she explained, is if you find a rock and you want to keep it, you must paint a new one and hide it to be found by someone else.

Recently, Bordentown Rocks announced it has teamed up with the Kiwanis Club of Bordentown to promote the club's sock drive which benefits the homeless and those in need at the Trenton Area Soup Kitchen.

Bordentown rock painters are encouraged to paint socks on rocks along with the hashtags #bordentownrocks and #socksforTASK and hide the rocks as they normally would. A Facebook search of both hashtags lead to the group where individuals can get more information including the donation site, Bordentown Home for Funerals on East Union Street.

Parker said they would like to team up with more charities in the future. "As long as it's free and we can do something for the community to make it better, Bordentown rocks is all about that," she said.

Although the rocks can be found in parks, in neighborhoods, outside of churches and schools, one of Hrebik's favorite places to see rocks is on Farnsworth Avenue where rocks have been stashed beneath benches, under flowers in planter boxes and even hidden in plain sight.

"I'd love to see the local businesses paint rocks," Hrebik said. "It's a great way to bring the community together and we have great local businesses. If we can find ways to support our community even more, that would be fabulous."
Today
,
Community
Bordentown Rocks
Hamilton Rocks