The man behind the cave

Oct 31, 2016 07:48AM ● Published by Samantha Sciarrotta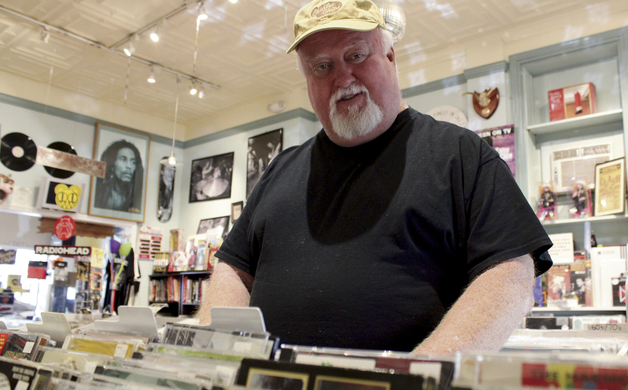 Randy "Randy Now" Ellis sorts through records in his store, Randy Now's Man Cave, on Farnsworth Avenue Oct. 16, 2016. (Staff photo by Samantha Sciarrotta.)
By Samantha Sciarrotta

Randy Ellis sits at the counter of his store, Randy Now's Man Cave, picking through a sizable stack of records a customer brought in to sell. It's an eclectic collection—its albums range from '70s power pop quartet Big Star to indie singer-songwriter Iron & Wine—but that just means it will fit in with Ellis perfectly.

Ellis, known as Randy Now, made Trenton club City Gardens a must-stop destination for new wave, ska, reggae, hardcore and punk bands in the '80s and '90s. He used his encylopedic knowledge of all types of music to develop an ear for new acts, sometimes discovering and playing hit songs as a disc jockey years before they reached the radio—an especially impressive feat in a time before the internet and streaming services.

Ellis, a Bordentown native and current resident, brought acts like The Ramones, The Descendents, Green Day, Ween, Bad Religion and Suicidal Tendencies to the Calhoun Street club. Some were just starting out, and some were established, but if Ellis called, they came.

As Ellis says, he was just doing his job. But for the crowd of New Jersey and Pennsylvania punks who flocked to City Gardens night after night, he was changing lives, said Colin Helb, president of the Mid-Atlantic Popular and American Culture Association, which will honor Ellis at its annual conference this month with the Divine Impact Award.

As a teenager in the early 90s, Helb worked at Wee-Three Records in the Oxford Valley Mall. Ellis often made his rounds at local record stores before shows at City Gardens, dropping off cards advertising a slate of concerts, and Helb's store was one of his stops. Helb watched Ellis give a card to his manager and struck up a friendship with Ellis after talking about punk and City Gardens, which Helb had recently visited for the first time. If Helb wanted tickets to a show, Ellis always accommodated him, and it was something Helb never forgot.

It's still with him today, nearly 30 years later. So when he and members of MAPACA were tossing around names last month trying to decide who to honor with their third annual Divine Impact Award—named after drag queen and filmmaker John Waters' muse Divine—Helb realized Ellis was a perfect fit.

Each year, MAPACA honors a figure who has impacted the culture of the region where that year's conference is held. Two years ago, they honored Waters at the Baltimore conference. In Philadelphia last year, Fresh Air host Terry Gross received the award. For this year's conference, set for Nov. 3-5 in Atlantic City, they wanted someone distinctly Jersey.

"We had a lot of nominees that came up in discussions," Helb said. "Those of us who have ties to New Jersey kept coming back and saying, 'That's not New Jersey, that's Philly. That's New York.'"

Though most board members were not involved in the punk scene, Helb decided to throw Ellis's name into the mix.

"It was the first name that came up where everyone was like, 'Yeah, that's perfect,'" he said. "Most didn't know him, or had no connection to the scene, but that's what this award should be. It should appreciate someone who maybe hasn't been recognized, but who can carry on an amazing conversation. After months and months of beating around names that nobody could agree on, within 48 hours of me bringing up his name, I e-mailed Randy. That's it. Two days."

Ellis, 60, was surprised but grateful, especially given the other two honorees—nationally-known names with documented bodies of work.

"I never thought that anybody would still care or think about it or remember it," Ellis said. "I started getting letters here and there from people all over the country, locally, saying, 'I just wanted to say thank you for what you did.' I just did what I thought was my job. It wasn't like we were doing the popular thing, either. There was just enough of the oddballs out there. I just don't understand why all this hoopla is going on now."

People like Helb and Amy Yates Wuelfing, co-author of "No Slam Dancing, No Stage Diving, No Spikes: An Oral History of New Jersey's Legendary City Gardens," do, though.

Yates Wuelfing used to hear about shows at the club through Ellis's College of New Jersey radio show. She started going to City Gardens as soon as she got her drivers license.

"He changed so many people's lives with that club," she said. "It's hard to overstate how much it meant to the people that went there. Before the internet, if you were someone who was into weird music or alternative cultural type things, there was really no way to find that, unless you went out to find like-minded people. That was hard to do, especially outside of a city. Randy created an oasis for misfits, people who didn't fit in, who liked weird music, who dressed weird, who were gay. People who had all kinds of things that made them feel like they didn't fit in."

And it all started with an old RCA Victor record player and a stack of novelty 45s. As a kid, Ellis shuffled through the records for hours, not even able to read yet. He identified songs like "Do the Dog" and "Does Your Chewing Gum Lose Its Flavor (On the Bedpost Overnight)" by the color or design of their labels, and he and his brother, Todd, used to love to lip sync to a musical comedy skit, "The Last of the Big Time Spenders." Ellis still knows all the words.

Ellis's father, a laundry courier named Stanley (known locally as Reds), often came home with a stack of singles, 10 for 69 cents at the Columbus Flea Market. They couldn't afford to buy new albums by The Beatles, the Rolling Stones or The Monkees. Stanley died in 1999 at 86. Ellis's mother, Teresa, 88, still lives in Bordentown.

"They were just garbage records, but to me, they were gold," Ellis said.

Those records were the start of his "sixth sense" for music, and he started his DJ and promoter career at Bordentown Regional High School in the early '70s. The school got a record player and allowed Ellis to start playing records in the cafeteria as a sophomore. Later that year, he convinced the school's administrators to let him sponsor a trip for 100 students and faculty members to see Jethro Tull at the Spectrum in Philadelphia as a fundraiser. He always had a knack for booking things, it seemed.

He graduated from BRHS in 1974, a three-year class president. He went into deejaying soon after. He and his band used to perform at The Central House in New Egypt, covering new wave artists like Elvis Costello and Nick Lowe. They didn't go over well with a crowd who would have preferred ZZ Top, but the bar's owner gave Ellis a shot as a DJ anyway. He also had a radio show on The College of New Jersey's radio station, and was at City Gardens by 1978.

Working as a DJ was never about playing Top 40 hits for Ellis, though. He wanted to turn people on to a new band or song, to pull them out on the dancefloor with something they had never heard before.

"I wasn't playing Journey and Foreigner," he said. "I would throw on something that I thought would appeal to them."

Playing a new record in public was always a risk, he said. That's generally not a problem for current DJs.

"It would be easier [with the internet]," he said. "It's almost like cheating. Back then, you had no choice. You just bought something and hoped it was good. You could fudge it in between something they already knew. That's how I broke records. Every time I see a band or hear a DJ, I don't hear anything being broken brand new. 'I know this will make people dance, because everybody's already heard it a thousand times.'"

While he sometimes struggled to reach his audience in New Egypt and Bordentown, he found a home at City Gardens, first as a DJ and later as a promoter. That's where he really took off. He spent hours every day calling and booking bands, going into New York to see shows, promoting City Gardens and DJing. He even managed tours remotely for bands like Gwar and Bad Religion. Bands would spend the night at Teresa's home if they needed a place to stay, and she happily cooked for them whenever they came by.

Ellis did all of that while working as a mailman in Cranbury for nine years. It was like working two or three full-time jobs.

"I didn't sleep for two decades," he said.

Back then, Helb says he had no idea how much work Ellis put in behind the scenes. To Helb, he was just the guy from City Gardens who occasionally gave him tickets. Now, though, he realizes how unique Ellis was, especially in that line of work.

"He was the Great and Powerful Oz behind the curtain," Helb said. "The show was the Oz that we saw…There are some sleazy promoters out there. I'm not saying that Randy is a saint, but he comes off as a nice guy. I imagine bands felt like they were actually dealing with a human being. There are less established people in this world who act a lot more important than Randy. If Henry Rollins walked into that record store, I would have cowered in a corner. Randy was a personable conduit to that world. He treated a 15-year-old kid the same way he treated Henry Rollins."

City Gardens closed in the early '90s, and Ellis floated around working and promoting locally, but nothing really stuck. He was in need of a little reinvention, he said.

Ellis always had a loosely-formed idea of a man cave in his head, a store that sold records, CDs and novelty items. In need of income—and with no prior retail experience—he opened Randy Now's Man Cave in 2012. Start to finish, the store opened on Park Street within a month.

He started with old bobbleheads and records from his own home. He had just married his wife, Mary, and moved into her old Victorian home, decorated with antiques. The bobbleheads, he said, clashed and had to go. The store made $1,400 on its first day.

"I was like, 'This is easy, I'm going to be a millionaire,'" he said. "Then I was doing $50, $0. My best day ever is going to be the first day? Everything's downhill from there? I thought it was easy, but I learned really fast that it wasn't."

The store moved to its current location at 134 Farnsworth Ave. a couple years ago. He sells over 100 different varieties of soda and tins of Charles Chips in addition to toys, music and an eccentric book selection.

It's still been a struggle. This summer was particularly bad due to the heat, and he found himself buried in debt.

Yates Wuelfing offered to start a crowdfunding campaign for Ellis last year, but he declined. This year, though, he couldn't say no, and she set up a GoFundMe page for the Man Cave. It's already raised over $5,000, which Ellis has used to pay off his electric, vendor and internet bills.

It's the least she could do for someone who almost singlehandedly created a culture for some who might not have been able to find one otherwise.

"I have never been to a high school reunion, but I still keep in touch with City Gardens people," she said. "He was able to assemble people who genuinely loved, cared about and supported each other. We all knew that we were in the same boat. What he built was incredible. He didn't have a lot of money. There was no corporate sponsorship. It was all grassroots, and he was able to accomplish that with sheer enthusiasm."
Community
,
News
,
Arts+Entertainment
City Gardens
Mid-Atlantic Popular and American Culture Association
Divine Impact Award