BOE, township races set for Nov. 8

Oct 31, 2016 07:54AM ● Published by Community News Service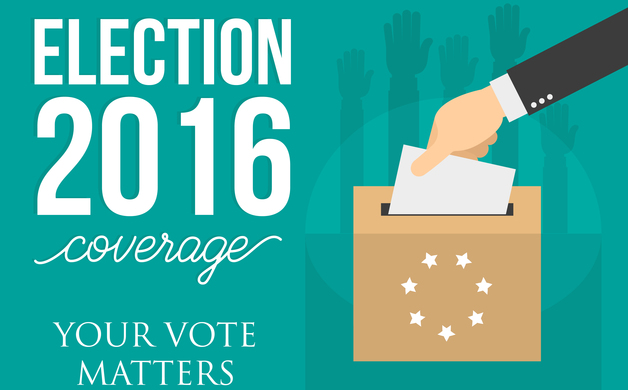 Bordentown Township and City residents have several choices in the school board and township committee races Nov. 8, 2016.

Four candidates are seeking election to three open full-term seats on the board of education. Terms end at the end of the year for current board president Mark Drew, Stephen Heberling and Kimberly Zablow, and all three seek reelection. They will face challenger Sylvia Scozzari.

Drew is a lifelong Bordentown resident who works in sales, while Heberling, an insurance agent, grew up in the township and moved back in the '90s. Scozzari, a 20-year Bordentown resident, has nearly 30 years of experience as a health and physical education teacher, and Zablow is a program specialist for the state Department of Human Resources who has served on the school board for nine years.

In the township committee race, incumbent Republican Richard J. Carson will square off against Democrat Eugene M. Fuzy. Carson, a retired superintendent, has served three terms on the Bordentown Township committee. Fuzy is a graduate student studying entomology who serves on the township Environmental Commission.
The Bordentown Current asked each candidate to submit biographical information and answer a questionnaire regarding the their plans as school board members and committeemen. 
Board of Education
Four candidates are running for three seats on the Bordentown Regional Board of Education.
Incumbent Mark Drew is a 51-year-old lifelong Bordentown resident. He attended Bordentown Regional and the University of New Haven, and he currently works in sales. He has served on the school board for six years and is married to his wife, Jaime. They have two children, Dillon and Marissa.

Incumbent Stephen Heberling, 50, grew up in Bordentown Township and moved back permanently in 1994. He graduated from St. John's University with a bachelors degree in business administration, specializing in property and casualty insurance. He is an insurance agent and majority owner at R. H. Aaronson & Son, Inc. and has served on the school board for three years. Both of Heberling's children and all of his siblings went through the Bordentown school district, and his father served on the school board for 17 years.

Sylvia Scozzari, 48, has lived in Bordentown since 1996. A Hamilton native, she attended The College of New Jersey, where she graduated with a degree in health and physical education. She earned a masters in the art of teaching from Marygrove College and another masters in educational leadership from The College of New Jersey. She has been a teacher for 26 years, 24 of which she has spent in the Hillsborough school district, where she also advises several extracurricular clubs. Scozzari has not held elected office.

Incumbent Kimberly Zablow, 51, has lived in Bordentown for 22 years. She attended Hightstown High School and then Rider University, where she earned a bachelors degree in management and organizational behavior. She works for the state Department of Human Resources as a program specialist for the Division of Medical Assistance and Health Services. She has served on the school board of nine and a half years and has never held any other elected office. Zablow's three children all attended Bordentown schools. Her youngest graduated from the high school June of this year.

Do you feel that there are any areas in the school budget that need to be looked at in order to reduce expenses? 
Drew: The administration has done an outstanding job staying within cap and still maintaining quality programs for our students. The Board of Education works great with them, looking at all areas of the budget which, in many cases, results in reductions.
Heberling: Having spend the last three years working on the budgets as a member of the board's Finance Committee, I firmly believe that all the "excess" is gone and any future expense reductions are going to hurt. The 2016 budget was tight, but we escaped with minimal cuts to staff and programs. I fear that we will not be quite as fortunate in 2017. The one bright spot for taxpayers is that by refinancing the 2006 Bonds, we anticipate saving over $4 million in interest over the remaining 16 years of those bonds.
Scozzari: The budget appears to be very tight right now, which has resulted in a reduction in valuable staff members and programs. Consequently, I would not necessarily look to reduce school budget expenses at the risk of depriving our staff and students of important educational programs and resources. Instead, I would investigate how other districts are saving money and/or bringing additional money to their districts, such as through other cost saving programs and grants, to hopefully find something the district hasn't already tried.
Zablow: All areas of the budget need to constantly be looked at. You cannot assume because a cut could not be made one year that it cannot made in the future. Just as you cannot cut the same area time after time and think that it does not make a difference. By state law the school budget is limited to a 2 percent cap each year. As a result, this forces the district to be smart and cut unnecessary spending so that key programs are not negatively impacted.

Are there any programs you would like to see added or improved in the district to improve the quality of education? 
Drew: Dr. Forsthoffer and his team know best of what programs improve the quality of education.
Heberling: The list of items I would love to see added or improved is quite long. The list of improvements we can afford under current conditions is very short. The school district will be facing many tough choices as we try to meet the needs of students, staff and taxpayers over the next few years. It becomes increasingly difficult to expand the education opportunities within the confines of a 2 percent cap (increase) in your annual budget while absorbing double-digit increases and health care and modest increases for our staff.
Scozzari: I would like to see technology introduced into the middle and elementary schools. Coming from a district that has had a one-to-one technology program for four years, I have seen and experienced the numerous benefits to teacher instruction and student learning that technology access can bring to the classroom. I could also share ways that my district has handled the concerns of inappropriate technology use. I would also want to provide more professional development training in technology for the staff. There are a multitude of technology programs available that enhance instruction, provide formative assessment, and can globalize the curriculum.
Zablow: The district has improved over the past few years with our AP class offerings at the high school, but there is still more to be done in this area. Elementary foreign language is an area that was recently cut and I feel this is an area we need to try to do better in how we teach this to the students. I would also like to see more challenging course at the middle school as a way of better preparing our middle school students for high school and beyond.

What do you think is the most pressing issue in the Bordentown school district, and how do you plan to address it? 
Drew: The budget is the most pressing issue, and as a Board of Education member, I have been and would always address it on a daily basis.
Heberling: Undoubtedly, it is the budget. Without a miraculous change in state aid, we are heading toward difficult times. The harsh reality is that approximately 75 percent of our $40 million budget is spent on salaries and benefits. To address this, I intend to remain vigilant about finding ways to make reductions with minimal impact to our students. I will continue seeking opportunities for shared services and the potential for outside sources of revenue.
Scozzari: The most pressing issue facing Bordentown schools is the constraints of the school budget. This issue is not unique to Bordentown, which is why I believe investigating ways that other school districts are handling these constraints is so important. There may be other creative ways to bring money into the district or reduce operating costs that we haven't tried thus far. The costs of maintaining programs, staff and facilities rises each year and we need to find ways to address these costs so that we can move from a position of maintaining and reducing to one of growth and development.
Zablow: Educating our students is our most pressing issue. We need to make sure our students are receiving the best possible education so they can compete and succeed later in life. We need to keep our curriculum strong, taught by high quality teachers who are engaging our students and keep class sizes small. We need to make sure our students are leaving Bordentown being prepared for life after high school, regardless of what that may entail.

Why do you feel you are the right person to serve on the Board of Education? 
Drew: It has been a great honor to serve as president for the last three years. Having nine members not always agree on every item and still come together and make the correct decision is why I fit in.
Heberling: Over the last three years, my commitment to this position speaks for itself. I have, by far, the best attendance record of any board member, even while serving on two of the most time-consuming committees on the board. My small business mindset and no-nonsense approach are traits sorely needed on this board. Ultimately, I am one of the few nonconflicted members remaining. No one in my house or in my immediate family earns their income from revenue generated by taxes.
Scozzari: I believe my 26 years of experience as an educator has afforded me a unique perspective of the challenges in education today. I am familiar with the pros and cons of local, state and federal education policy, teacher evaluation procedures and Chapter 78 health benefit provisions, and most importantly, the struggles our students and teachers face in the classroom that could affect student achievement. I hope to have the opportunity to work collaboratively with the other board members and the district faculty and staff to continue providing Bordentown students with the quality education they deserve.
Zablow:
I have been a board member for over nine years. I have always made my decisions based upon the best interests for all of the students as well as the community as a whole. In addition, I am the only board member who has achieved Certificated Board Member status. This was accomplished by attending comprehensive training sessions in core areas. I am committed to our district and would be honored to continue to represent Bordentown Township on the school board.
Township Committee
Two candidates will vie for one seat on the Bordentown Township Committee.

Incumbent Richard J. Carson has lived in Bordentown Township for 44 years and is married with two children and three grandchildren. He graduated from Notre Dame High School and received a bachelors from the University of Dayton, a masters from Rider University and a doctorate from Temple University. He is a retired school superintendent, and he currently serves as the executive director of the Burlington County Military Affairs Committee. Carson has served three terms on the Bordentown Township committee and was the mayor twice.

Eugene M. Fuzy is a 40-year-old stay-at-home dad and graduate student studying entomology. He and his wife, Elizabeth, a principal for an early education autism program in Cherry Hill, have two-year-old twin sons, Alexander and Sawyer. He grew up near New Brunswick, and he has lived in Bossert Estates for seven and a half years. He graduated from Rutgers University with a degree in biological sciences and currently does entomology consulting and yearly talks on the subject. Fuzy currently serves as the vice chair of the township Environmental Commission and has never held or run for public office before.

Why do you think you are the right person to serve on the Bordentown Township committee?
Carson: Past experience—the ability to work for and with governmental officials and local community members for the short and long term benefit of the township.
Fuzy: In a world where jobs become more and more specific, it takes a generalist to manage the larger picture. I needed to be a generalist to be successful in managing a research laboratory for 13 years. I am also known for my honesty and reason. I look forward to fact checking and weighing in on each matter as they are presented to us. I will as I have in every facet of my life before, go above and beyond the call of duty to be an effective representative of the populace of Bordentown Township.

What do you think Bordentown Township needs in a committeeperson?
Carson: All communities need individuals who are open-minded, show mutual respect to others, have a willingness to listen to all sides of an issue and make decisions based upon sincere thought and convictions.
Fuzy: To be great in any public office, you need honesty, intelligence, reason and enthusiasm. Approachability, dedication, and transparency are just as important because you need your constituents to trust in the work that you are doing on their behalf. Someone who is willing to put in the time to do good work without alternative motives. I look forward to earning everyone's trust. I also believe that you need the kind of personality that lets you talk to everyone equally, even when you disagree. You should live by your words and keep your promises.

There has been a lot of debate in the township recently over open space preservation vs. development. Which direction do you feel is the right one for the township and why?
Carson: Open space versus development is always a balancing act in most communities. Development is necessary to maintain a reasonable and stable tax rate ensuring a quality standard of life for community members. Communities enjoy open space while it helps the environment. I believe the township has committed to maintaining open space in areas that will not deter development and vice versa.
Fuzy: I have gone door to door introducing myself to the residents and asking about them their concerns since the middle of the summer. I have covered about 60 percent of the town at the time of this writing. Even in the REO zones in the township this matter has only come up with three residents. Most residents are concerned about the safety of their drinking water, school tax, and the pipeline. I also monitor the Facebook groups for our area and this concern has been brought up once for Georgetown Road. Residents, please e-mail me any questions at fuzyforbordentown@yahoo.com.
Community
,
News
Election 2016
Bordentown Township Committee
Stephen Heberling
Sylvia Scozzari
Kimberly Zablow
Richard J. Carson
Eugene M. Fuzy