Train show to chug into town Nov. 25, 26 and 27

Oct 31, 2016 07:56AM ● Published by Community News Service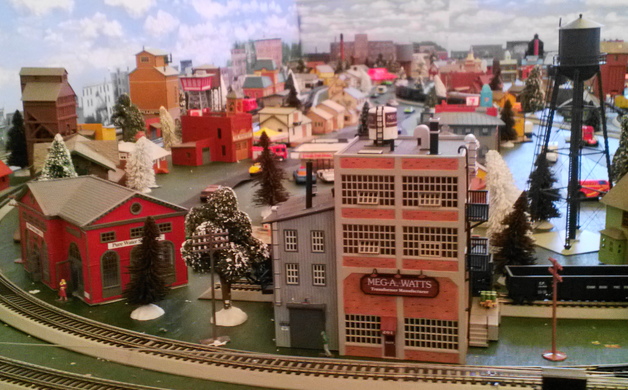 Bordentown City's Holiday Train Display will once again stop at Old City Hall this month. A variety of collectors and organizations will show off their model trains and villages at the annual free, family event.

The display will open for the season Nov. 25, 26 and 27 starting at noon each day. Opening weekend coincides with Bordentown City's Holiday Tree Lighting scheduled for Saturday, Nov. 26 at 5 p.m. After that, it will be open every Friday, Saturday, and Sunday in December from 4 to 8 p.m. except for Christmas weekend and on Friday, Dec. 30. The train display continues Jan. 6–8 and 13–15 from 4 p.m. to 8 p.m.

The Old City Hall Restoration Committee sponsors the display. Mayor Joe Malone, commissioner Zig Targonski and Nancy Targonski, all long-time Bordentown City residents, will present the display.

Zig and Nancy Targonski will display various trains from their extensive collection dating back to the early 1900s to the present day. These include a large collection of G-gauge outdoor railroad trains, standard gauge trains, and O-gauge Lionel trains. A New England village will also be on display, as well as Zig's layout that will include a new third level for 2016.

Nancy Targonski and Malone will display HO trains and O-gauge trains. Nancy's display will reprise of her Seaside Beach and Boardwalk setup from three years ago. Malone's will have an O-gauge Pennsylvania Railroad theme. Train lovers young and old will be able to run Thomas the Take Engine and his friends.

Sean Gerike will return with his Lego City and Lego train display, and New Jersey Free-mo modular train—a group of model railroaders who construct, operate and display Free-mo HO scale modular layouts throughout New Jersey—will occupy the lower level with an expanded display.

The Southeastern Pennsylvania/South Jersey Garden Railroad Society will exhibit for the third year at the Consolidated Fire House directly across from the Old City Hall train display. The club also stages exhibits at the Longwood Gardens in Pennsylvania and had a display at this year's Philadelphia Flower Show.

Door prizes will be available, and donations to the Old City Hall restoration project may be made. Members of the the OCHRPC will be on hand to answer questions about the history of the building, ongoing restoration projects and any Old City Hall events that will take place during 2017. The Old City Hall does not currently have an elevator and is not yet a handicap accessible building. The committee is working to install an exterior elevator to the building by the end of 2017 or early 2018.

The Whistle Stop and Shop will be open to visitors, offering specialty items bearing the Old City Hall logo, including sweatshirts, John Bull Hats, note cards, umbrellas, party cups and more. All monetary purchases and donations to the OCHRPC collected during the train display will assist the committee's goal to offset costs to Bordentown City in maintaining and restoring the Old City Hall historic clocktower.

For additional information about Old City Hall and the Holiday Train Display, contact Vicki Gaudier at (609) 203-0541 or vgaudier@verizon.net. The Old City Hall Restoration Project Committee meets on the third Thursday of every month and always welcomes new members and resident attendance.
Today
,
Community
,
Arts+Entertainment
Holiday Train Display
Old City Hall Restoration Committee