Graphic printer leaving her mark on Bordentown

Oct 31, 2016 07:59AM ● Published by Community News Service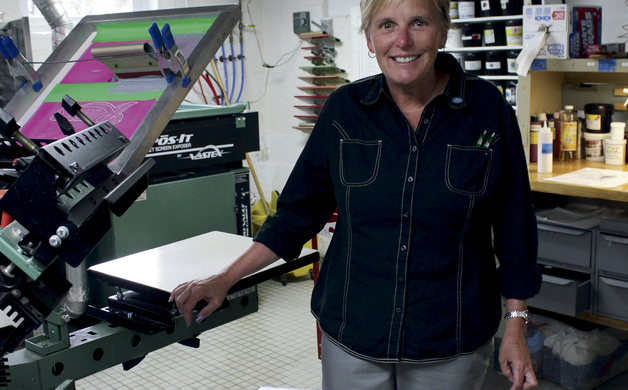 Jackie Lemesevski displays one of her screen printing machines at Underground Graphics on Walnut Street. (Staff photo by Samantha Sciarrotta.)
By Nicole DeMentri

Former Guns N' Roses guitarist Ron "Bumblefoot" Thal was working on a solo project a few years ago, and he was in the market for T-shirts to go along with it. He contacted a score of graphic printers, but none of them offered the graphic size he wanted: a 19-inch full-color imprint.

Enter Bordentown's Underground Graphics.

Underground Graphics, owned by resident Jackie Lemesevski, designs and prints products from drum heads to walk-a-thon T-shirts. Thal contacted Lemesevski, who dealt with him directly to get the job done.

Lemesevski, 52, works with everyone from the Bordentown Community Soccer Association to Thal. But just how much the company gets done takes on a whole new meaning when customers get to know the woman running the show.

Lemesevski, a former pre-press designer, worked for several large label manufacturers making labels for companies like Revlon, Colgate, Estee Lauder, the United States Post Office and L'Oreal. She worked as a pre-press computer operator, setting up the artwork—from color separations and die cuts to bar codes—to print on the labels and making sure everything looked right once it reached the press room.

After losing her job during the 2008 financial crisis, she made the bold move of buying her own printing press to continue doing print work from home. Lemesevski decided to open her own business, Underground Graphics, just a few years later on Walnut Street.

"I used to work part time with the business and my husband (Joe Lemesevski) asked me if I was okay with that…I just got carried away, like I usually do, and decided to take the whole business over" full-time, Lemesevski said of her early beginnings.

The business's name comes from the actual location of her shop: the basement of her home, where it remains today. Lemesevski prints everything from T-shirts to pens, coffee mugs and posters.

"Underground Graphics isn't considered just a printing company. It's a printing and promotional shop, since I really do anything that I can put in that press," she said.

She occasionally works with a freelance designer, photographer and part-time store employee to keep up with her high demand. Her two grown children, Andrew and Allison, have worked for the business in the past. Joe, a self-employed HVAC contractor, spent many years in the sign business, and helps Lemesevski from time to time. He was a big influence when she decided to start the business. Mostly, though, she works as a solo act.

"It's crazy to think how I went from one customer eight years ago, to now 1,600 a year," Lemesevski said.

She first realized that the business was growing when she was busy year round instead of just seasonally.

"When you tell people you are busy, they always say, 'That's good, right?'" she said. "And it is, but only if you can succeed. There's no point being busy if you are not getting results. I try to never bite off more than I can chew, even if that means turning work away. The last thing you ever want to do in this business is miss a deadline or an event."

She has many repeat customers, and she'll print whatever their minds come up with. Recently, she printed sweatshirts for the family Antonio Brown, the Pittsburgh Steelers wide receiver.

One of his friends was a previous customer and contacted Lemesevski about making hoodies for Brown's friends and family to wear on the sidelines during games. The sweatshirts feature Pittsburgh's colors, black and yellow, Brown's No. 84, his initials and the customer's own logo.

"The favorite thing (I do) is the celebrity stuff," Lemesevski said. "It's pretty cool to design something for someone and then see it at the grocery store in a magazine."

Once, she had to design the skin for a drum head for a friend's band, which she says was her strangest request. That was done using vinyl, similar to a decal that would go on a car.

All work is done onsite for every item she prints. It's a hands-on business—from meeting with clients, to designing and eventually creating the product, Lemesevski is there for every step of the way. "A customer can tell me what they want exactly and then I can sit down and make it how they envisioned it," she said.

Lemesevski grew up in Chambersburg and later Yardville with her parents, Dick Phelan, a civil engineer with the state department of transportation, and Jeanne Phelan, a housewife. Lemesevski and her family moved to Bordentown from New Hanover in 2005 after purchasing an old fixer-upper in town. Her daughter attended Bordentown Regional High School at the time, so the Lemesevskis moved to cut down on her commute back and forth to school.

Since then, Lemesevski has really become a part of the community. She is a member of several clubs and committees in leadership roles, including the secretary of the Bordentown Chamber of Commerce.

She also started the Bordentown Ski Club a few years ago after talking to her neighbors, who were also interested in the sport. She also enjoys boating and can often be found at the marina with her husband on one of their two boats—a Checkmate speedboat and a Carver motor yacht.

Most of all, Lemesevski finds her work rewarding.

"I love to see the customer's face when they come to pick up the product and it's exactly what they have envisioned," she said. "Nothing beats that."
Underground Graphics is located at 15 Walnut St., Bordenotwn. Phone: (609) 456-0260. E-mail: uggraphics1@gmail.com. On the web: 
underground-graphics.net
Business
,
Today
Underground Graphics
Jackie Lemesevski