Breakout running back leading Scotties

Oct 31, 2016 08:03AM, Published by Community News Service, Categories: Sports, Today, Schools
---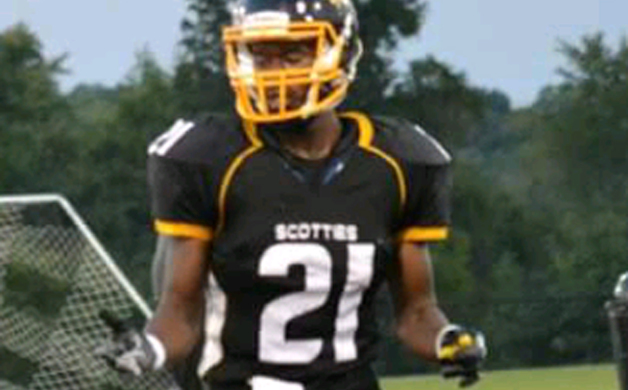 Seth Asare jogs off the field during a BRHS football game this season.
---
---
By Kevin Kunzmann

Seth Asare is all about chemistry. He loves science class, and has dreams of becoming a research chemist that helps fight diseases and illnesses.

The chemistry is there on the football field, too. He's a tall, lean running back with sprinter's speed and a first cut that suits him perfectly for Bordentown High School's pro-style offense. His two best friends are his pulling offensive guard, D'Shon Sanders, and team co-captain Xander Somers, so they know how to work together.

The Scotties' senior breakout star is a seamless fit on the field and in school—though he came into both as somewhat of an outsider. His family moved from Franklin Township in Somerset County when Asare was in fifth grade. A big fan of the mid-2000's New York Giants and the quick-footed Tiki Barber, he didn't even start playing football until middle school.

It didn't take long for him to find friends, though.

 "A lot of people started warming up to him," Sanders said. "Everybody knows Seth in school—everybody loves Seth."

Asare didn't get a chance to put on pads until he played for the local Bulldogs youth program. That's where he first made an impression on Bordentown head coach Steve Perry, who was impressed but unsure if he had a future player in Asare—he was often hurt, and there was question if he'd play at the next level.

Because of his tall frame—Asare is 5'11—he started off as a slot receiver and kick returner before making the transition to running back in high school. Learning the position only affirmed his love for running the ball, but he would have to wait his turn for a shot at varsity. He sat behind Jahmiere Van Kline in 2014, then Dante Gipson in 2015, both standouts for the Scotties.

The accomplished backs taught Asare some of the nuances of the position—make your cut on the other side of the line of scrimmage, run with your shoulders low and a wide base, run at full speed and trust the linemen—and challenged him to excel.

"They're part of the reason why I was motivated to do so well," Asare said. "I didn't want to be compared to them and not hold up."

Asare started to get opportunities at the end of the 2015 season.

"He's fast, he has that track speed," Sanders said. "Once he gets past the first level, he's gone. There's probably no one the field that can catch him."

There are probably few that can even catch him on a track. Asare is on the high school's track team, competing in the 400, hurdles and jumping events. His fastest time in the 400 is a :53.3.

On the field, though, there was still room for improvement. Asare spent his off season waking up at 6 a.m. to run routes before going to the weight room. He joined a second gym for his own personal workouts and began working with a trainer outside of there. He came back to the field in August faster, stronger, with better feet and even better hands. Perry started to joke with Asare, "Where did you get those hands from?"

For a guy who's not tipping the scale past 170 pounds, Asare becoming an every down back concerned Perry. But the player's improvements soon impressed his coach.

"He's learned the style of how we want to run the ball keep it upside, make one cut and keep it north-south," Perry said. "He does a nice job of avoiding big hits."

The coach was concerned about having a pure running back at the beginning of the season, but he was soon assured he had one. In their first game against Holy Cross this year, the now 2-3 Scotties were struggling get anything going offensively before Asare bounced off a tackle and took off for a 75-yard score.

Asare started off the season with five scores in his first three games, electrifying the team with big plays while rarely leaving the field. When the offense goes into a spread formation, he comes out of the backfield and lines up at receiver. He plays strong safety on defense and resembles a "mini-Ed Reed," Sanders said.

"He's all over the place," Sanders said. "He's a hustle player on defense. God forbid if a play breaks down, we're lucky he's on the backside chasing down the play."

Asare still finds energy to serve on the team's kickoff and kick return units, and Perry is pressed to find the senior some time to rest. Asare spends his weeks at practice picking up new assignments and roles, and is proud of how well-versed he is in the team's route packages and schemes.

"I take pride in being a Swiss Army Knife on offense," Asare said. "And it's fun, too. I don't really have a tough time learning when it comes to football."

Asare is even more studious in school. His parents, both in the medical field, always emphasized the importance of good grades. He holds a 3.8 grade point average that he expects to rise before graduation. He's also a student council member who's taken at least three supplemental science courses in his pursuit of someday working in medicine.

His uncle Tony recently passed away while living in Africa. Tony had promised Asare he would fly in for his last homecoming this season to see him play, but didn't make it. Asare's uncle was one of a few people he's lost to a curable illness, and they drive him to one day help.

"There's nothing you could do but try to make him proud," Asare said.

Asare and his younger brother, Kenny, a freshman tight end and linebacker on the varsity squad, are kept in line at home with routine chores and church every Sunday. He was raised in a loving household, Asare said, and has additional brothers in Sanders and Somers.

He and Sanders became closer through middle school, and together made efforts to befriend Somers when he first moved to Bordentown in high school. The three seniors are never alone, Sanders said, whether it's just two of them together or all three.

Their senior class also kept a team tradition alive this year, going out to Florence for wings on Wednesdays, then a "family dinner" at Dairy Queen on Thursdays. The team is a year removed from a rebuilding phase, and Perry said he tells his promising sophomore class to watch how the seniors play and learn.

"The freshmen look up to [Asare} and ask him a lot of questions," Sanders said. "A lot of people look up to him."

Asare may be a late bloomer, but Perry expects him to get looks from college football coaches by the end of the season. He has already heard from some Division III colleges, and said he would love to play at the next level at any position he's needed.

Asare has team and individual goals similar to any running back—win their Thanksgiving game, make the playoffs and rush for 1,000 yards. Though Asare has been seeing up to nine defenders stacked in the box this season, Sanders thinks 1,000 yards is possible.

Sanders recalled a play against Lindenwold in the second game of the season. The Scotties ran a screen to the right for Asare, and Sanders pulled out to be his lead blocker. The two got past the first line of defenders, and Asare took off. The last defender managed to catch Asare trying to cut back just before the end zone and popped the ball out of his arm. Asare adjusted, catching his own fumble on the fly and fighting for the end zone before being taken down.

The near-mistake meant nothing when Asare punched it in on the very next play. A thousand yards is reasonable for a player who does everything, and anything.
---
---
Seth Asare Bordentown Regional High School football
---