"Most improved" Dylon Williams leads BRHS XC

Oct 31, 2016 08:06AM ● Published by Community News Service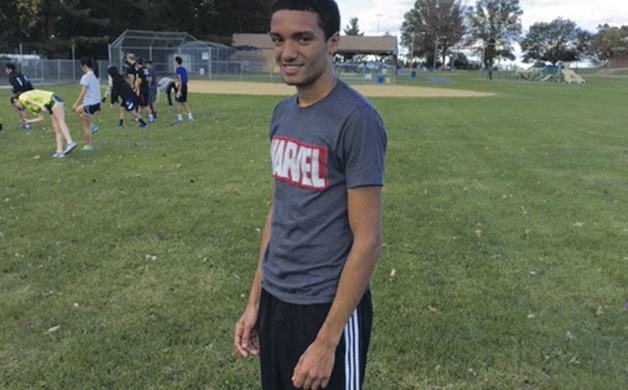 Dylon Williams shed 50 pounds and minutes off of his cross country time in the last year.
By Nathan Dickinson

Some athletes make a sport look so easy and natural, people say it's in their blood. On the surface, it might look like Bordentown Regional High School's Dylon Williams fits into that category—he's become the Scotties' fastest runner after only joining the team last season.
But saying Williams was a natural doesn't give him enough credit.

Before the fall of 2015, Williams had never run cross country, and he didn't play any sports at Bordentown. His parents never ran—his father played football, basketball and baseball, but Williams never caught on to any of those sports when he tried them—and head coach Dave Misselhorn had never even heard of him before he joined the team. On paper, there was no reason for him to excel at cross country. But Williams knew he was meant for the sport. When he was young, his parents would take him to the beach, and whenever Williams saw the sandy open space, he took off.

"I would just run and run and run and would never stop," he said. "And I was fast, too. They couldn't catch me."

Williams may have always been a runner, but when he joined Bordentown's cross country team he wasn't a very fast one. His times in 2015 were around the 26- to 27-minute mark, which landed him near the back of the pack. The sophomore looked like someone who had never done this before, because he hadn't, at least competitively.

"I would say what I say with the rest of [the runners]," said Misselhorn. "They're a work in progress. He definitely wasn't…I didn't think he was going to do this."

"This" is the time Williams put up at the first meet of the 2016 season: 19:03. More than six minutes faster than anything he had run the year before. It was a huge jump, one that shocked Misselhorn.

"I think it took his teammates even more so by surprise," he said. "For a baseball player, that's going from batting just around .100, and then hitting in the mid .300s."

It wasn't just the improvement, though. It was how quickly the improvement came. Misselhorn had seen other runners lower their times by this much over the course of a few years, but to do it in one offseason was exceptional. Williams is definitely the team's "most improved."

For Williams, it was just a matter of determination, he said. Along with the minutes off of his time, he also shed more than 50 pounds from his frame since he started running.

"Even though practices are hard enough as it is, some days I would feel unsatisfied," he said. "My parents taught me to never feel satisfied, so I would always push myself to the limit."
Misselhorn saw that, too. He said Williams works hard, hitting the gym after practices end.

"I have to tell him to take a rest," the coach said.

Williams ran track in the winter and spring, and followed the workout plan Coach Misselhorn gave him as well as putting in extra work on his own. He did everything he needed to do to get better, and his real talent is in his mindset.

Williams said running is a mental game, and once he took control of it, he was able to keep getting better. Now, he uses his energy to help his teammates.

"He stuck with it and had the right people around him that encourage him," Misselhorn said. "That's what this team does. It's cool; they're a tight-knit group. I think he's become more of a leader by example than anything else. When it comes to inspiring kids on the team and leading by example in the workouts, he's definitely a leader in that way."

Williams has worked his way down to a personal best of 17:54, a time he says he'll have to beat to feel comfortable at sectionals on Nov. 5. His goals don't stop there, though. He wants to run in college. He hasn't gotten much attention yet, but Misselhorn believes the calls will start coming in soon. The times speak for themselves.

Williams' biggest goal is to one day run in the Olympics. Maybe it's an unrealistic star to shoot for, but when Williams joined the team last season, getting to where he is now seemed unrealistic, too.

For now, Williams is focused on the rest of his high school career. As far as this season goes, the top 10 runners at sectionals make it to the state meet, and Misselhorn said Williams has the potential to advance. The Bordentown school record is 16:20, and Misselhorn says Williams could break that, too, if he "runs smart and takes care of himself."
Sports
,
Today
,
Schools
Dylon Williams
Bordentown Regional High School cross country