Bell makes cosplay Fox-y

Nov 30, 2016 12:35PM ● Published by Samantha Sciarrotta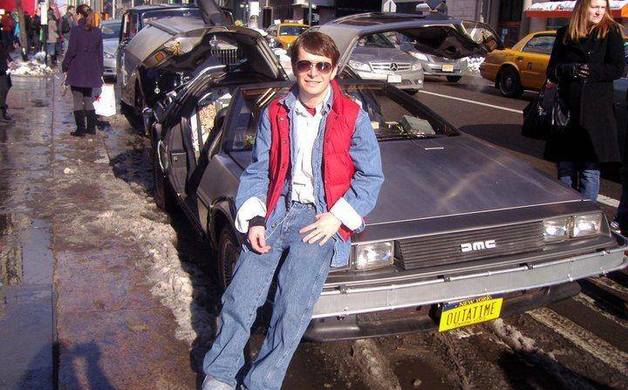 Matt Bell poses with a replica DeLorean.
By Samantha Sciarrotta

All it took for Matt Bell's weekend career to get started was a red vest and a chance encounter with a replica DeLorean.

People—friends, family, teammates, random folks on the street—have told Bell he looks like Michael J. Fox for most of his life. "Marty" has been his nickname since middle school. So when he needed a Halloween costume six years ago, Fox's Back to the Future character seemed like a no-brainer. Bell donned a red vest, flannel shirt, calculator watch and sneakers, and headed out to a bar in Morristown.

Bell, a Bordentown native, might have expected comments on his resemblance at the bar. What he didn't expect to see was a replica DeLorean sitting outside when he got there.

The car's owner, Eric Sellin, immediately approached him, hoping to hire Bell to be the Marty McFly to Sellin's Doc Brown (with the replica Delorean) at events, parties, conventions and more. They got together later that week near William Paterson University, where Bell, 31, was studying exercise science. Six years later, the pair have traveled to comic cons all over the country and even to London, where they promoted collectible bottles of Pepsi Perfect, the drink Marty purchases at a restaurant in the first film.

"That was huge," Bell said. "That kind of escalated the career."

He hasn't done any local events yet, but he can sometimes be found at the Tropicana's Boogie Nights in Atlantic City. Bell and Sellin do 10 to 15 events per year, and their job at each appearance varies. Sometimes, Bell poses for pictures with fans and the car at comic cons, and sometimes they just get paid to work the floor. No matter what, he always gets double takes, and that was the case before he started working as a professional impersonator.

"Sixth grade on, they would call me Marty," he said. "'Hey, McFly.' I always had people coming up to me. People ask me for pictures, selfies, autographs. It's a good experience for the fans because for most of them, it's the closest they'll ever get to Michael J. Fox. Them getting all happy, excited, nervous, it makes me feel good because I'm doing something for them."

He gets that same feeling while helping patients at his full-time job—Bell works as a hyperbaric safety director at Kessler Wound Care in Ramsey. His background is in exercise physiology, and his first job out of college was working with stroke patients and amputees at JFK Medical Center in Edison. He wanted to get into a more clinical field, though, so he entered wound care and is currently studying and training to get officially certified in the field.

Balancing his day job with his weekend job is hectic, Bell said, but he likes to keep busy, and Kessler accommodates him. If he has an event during the week, he uses vacation time at work. For the most part, though, he only works on the weekends.

"At his regular job, he puts the same enthusiasm in," Bell's father, Warren, said. "I think that's why he's able to do it. He does adjust his vacation around the events, and he's able to do things that, in a lot of positions, you wouldn't be able to do."

Bell grew up in Bordentown Township, attending Peter Muschal Elementary School, Bordentown Regional Middle School and Bordentown Regional High School. He played sports in town for most of his life, and was on the high school's baseball and bowling teams.

He lived in Bordentown until he moved to Ramsey with his now-wife Kelly in 2013. The couple got married in September—Back to the Future components were, of course, included in the wedding. Bell arrived to the ceremony in Sellin's replica DeLorean, and he and his mom, Terry, finished their slow dance at the reception and went right into "Johnny B. Goode," complete with inflatable guitars and saxophones.

"He said this has brought him out of his shell," Terry said. "He was always shy in junior high and high school. This is the best thing that's happened to him, other than his job and his new wife. We've always supported everything he's done, all three of our children."

Terry, an instructional aide in the Bordentown school district, and Warren, a former Ocean Spray employee and current Northern Burlington School District maintenance supervisor, are lifelong Bordentown residents who grew up down the street from each other. Bell's older sister, Laura, lives in Virginia with her family and works for the government, and his younger sister, Lindsey, is working toward a masters in counseling and art therapy at Caldwell University.

And they've all gotten involved with the business. Sometimes, Lindsey, Terry and Warren help out by taking photos and helping manage the line at conventions. Sellin has other movie-themed cars—the Ecto-1 from Ghostbusters, the Scooby Doo Van, the 1966 Batmobile—and Warren and Terry drove his Flintstones car in a Morristown St. Patrick's Day parade a couple of years ago. They've even met Back to the Future actors like Christopher Lloyd and Lea Thompson through Bell's comic con gigs.

It's been a trip, Terry said, but she's not surprised by any of her son's success or dedication.

"He's always been a hard worker," she said. "He's always set goals for himself, going for more, more, more, and making a difference. That type of kid."

At a typical convention, Bell works to get everything signed or to take as many photos as possible before taking a 15-minute break. Then, it's back to the floor.

Bell gets all of his costumes handmade. When he first started, though, he found everything at Target, WalMart and on Amazon.

"Then, I started finding more details," he said. "A lot of fans are really detail-oriented. They pick out everything. I had to get serious. The costume needed to be head-to-toe perfect."

The sneakers, he said, were the hardest element to find, but the Casio calculator watch was the easiest. Bell has costumes from each film in the trilogy and named the Part III Western-style outfit as his favorite. His next ventures are Fox's characters from Teen Wolf, Secret of My Success, Family Ties and Spin City.

It's clear that Bell admires Fox, and the actor himself recognized that, too. Bell and Fox were both working at a convention in Philadelphia earlier this year, and, it turns out, Fox was familiar with Bell's work. They met and took a photo together, and Fox gave Bell his blessing. Fox signed the red vest Bell was wearing at the time, but that has since been retired and removed from the outfit rotation. Bell was even invited to a recent Parkinson's benefit gala in New York City—out of costume.

"That was amazing," Bell said. "Here I am dressing up like him. I'm getting my whole life, 'Hey, you look like Michael J. Fox.' When I met him, I got a little bit emotional. I was nervous, but him knowing me, I was touched. I was amazed that he knew that."

Though Fox is certainly Bell's most high-profile—and most beloved—fan, he's not the only one. His Facebook page ("Matt Bell Aka Marty McFly") has over 3,000 likes, and some fans follow him from convention to convention. One family has two children who also dress up like Marty and Doc, complete with their own mini remote-control DeLorean. He's even had people write to him from the United Kingdom and Australia.

He's in the character so much that he sometimes catches himself acting like Marty or adopting some of his mannerisms, but, Bell said, he doesn't mind it.

"Back to the Future is the greatest movie of all time for travel," he said. "I work with the cast. I have followers. I have people follow me to cons. I am truly blessed and honored to do what I'm doing right now: treating patients, and helping fans."
Today
,
Community
,
Arts+Entertainment
Matt Bell
Michael J. Fox
Back to the Future
Marty McFly