Photographic memories

Nov 30, 2016 12:41PM ● Published by Community News Service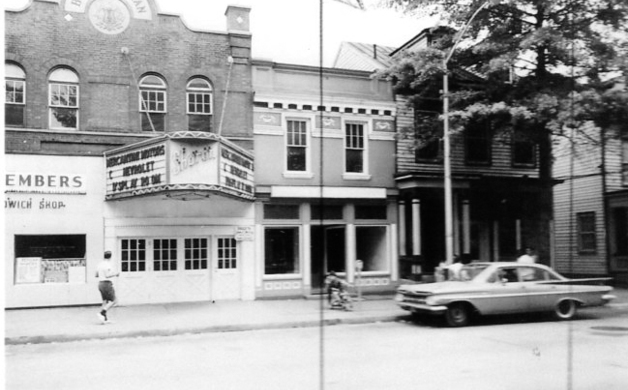 The Sharon Movie Theater on Farnsworth Avenue as it appeared in the 1950s. It was formerly known as the Fox Theater.
By Scott Morgan

Rick Ellis doesn't want to take your stuff. He just wants pictures of it for the whole city to enjoy.
Ellis and the Bordentown Library Association have been collecting historical and one-of-a-kind images related to Bordentown to put on its dedicated site, 
bordentownlibraryhistoricalarchives.com
, for the last eight years. Taken as individual moments, the stills available online make fascinating tidbits of Bordentown's history. But taken as an entire collection, the images and the scope of the project create a much greater sense of what the city is (and was) really like. Like the difference between single episodes of a TV show and the whole series.

The kinds of items the library is looking for are, really, anything that shows Bordentown as it was. Donors can bring pictures of documents, buildings, people, signs, objects, or whatever signifies the town. Ellis says he's received old yearbooks too, with all their regrettable hairstyles and fashion choices.

Still, donations to the Bordentown Library Historical Archives project have been slower than hoped because, Ellis says, many people have the mistaken idea that the library is asking for donations of actual objects. Not so. The archives project is an online affair, and Ellis, the project's coordinator, says that the library merely wants images of items of historical value that it can then share with the city.

The library is also in the market for actual vintage images. But whether they are pictures of a historical building or pictures that are themselves the historical artifact, the library doesn't want to keep anyone's old photos, letters, or postcards. It just wants to scan them into the system and put the digital image online.

The trouble is, several scenes from episodes over the years are missing, many tucked neatly in shoeboxes or attics or dusty old photo albums in people's houses. Ellis knows this well.
It's in these old pictures and documents and objects that we find ourselves, and find some minor intrigue, he says. Like 243 Prince St. Ellis' grandfather was born in a house on Prince Street. One day while going through some old stuff at his uncle's, he found old funeral invitations—yes, like a wedding invitation, only more macabre—that mentioned this address.
There's just one issue.

"There is no 243 Prince Street," he says.

The house was in the spot where the city post office building is now. Whether the house was simply renumbered or torn down, Ellis doesn't know. But the mystery intrigues him, and that for him is the fun of history: "You never know what you're going to find."

At the heart of the effort to keep Bordentown City's past alive is the fact that in the 1960's, people in charge of what to do with the city razed many of its old buildings in the name of urban renewal. Where classic movie theaters and unique stores once stood, there are now apartment buildings that, as city mayor Joe Malone says, don't fit.

"They're an everlasting scar," he said of the modernist buildings in places like Farnsworth Avenue. "They're just something we have to live with."

If anyone knows the original architecture of Bordentown City, it's Malone. His relatives constructed a few buildings in town—his great grandfather built the three-story building that sits across from the deli on Farnsworth Avenue, and his father built a house on Bank Street.

A third-generation Bordentonian like Ellis, Malone grew up in the city when it still had its original look and feel. And, like Ellis, he watched beloved old buildings—the old movie theater was a favorite for both—get bulldozed in an effort to move Bordentown into a future that didn't do much more than stick utilitarian architecture in the middle of an otherwise richly historic district. One of Ellis's favorite structures, for example, is now an apartment complex.

Yes, it can be taken as if a few old-timers are upset about the loss of things they found comfort in as children, but to believe that dismisses the genuine historical importance of Bordentown. This is a small city, but one of colonial and revolutionary-era importance. Some of history's greatest figures lived here, from Thomas Paine to Joseph Bonaparte. The city was an important part of the first 150 years of the entire country. To dismiss the past as "just the past" erases a legitimate foundation for who we are now.

This is why Ellis says the archive project is so important. In part, anyway. It seeks to honor the important contributions Bordentown made to…well, everyone. Clara Barton began what is known as public school. Patience Lovell Wright was the country's first native-born sculptor. Francis Hopkins signed the Declaration of Independence, and the city was a hangout for Thomas Paine and Ben Franklin.

But the project also seeks to recapture that groundedness Ellis was talking about. These days, with wireless mobile internet and instant access to everything having taken over our daily lives, we've all sort of plowed over our own sense of who we are in an effort to see who we can be.

The thing is, Ellis says, people, especially younger ones who never got to experience the way Old Bordentown really was, are increasingly interested in reconnecting with the city's roots. Young homeowners, for example, are drawn to the city specifically because it has so much history in it—history that is older than their grandparents and even great-grandparents. When people walk through town, he says, they look up and see historic buildings and wonder what it was, and what it was like to live in town when that building was the literal new kid on the block.

In other words, people want to feel the past as much as they want to walk among it. Of course, not everything that was still is, which is why Ellis is trying to build the online archive. And yes, there is the mild irony of trying to maintain history through the very medium that seems to be have no interest in anything older than three minutes ago, but the internet, Ellis says, is history's best friend right now.

Online is "where people are right now," he said. "The first thing they do is Google something when they want to learn about it."

That's why there's no plan to build a physical-space historical display, he says. "This wouldn't be as prominent today if it was just a display someplace. Online, people can share."

Malone, who has contributed several images to the project, says it's "absolutely critical to have a photographic history of the community. A lot of people don't understand what Old Bordentown was like."

But a lot of them want to know, Ellis says.

"You've got to have a sense of heritage," he says. "It makes us appreciate where we are now."

To contribute to the project, Ellis call Ellis at (609) 298-6282, or email him at rickster50@comcast.net with a scanned photo, or to schedule a meeting.
Today
,
Community
Bordentown Library Association
Bordentown Library Historical Archive