Ringing in the holiday season

Nov 30, 2016 12:44PM ● Published by Community News Service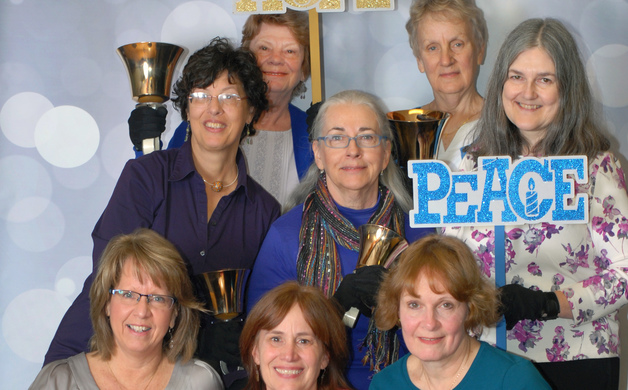 Members of the First Presbyterian Church of Bordentown's handbell choir.
By Michele Alperin

Cathy Elliott-Shaw has always had a knack for music. Growing up in Pennsylvania, she played the clarinet in her high school's marching band and often played the piano with her grandmother. As a child, she was fascinated by the handbells played at her family's church in Abington.

Because her grandparents lived upstairs from her grandfather's garden supply store (where her mother worked), Elliott-Shaw regularly saw her pianist grandmother. "My grandmother showed me where the notes were on the piano and on the pages of music. She gave me the opportunity to teach myself as much piano as I could," she said.

That love carried over into adulthood. Elliott-Shaw still takes piano lessons, and she joined the handbell choir at the First Presbyterian Church of Bordentown 20 years ago. The handbell choir currently has seven members.

The bell choir will ring out "The Bells of Christmas Morning" and two other songs at the church's Christmas Eve service, which begins at 8 p.m. Bells come to the fore during the holiday season, on the radio, television and in movies, and, of course, in church. "You're hearing a lot of church bells, a lot of sleigh bells, and some of the familiar songs, like 'Silver Bells' and 'Carol of the Bells," Elliott-Shaw said.

The bell choir will also join with the organ on Christmas Eve to play "Silent Night," with lights out and all congregants holding candles. On Dec. 3, the bell choir will play a single selection about midway through the services, which start at 10:30 a.m.

Although the history of handbells reaches back to the fifth century BCE in China, modern handbells grew out of tower bell ringing in England. Smaller handbells were developed in the 16th Century for indoor practicing. By the 18th Century, larger sets of handbells enabled "tune ringing," creating melodies and simple harmonies of music for festive occasions, like Christmas Eve. Handbells came to the United States in the early 20th Century, peaking in the mid-19th Century and resurfacing after World War II with hundreds of groups springing up in the '50s and '60s.

For Elliott-Shaw, who admits to not singing very well, the bell choir is a wonderful way to indulge her love of music. Elliott-Shaw met her husband, Richard, a New Brunswick native, at Rutgers University, and the couple moved to Bordentown in 1987. Both of her grown children, Greg and Leah, live in Bordentown. Greg works for the Metropolitan Transit Authority in New York City, and Leah for the Center for Supportive Schools in Princeton.

Elliott-Shaw also teaches the children's chime choir for second to sixth graders; the chimes make notes like the handbells but are easier for children to manage. Realizing that preteens and teens would feel too "cool" for hand bells, she had the idea to start a percussion choir, which she organizes and runs cooperatively with Wendy Humor, who took over leadership of both the adult choir and the handbell choir two decades ago.

The children's chime choir and percussion ensemble will perform on Dec. 18 during the children's pageant (and also on Youth Sunday in June).

"A good way to think of a handbell choir is like a piano, where each person only controls a few keys," according to WikiHow. A small choir would likely have two or three octaves worth of bells, although four are possible.

"The music can be very simple or very complicated," Elliott-Shaw said, noting that several people are necessary just to fill out a single chord.

"It works for people who are beginners or novices and also for people who are very experienced, and it works for all age groups," she said. Whereas talented ringers can hold three bells in one hand, the limit for people in her choir is two.

Prior musical experience is helpful.

"You have to be able to count how many beats there are in a measure and watch for your note to come along and ring your bell," Elliott-Shaw said.

But there are nuances—it's more difficult with lots of notes; sometimes you strike the bells with mallets or tap on the table to get different effects; the ringer also has to hold the ringing for the right number of beats.

Describing the process of preparing a piece, Elliott-Shaw said it is sometimes "a discordant mess." That gradually fades with practice.

"As we keep rehearsing, learning what our parts are and what the dynamics are, it turns into something really beautiful," she said.

Elliott-Shaw shared in an email the feelings of other choir members (all from Bordentown or close to it)—who refer to themselves humorously as "The Desperate Measures"—about being part of handbell choir. For herself, she writes, "Whether in a secular or worship context, music is something that touches a person's soul."

For Nancy Grim, joining the hand bell choir was a natural extension of her childhood choir singing and piano playing. "Hand bells can be played from ages 7 to 87…or longer," she wrote. "Especially during the Christmas season, 'Silver Bells,' 'Carol of the Bells,' sleigh-bells…playing hand bells tugs at memory heartstrings and brings happiness. That's why I play." She also appreciates practicing with friends.

For Simmee Darpino, the choir is an opportunity to create music. "I don't naturally have musical talent, but I believe that music is one of God's greatest gifts to man; I appreciate that I can be part of giving music to the world in a tiny way," she wrote. Playing the bells gave member Donna Potts the confidence to perform in front of an audience. Jane Erickson, who wrote that she cannot sing at all, is also appreciative of being part of a group that produces "such a lovely sound."

Charlotte Brown, who was raised as a Catholic, had only heard a bell choir in a movie until the day she walked into the church 20 years ago and heard the bells. "I can remember looking up behind us to see where and who was doing it, and peeking over the balcony, I saw tops of heads and bells swinging," she said. "I melted. The rest is history." With her background in a marching band, Brown also appreciates being in a "group" that makes music, "with each person carrying an equal part in the piece of music."

The choir plays during a church service once a month from October through May or June and rehearses from 8:15 to 9 p.m. on Thursday evenings.

Anyone interested in joining the handbell choir, whether church members or not, should contact the church office at (609) 298-1243.
Today
,
Community
,
Arts+Entertainment
Handbells
Handbell choir