City police department introduces medicine drop box

Nov 30, 2016 12:54PM ● Published by Community News Service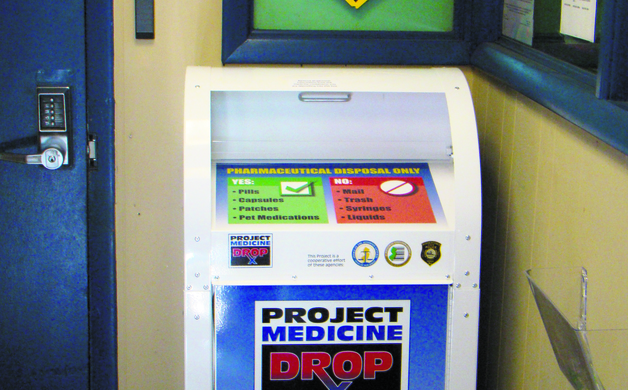 The Bordentown City medicine drop box at the police department.
By Lisa Zola-DeLibero

Over-the-counter medications and prescription drugs, when used properly, improve people's health and often save their lives.

But when unused medication gets in to the wrong hands, it can be deadly.

Half-used and unused prescription drugs sit in medicine cabinets across the country. Many of these drugs, including in particular antidepressants and painkillers, are susceptible to theft and misuse by visitors and family members who seek them out for recreational or experimental purposes.

So proper disposal is important. Which is why the Bordentown City Police Department introduced the Project Medicine Drop Box last month. The box, which looks like a mail box, is located at police headquarters. It gives residents an opportunity to anonymously dispose of unwanted medicine, 24 hours a day, 365 days a year.

Special Officer Samantha Yerdon of the Bordentown City Police Department is very involved in the mission, and she believes it has been received well by residents. "We had gotten a flyer in the mail about the medicine drop-offs that were being put in areas of the state," Yerdon said.
"Police Chief Frederic Miller asked if we have a lot of walk-ins with people asking questions about how to discard of their unused meds. We did have quite a few people coming to us, so we decided to put a medicine drop box right here on Farnsworth Avenue."

Police recommend that people keep track of all medications and store them in child-proof cabinets or drawers. Discarding the meds though, is another issue. Doctors want their patients to find the safest way to get rid of theses drugs so that they don't end up in landfills or in the water supply.

Some people flush their pills down the toilet or wash them down the sink, while others just throw them in the garbage. These methods are potentially hazardous to the environment, and that hazard has become an important environmental issue in the country.

"Doctors would tell patients to go to the local police department to get rid of their unused or expired drugs, which is the only safe way to dispose of them, " said Yerdon. "What many of the members of the community appreciate about this system in place, is that we don't see what they are dropping off, and there are no questions asked."

Residents are asked to remove all labels from the medicine containers so that the only thing the police force will see when they clean out the box are containers of drugs with no information on the bottle. Residents are also asked to leave all drugs in the original containers. Sergeant Shaun Lafferty takes the drugs out of the medicine box, where they are then taken to Covanta Substances Solutions in Camden.

"This entire process helps to keep prescription drugs off of the streets, where they are disposed of in an environmentally safe way," said Yerdon, who has been a resident of Bordentown Township her entire life. "Although Bordentown City is a safe town, and we don't see a lot of prescription drug theft here, it is a precaution that we take so that it doesn't ever become an issue."

Local residents feel that the medicine drop box is an asset to the community, and that it gives them a safe feeling to know that the drugs are off of the streets, and are not polluting the environment. Yerdon said locals might feel that because the process is anonymous, there is total privacy when surrendering the medications, which could encourage more to come forward.

"I love what I do, and being able to be here for the community is something that I always wanted to do," Yerdon said. "When we get a new program like this one, we want to see how much it is having a positive impact on the community. Everything about the medicine drop box has been positive."

Bordentown Police Chief Frederick Miller feels that the Project Medicine Drop is a natural addition to their commitment to help improve the public safety and quality of life in Bordentown City. "It will encourage our residents to be fully aware of the potential for abuse presented by otherwise beneficial medications," he said.

The proper disposal of medications is important, but the police department urges adults to talk to their children and grandchildren about the dangers of abusing over-the-counter and prescription drugs, which can lead to the abuse of street drugs like heroin. "The best way to keep drugs safely off the street is by educating kids as much as possible about the risks involved," Yerdon said. "This is a start, and it makes a big difference."
The Division of Consumer Affairs has also installed secure prescription drug drop boxes at police departments, sheriff's offices, and State Police Barracks across the state. More information is online at 
njconsumeraffairs.gov/meddrop
.
Today
,
Community
,
News
Project Medicine Drop