Kanamarlapudi named commended student

Nov 30, 2016 01:00PM ● Published by Community News Service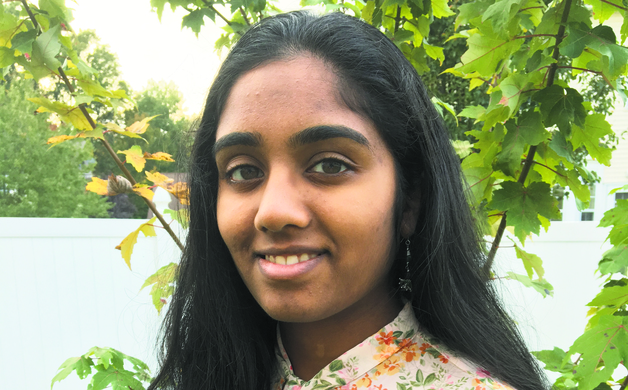 Bordentown junior Haasya Kanamarlapudi's PSAT score placed her in the top 5 percent of takers in the country.
By Giuliana Grossi

Haasya Kanamarlapudi was surprised when she was named a commended student in the 2017 National Merit Scholarship Program, but her teachers were not.

Matthew Gens, Kanamarlapudi's AP English teacher, has worked with her on the school's yearbook since she was a freshman. He said she "deserves everything she gets."

"She deserves it for the amount of hard work she does, how positive of a force she is in her class and certainly in the school, and how humble she is about everything that she does," he said.

Each year, high school students apply for the award based on their PSAT scores. Commended students placed among top 5 percent of more than 1.6 million students.
Kanamarlapudi said she is honored by her newfound title, but she has always been conditioned to work hard and perform to the best of her ability because she's "not just generally intellectual."

This is not the first time she was recognized for her academic success, though. When she was in eighth grade, Kanamarlapudi was the only student in Burlington County to receive a Middle School Scholarship from the Burlington County Principals and Supervisors Association.
Kanamarlapudi has lived with her family in Bordentown since she was in Kindergarten. Her younger brother, Suhas, 14, is a freshman at BRHS. Learning is a passion for Kanamarlapudi, who says biology and chemistry are her two favorite subjects. She also enjoyed AP Art History, which she took last year.

Her family is an important support system for her, she said. Her mother Madhavi, and her father, Murali, have always encouraged her to succeed, but her work ethic is something "she takes upon herself," her mother explained.

"She says, 'I'm not smart, I'm always hard working,'" Madhavi said. "That's what she tells me, 'Even if you don't know, sometimes, if you focus, if you put more effort into it, you can do it.' When she struggles with her math homework I always remind her that."

Her mother says there are nights where the light in her room is on late because she's working. "If she has something to finish, she will be up all night," Madhavi said.
Kanamarlapudi says she couldn't do it all without her friends and family. "My family is very supportive about the effort that I put in, and my friends are also very supportive about everything," she said.

Her thoroughness stands out to her teacher. "She is very conscientious about her work and takes her time to make sure she understands the material," math teacher Lea Ann Bergner said. David Franklin, her current AP English teacher, agreed.

"She is well-respected by faculty for her intelligence, but even more so for her kindness and dedication to her work," he said. "She stands up for what she believes in and enriches the class with her insights and compassion."

Kanamarlapudi is editor-in-chief of the high school's yearbook, and she's also involved with the National Honor Society, Future Business Leaders of America, and Interact, a club dedicated to promoting leadership and citizenship for young people that's associated with The Rotary Club. She also loves to read, make jewelry and play Indian classical music, which she's been practicing for 12 years.

"I definitely lean towards the more creative side," she said. "It's not all about logic and clean cut things for me. I'm more of an imaginative person."

Kanamarlapudi hopes to eventually become an orthodontist and has started applying to dentistry schools across the country.

"My ultimate goal is to make some positive change in the world," she said. "I have a lot dreams."
Sports
,
Today
,
Community
Commended Student
2017 National Merit Scholarship Program
Haasya Kanamarlapudi