Despite setbacks, Scotties finish season strong

Nov 30, 2016 01:05PM ● Published by Community News Service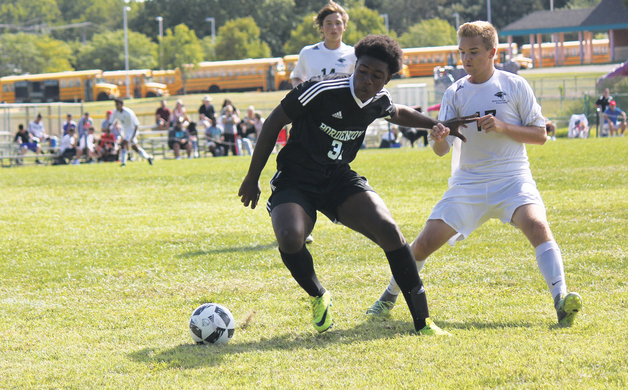 Bordentown boys' soccer player Hector Harris takes the ball from a Burlington Township opponent during a game at Fountain Woods Elementary School earlier this season. (Staff photo by Samantha Sciarrotta.)
By Rich Fisher

After graduating five starters, including a Division I goalkeeper, from a 16-3-1 team that reached the NJSIAA Central Jersey Group II finals, Bordentown Regional High School boys' soccer coach Mike Brennan could be excused if he felt this year might be a down year for the Scotties heading into the season.

There ended up being no need to excuse the veteran coach. The Scotties produced a 13-6-1 record and trip to the South Jersey Group 2 quarterfinals in what became the final season for Brennan, who stepped down after the season so he can spend time with his young family.

"I really thought that we had the makings of a very good team," Brennan said. "We still had a solid core in place. I was very satisfied with the effort that the boys put forward from day one. I believe that they left a lot of people impressed by the end of the year."

Bordentown was solid throughout the season, losing back-to-back games just once. And while Brennan was happy with his team's consistency, he did not feel that is what identified it.

"What I liked best is who the kids are as people," he said. "I really just enjoyed being around them—and they enjoyed being around each other. I've always felt that chemistry plays a larger role in team's success than just about anything else."

Having an All-American helps, which the Scotties had in senior Matt Horner. After collecting 39 goals and three assists, Horner finished his career with 85 and 10, respectively. He scored in 16 of 20 games this year with eight hat tricks, including three games in which he scored four times.

"Matt was the most dominant goal scorer that I have ever had the privilege of coaching on the high school level," Brennan said. "He had a certain nose for the goal that you just can't teach. He also had a drive to succeed inside of him that isn't matched by many people. Lots of kids like to work hard during preseason, when everybody is watching. Matt certainly did that, but he did most of his prep work on a field, or in a weight room by himself, with no one watching."

Horner attributed his success to creating his own chances to score while adding that his teammates provided "endless service to my feet and through balls to allow me to get myself in a good position to score." He praised Pete O'Connor (14 assists) and Sean O'Leary (13 assists) for their ability to set him up.

Brennan felt that Horner's pure ability allowed the other Scotties to get more opportunities due to the extra marking Matt received.

"It also meant that there wasn't a single opponent in the state that we didn't have a chance against," added the coach.

And while Horner had monster numbers, several other Scotties took advantage of their openings as nine other players accounted for 30 more goals. Dom Pisapia scored seven, while Hector Harris, Verlensky Joachim and O'Connor had five each.

"The key was having a well-rounded, positive group of guys who never counted themselves out of any game the whole season," Horner said. "If we were the better team we stayed composed and showed. If we weren't the better team we did everything to make us hard to beat."

And when he was being double and triple teamed, Horner seemingly became harder to stop.

"I personally like the extra attention, it makes me play even harder and gets my adrenaline going," he said. "I feed off of the two or three players on me and want to break them down by running them all over the field, then wait for the right moment to attack and have a spark where I can take on a couple guys and score."

Horner, who is still looking at colleges, was one of a small group of seniors, along with O'Connor, Marcus Rios, Pisapia, Nick Velasquez and Joachim, who helped some of the younger, inexperienced players lift their level of play.

"They were very special," Brennan said. "They were all good soccer players, but more than that, they knew how to win. They learned some of those lessons from the previous graduating classes, and I believe have succeeded in passing them down to the returning players."

The coach had special mention for Pisapia, whose father played on the last Steinert team to win a state title in 1988.

"I feel like Dom was often overlooked in the past few years," Brennan said. "He has been one of the most dominant center backs in the county for a while now. However, most of the press went to (goalie) Dino Gromitsaris last year, and Matt this year. Dom was key to us with his ability to defend, organize, hit set pieces, and score when needed."

Gromitsaris now plays for Rider and his graduation left the Scotties searching for a keeper, especially after the JV goalie suffered a concussion. Enter Sean Pedersen.

"We had one incoming freshman who was a goalkeeper, nobody else even owned a pair of gloves," Brennan said. "Since we can't have a varsity and JV program without another goalie, we decided to see what Sean could do. I would have to say that he exceeded expectations every step of the way."

Pedersen had six shutouts and, after making 11 saves in a 2-0 loss to Palmyra, he reeled off three straight shutouts against Holy Cross, Cinnaminson and West Deptford in the state tournament opener.

In the end, it all came together for another solid year, as Bordentown has now enjoyed five straight non-losing campaigns that include four winning seasons. Horner saw progress being made during his four years on varsity.

"I would say the program has definitely gotten stronger and we even had enough guys come out this year to make cuts," Horner said. "The coaching staff made it an enjoyable year. They always were on you when they needed to be and as well as joking around. I enjoyed every single practice, we could fool around and be serious at the same time."

And rest assured, they've become serious about winning soccer games at BRHS.
Sports
,
Today
,
Schools
Mike Brennan
Hector Harris